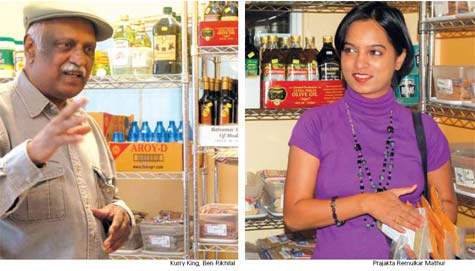 INDIA & TEXAS
Photography by Melissa Boon
I was born in Mumbai on the west coast of India. The city of my youth bustled with a cosmopolitan diversity of cultures and cuisines. Street foods ranged from spicy vegetable pastries to Singapore noodles. In colorful market stalls, vendors sold books, flowers and clothes, as well as fruit, vegetables and woven baskets. From Kashmir to Kanyakumari, markets form the backbone of India's domestic commerce. In the western region, markets shine with coastal riches like seafood and coconuts, while in the north, there are the beautiful floating vegetable markets of Dal Lake. My favorite moments were during the rains; sipping hot ginger tea and eating spicy onion fritters called "pakoras."
As a child, I loved food and watched cooking shows, but it wasn't until coming to Arlington for my studies that I really discovered the kitchen. At first, my shopping excursions didn't take me much further than the nearest supermarket. Even though I was on a student's budget, buying from shelves filled with strange new products was a great adventure. From local Tex- Mex to traditional chicken-fried steak, a whole new world of eating was opening up for me.
There were times when I yearned for the comfort foods of home. I eventually found a small Indian store not far from the UTA campus and began playing with a blend of Asian and American ingredients. I frequently called my mom and grandmom, and in our long phone conversations, they shared family recipes. Finding the correct ingredients was a challenge, but I learned to be innovative.
When I moved to Dallas to take a job, an even wider food world opened up to me. Stores like Whole Foods, the India Bazaar and the Asia World Market made it easier to find a variety of exotic ingredients.
But the greatest resource in helping me stay connected to the colorful market stalls of Mumbai was the Dallas Farmers Market. My husband and I began visiting not only to buy fresh produce, but also for the sheer joy of talking to the farmers and vendors, like Ben Rikhilal with his spices. This Dallas treasure is a place where one can appreciate the beautiful simplicity of real farm food: the meats, vegetables and fruits like those from my Indian childhood.
RECIPES
CROSBY'S QUICK AND EASY BLACK BEAN-SWEET POTATO STEW
(a vegetarian alternative)
PRAJAKTA REMULKAR writes her own cooking blog: spiceupyoursoul.blogspot.com. She enjoys creating new recipes with blends of different cultures. She has contributed recipes to CNN Go Asia. A believer of cooking for the soul, she loves to write about comfort foods from various parts of the world. She resides in Dallas with her husband Nitin Mathur and simply loves to visit farmers markets on Saturdays.