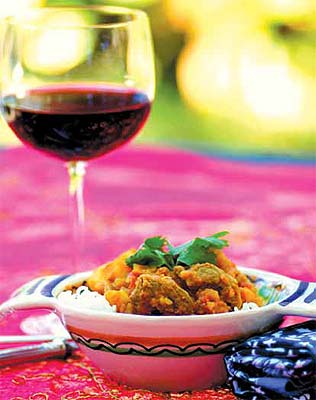 Serves 4–6
2 pounds of boneless lamb, shoulder or leg, trim excess fat and cut into 1–2 inch pieces
2 teaspoons fresh ginger root, peeled and chopped
5 garlic cloves, peeled
4 green chilies, jalapeno or Asian/!ai, split and seeded
1 teaspoon turmeric
2 teaspoons salt
2 medium red onions, chopped (1½ to 2 cups)
2 tablespoons oil (vegetable or canola)
2 medium tomatoes, chopped (1½ to 2 cups)
2 large potatoes, peeled and cut into 2-inch chunks
1 teaspoon cumin seeds
2 bay leaves
1 teaspoon ground coriander seeds
2 teaspoons dried red chili powder (cayenne pepper goes well with this curry)
¼ cup fresh cilantro for garnish, finely chopped
Crush ginger, garlic and chilies in a blender to make a coarse paste.
In a mixing bowl, toss lamb pieces with the paste, turmeric and 1-teaspoon salt. Coat meat well, and let marinate for 15–20 minutes.
Bring 4 cups of water to a boil in a medium stew pot. Add the lamb pieces along with all of the paste mixture. Cover the pot, bring almost to a boil over high heat, and then turn the heat to low so that the mixture bubbles gently. Cook for about 30 minutes or until the meat is tender.
As lamb cooks, bring 4 cups of water to a boil in a medium saucepan. Add ½ teaspoon salt and the potato chunks. Cook only until a fork inserted penetrates the surface of the potato, but not the center. Approximately 10 minutes. !e potatoes will cook further when they are added to the curry. Drain the potatoes and set aside.
While the meat and potatoes cook, heat a large pot over medium heat. Add the chopped onions and stir for 5 minutes.
Turn the heat to low and add the oil. !e pot should not be too hot. (I like to add the onions before adding the oil to remove some of the moisture and get a light roasted flavor.) Add the cumin seeds and bay leaves and stir well with the onions until they turn golden brown. Add the chopped tomatoes and stir for 5 minutes. Add the ground coriander seeds and red chili powder. (Depending on the level of heat you prefer, you can choose from a range of mild to hot chili powders.) Stir the spices into the onion/tomato mixture to blend all the ingredients. Cook for 5 to 10 minutes on low heat.
When the meat is cooked, remove the pieces from the stewpot and add them to the onion/tomato mixture. Retain the liquid the lamb was cooked in, it will be used later. Stir the meat into the tomato blend so that each piece is coated. Cook for 5 minutes, then add some of the reserved liquid to get a thick consistency. Add the potato cubes and more liquid if needed. Bring to boil, then reduce heat to a simmer and cover the pot. Cook the curry for 10 minutes so that all the spices and fresh juices blend well with the meat and potatoes. Add salt to taste. Sprinkle with finely chopped cilantro before serving with steamed rice.
PRAJAKTA REMULKAR writes her own cooking blog: spiceupyoursoul.blogspot.com. She enjoys creating new recipes with blends of different cultures. She has contributed recipes to CNN Go Asia. A believer of cooking for the soul, she loves to write about comfort foods from various parts of the world. She resides in Dallas with her husband Nitin Mathur and simply loves to visit farmers markets on Saturdays.