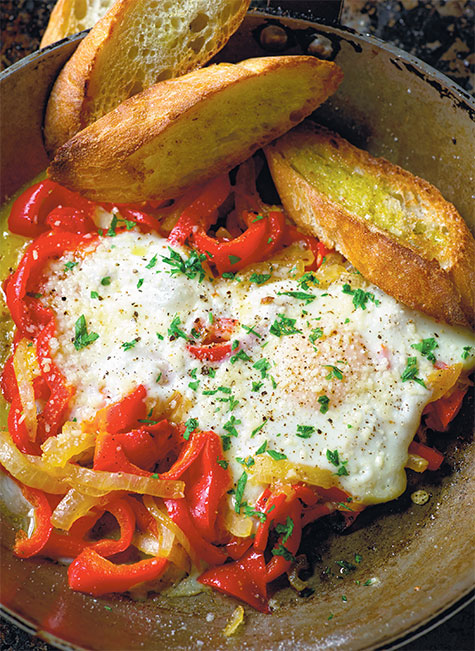 This is the perfect summer dinner: light, fresh, nutritious and easy. It is simply cooked vegetables with eggs poached on top. You can use any vegetable combination you like (zucchini, onion and boiled potatoes, for example) but if you don't use tomatoes you will need to compensate for the lack of moisture by adding about ½ to ⅔ cup chicken stock, vegetable stock, or water to the vegetable sauté.
Serves 4
¼ cup olive oil
2 sweet red peppers, sliced
2 medium onions, sliced
2 large tomatoes, peeled, seeded, and coarsely chopped
2 tablespoons chopped fresh basil or 1 teaspoon dried
Salt and freshly ground black pepper
8 large eggs
½ cup grated Parmesan cheese, for garnish
2 tablespoons chopped flat-leaf parsley, for garnish
In a large skillet with a fitted lid, heat the olive oil over medium heat. Add the peppers and onions and cook until the peppers are almost soft, about 8 minutes. Add the tomatoes and basil and cook until all the vegetables are soft, about 10 minutes. Add salt to taste. With the back of a spoon, create 8 indentations in the vegetables. Carefully crack the eggs in the indentations. Don't let the eggs touch the bare bottom of the pan or the sides or they will burn or stick. Reduce the heat to medium-low, cover the pan, and simmer until the whites of the eggs are set, 6 to 8 minutes. Season with salt and pepper and sprinkle with the Parmesan and parsley. Serve promptly.
Eugenia Bone is a cook and author whose stories and recipes have appeared in publications including The New York Times Magazine, Saveur and Food & Wine. She is also the author of 5 books. Visit Eugenia's blog at TheKitchenEcosystem.com.