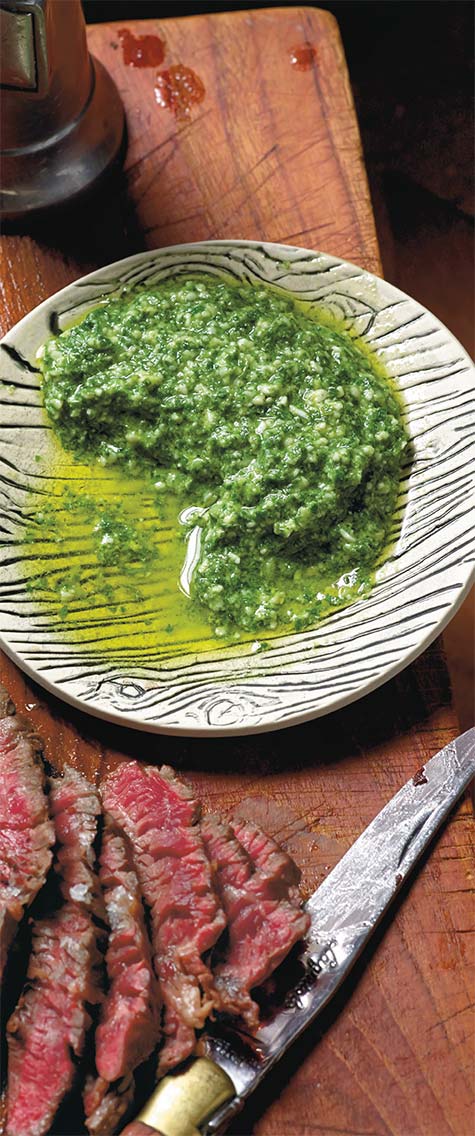 This is a simple, fabulous dinner: I just have to buy steak, carrots with the greens and some fresh thyme. The other stuff I usually have on hand. I like to marinate the steak in the morning or the night before, but if you only get in 1 hour of marinating, that's fine, too. You can substitute skirt steak for the flank steak if you'd like.
Serves 4
1 ½ pounds flank steak
3 tablespoons olive oil
Small bunch of fresh thyme
4 garlic cloves, smashed and peeled
Juice from ½ lemon (about 2 tablespoons)
Salt and freshly ground black pepper
2 tablespoons safflower oil
Carrot Top Pesto (recipe here)
Pound the steak with a mallet to tenderize.
Place the steak, olive oil, thyme, garlic, lemon juice and salt and pepper to taste in a sturdy plastic food storage bag and refrigerate for at least 1 hour and up to overnight.
About 1 hour before you are ready to start cooking, take the bag out of the fridge and let the meat come to room temperature.
In a grill pan or heavy skillet, heat the safflower oil over high heat. Remove the steak from the bag. Don't worry if there is garlic or thyme stuck to it. Place in the pan and cook for about 10 minutes, searing both sides, for medium-rare.
Remove the meat and let it rest for 5 minutes. Slice the meat against the grain and on an angle, and serve with the carrot pesto. You can serve this dish at room temperature or warm, both are good.
Eugenia Bone is a cook and author whose stories and recipes have appeared in publications including The New York Times Magazine, Saveur and Food & Wine. She is also the author of 5 books. Visit Eugenia's blog at TheKitchenEcosystem.com.