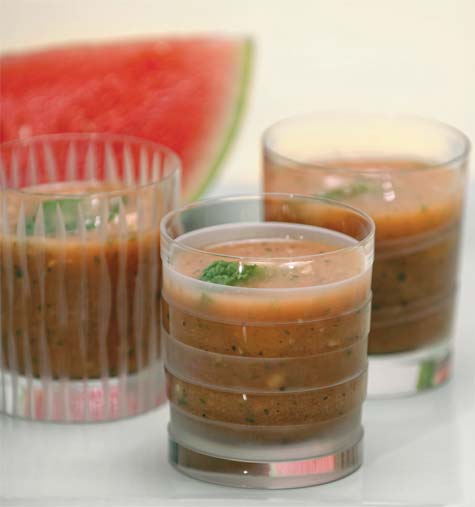 By Beverly Thomas, Cold Springs Farm, Weatherford
From Edible Dallas & Fort Worth: The Cookbook
Serves 6
1 small jalapeño chile, seeded, deveined and finely chopped
2 tablespoons chopped fresh lemon basil
1 tablespoon extra-virgin light olive oil
1 tablespoon balsamic vinegar
3 cups diced seeded watermelon
1 seedless cucumber, peeled and cubed
1 cup fresh orange juice
1 cup fresh pineapple juice
½ cup buttermilk
3 tablespoons fresh lime juice
Salt
Freshly ground black pepper
For the garnish
6 ounces fresh feta cheese, crumbled
Fresh mint leaves
Place the jalapeño, lemon basil, olive oil and vinegar in a food processor and pulse until blended. Add the watermelon and cucumber in small batches and process until smooth.
Slowly pour in the orange juice, pineapple juice, buttermilk and lime juice and pulse until the liquids are well incorporated into the mixture. Add salt and pepper to taste. Chill, covered, at least 8 hours or overnight.
When ready to serve, pour into individual bowls and garnish with a sprinkle of feta and fresh mint.
Reprinted from Edible Dallas & Fort Worth: The Cookbook © 2012 by Edible Communities, Sterling Epicure, an imprint of Sterling Publishing Co., Inc. Photography by Carole Topalian