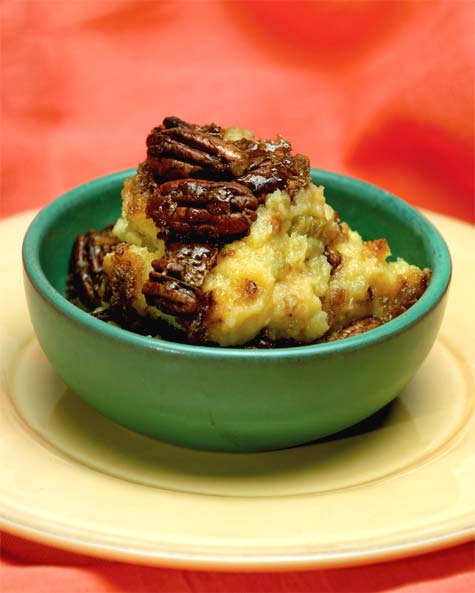 by Beverly Thomas, Cold Springs Farm, Weatherford
Serves 8
For the Casserole
2 lb Japanese sweet potatoes, peeled and cut into large cubes
1 stick (8 tablespoons) unsalted butter, softened
1 cup light-colored honey
½ cup granulated sugar, or to taste
2 teaspoons Mexican vanilla extract
2 farm-fresh eggs
½ cup golden raisins
For the Topping
1 ½ cups pecan halves
½ stick (4 tablespoons) unsalted butter, melted
½ cup firmly packed light brown sugar
Prepare the Casserole:
Preheat the oven to 350°F.
Place the sweet potatoes in a large pot of boiling water and cook until tender (you can also microwave them or roast them in the oven). Drain, and then place the potatoes in a large bowl and mash until smooth. Mix in the soft ened butter, honey, granulated sugar, and vanilla.
In a small bowl, whisk the eggs; fold them into the sweet potato mixture. Gently stir in the raisins. Pour the mixture into a 9 x 11-inch casserole dish and bake until firm, 20–30 minutes. Remove from the oven.

Add the Topping:

Cover the top of the casserole with the pecans. Drizzle half the melted butter over the pecans until covered. Sprinkle over the brown sugar; then drizzle with the remaining butter.
Return the casserole to the oven for 10 minutes; then turn on the broiler until the pecans are browned and the sugar has caramelized, about 5 minutes, but watch carefully so as to not let it burn. Serve warm.
Reprinted with permission from Edible Dallas & Fort Worth: The Cookbook © 2012 by Edible Communities, Sterling Epicure, an imprint of Sterling Publishing Co., Inc. Photographs by Carole Topalian.