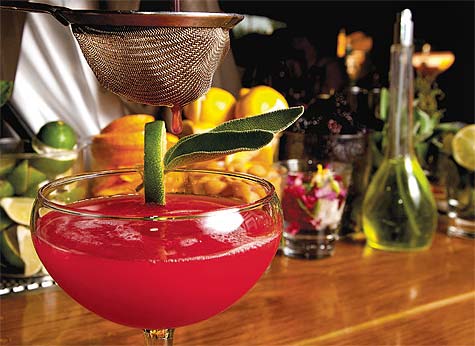 Sprung from humble ingredients, this gin-based beverage tastes so decadent that the first pull feels almost criminal. While the sage imparts a brawny vigor, the house-made Texas plum jelly lends a silken, almost effervescent caress. But don't be fooled: this cocktail's thick viscosity doesn't linger; in fact, like its namesake, each sip sticks around just long enough to do the job before gunning toward a clean getaway.
1 heaping tablespoon of Bolsa's House-made Texas Plum Jelly
1 ½ ounces Hayman's Old Tom Gin
6 leaves fresh sage
½ ounce St-Germain Elderflower Liqueur
½ ounce of lemon juice
Pour ingredients into a shaker with ice and shake vigorously. Strain into stemmed glass and garnish with lime wedge and sprig of sage.
Bolsa is located in the Bishop Arts District of Dallas at 614 W. Davis St.