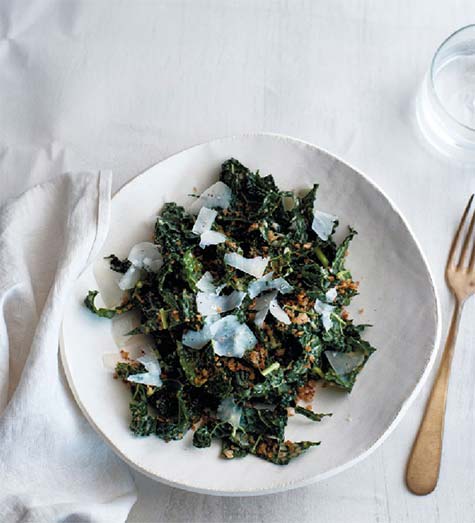 From True Food by Andrew Weil, M.D.
This is the signature dish of True Food Kitchen, the new health-conscious eatery in Dallas' Plaza at Preston Center. People who never imagined eating raw kale quickly become devoted. Unlike most salads, this one gets even better in the fridge overnight. Make the extra eff ort to find Tuscan kale—also sometimes labeled as black kale, cavolo nero, or dinosaur kale—as its deeper color and more complex flavor really lift this into the salad stratosphere.
8 servings
½ cup extra-virgin olive oil
¼ cup freshly squeezed lemon juice
3 garlic cloves, mashed
½ teaspoon salt
Pinch of red pepper flakes
2 bunches kale (about 14 ounces), ribs removed & leaves sliced into ¼" shreds
½ cup finely grated Grana Padano or Parmigiano-Reggiano cheese (grated on a Microplane)
2 tablespoons toasted whole wheat bread crumbs
Garnish: Grana Padano or Parmigiano-Reggiano cheese shavings
In a salad bowl, whisk together the oil, lemon juice, garlic, salt and red pepper flakes. Add the kale and toss well to coat. Let the salad sit at room temperature for 10 to 30 minutes. Add the grated cheese and bread crumbs and toss again.
Garnish with the cheese shavings before serving. Cover any leftovers and refrigerate for up to 2 days.
Reprinted from True Food: Seasonal, Sustainable, Simple, Pure by Andrew Weil, M.D. and Sam Fox, with Michael Stebner ©2012 by Andrew Weil, M.D. Publisher: Little, Brown and Company, Hachette Book Group, Inc. Photographs by Ditte Isager
Andrew Weil, M.D., is a world-renowned leader and pioneer in the field of integrative medicine, a healing oriented approach to health care which encompasses body, mind, and spirit.