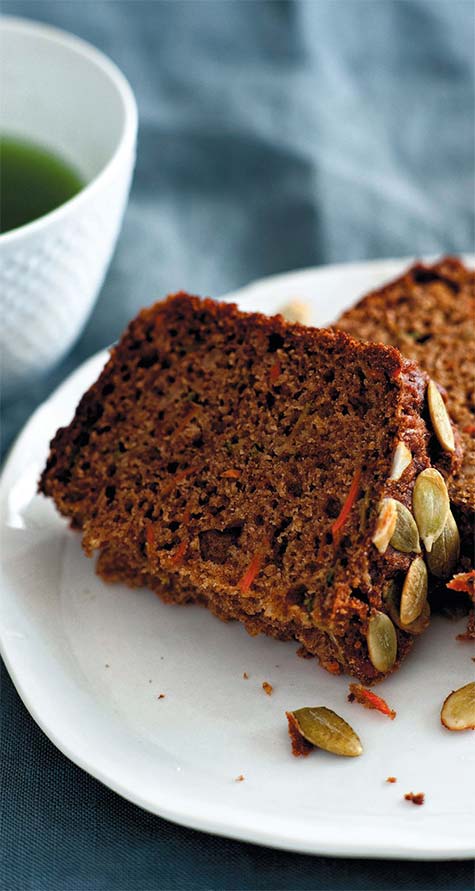 From True Food by Andrew Weil, M.D.
This recipe melds the sweetness of carrot bread with the moist richness of zucchini bread, an idea that came about when the True Food Kitchen team was developing their brunch menu. Parsnip contributes a spicy note. Apple or pumpkin butter adds moisture. This hearty bread is great for breakfast or as a complement to soups. True Food Kitchen, located at the Plaza at Preston Center in Dallas, offer a health-conscious menu inspired by the philosophies of Dr. Andrew Weil and his anti-inflammatory diet.
Makes 2 loaves
1½ cups all-purpose flour
½ cup whole wheat flour
½ cup evaporated cane sugar
1½ teaspoons baking soda
1 teaspoon baking powder
½ teaspoon salt
1 teaspoon ground cinnamon
½ teaspoon ground nutmeg
½ teaspoon ground cloves
1 medium carrot, shredded
1 medium parsnip, shredded
1 small zucchini, shredded
3 large eggs
¾ cup apple butter or pumpkin butter
3 tablespoons extra-virgin olive oil
1 tablespoon vanilla extract
2 tablespoons pumpkin seeds
Preheat the oven to 375°F. Oil two 8½ by 4½ by 2½-inch loaf pans with olive oil.
In a large bowl, combine the flours, sugar, baking soda, baking powder, salt, cinnamon, nutmeg, cloves and shredded carrots, parsnip and zucchini.
Mix well. In another bowl, whisk together the eggs, fruit butter, olive oil and vanilla. Add the wet ingredients to the dry and mix until combined, but don't overmix.
Divide the batter between the prepared pans and sprinkle the tops with the pumpkin seeds. Bake for 35 minutes or until a skewer inserted into the center of the bread comes out clean. Let cool on wire racks.
Reprinted from True Food: Seasonal, Sustainable, Simple, Pure by Andrew Weil, M.D. and Sam Fox, with Michael Stebner ©2012 by Andrew Weil, M.D. Publisher: Little, Brown and Company, Hachette Book Group, Inc. Photographs by Ditte Isager
Andrew Weil, M.D., is a world-renowned leader and pioneer in the field of integrative medicine, a healing oriented approach to health care which encompasses body, mind, and spirit.