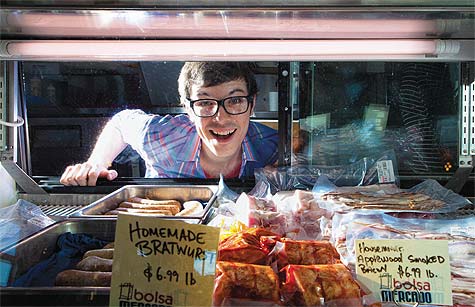 Jesse Gray stocks the deli case.
PHOTOGRAPHY BY DANNY FULGENCIO
It's a Monday, 11:30 am and the morning shift suddenly spins into a hustle as a couple of dozen patrons filter past Bolsa Mercado's heavy red door. Much of the food at Oak Cliff's new gourmet market is about as hyperlocal as a person can get without foraging in their neighbor's yard. Open from sunrise to sunset every day since December 2011, Bolsa restaurant's new expansion is a high-end grocery store and deli with 4,000 square feet of kitchen, lounge space, food and drink.
Only display glass separates onlookers from seductive house-made pastries by baker Lily Hanson and an assortment of specialty meats including duck confit and a prized collection of charcuterie. The chalkboards hanging behind the 30-foot-long deli counter suggest a healthy range of salads and sandwiches, plus a full juice and coffee bar menu. Everything edible here is assembled from local ingredients whenever possible. The closer to home, the better.
To the beat of a barcode scanner and the crackle of paper bags, two countermen work the crowd. Jesse Gray labels brown-bagged lunches with customers' first names. Elliott Muñoz grills a sandwich built with ciabatta, avocado, sharp cheddar, pepper relish, bacon, arugula and house-smoked turkey. He's generous with the turkey. Throughout the morning and afternoon, co-owner Jessica Jeffers floats between Bolsa restaurant and the market while general manager Alyssa Adams keeps the price gun loaded.
While diners wait for their hot sandwiches, others pace the aisles of Bolsa Mercado's grocery section where seven refrigerator doors and eight custom-made racks bear hundreds of refrigerated and dry goods including farm-fresh eggs, milk, pastas and wild Texas blueberries. Indeed, the Lone Star is well represented on Mercado's shelves: bread, produce, chocolate and cheese from Dallas; coffee from Fort Worth; ice cream from Denton; mustard from the Hill Country; olive oil and wild boar sausage from central and south Texas. The list goes on and on as the stereo system whispers a track from the Austin-based band Explosions in the Sky. Yup, even the music goes native around here.
Outside, someone has stenciled a trail of Bolsa logos on the sidewalk leading two doors down from Bolsa restaurant to Bolsa Mercado. (It's classy graffiti. Really.) The trail suggests that, if Bolsa Mercado's following and subsequent staying power resembles that of her four-year- old sibling, the new market has a bright future. After all, the Bolsa market concept was initially slated for, but limited by, the restaurant's space. And now, with Bolsa Mercado's kitchen being substantially larger than the restaurant's, the new market offers even greater in-house utility.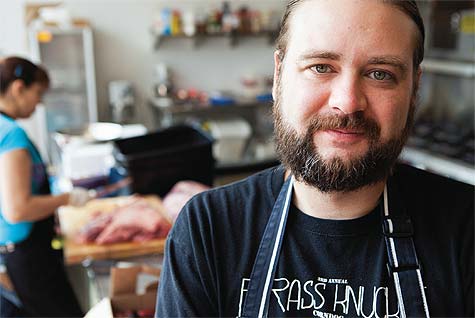 Executive chef Jeff Harris overseeing his kitchen.
But the lunch crowd on this warmer-than-normal Monday isn't concerning itself with such prospects and logistics. No, they're downing deli sandwiches, and with relish. Even after the initial rush, ten diners occupy customer seating in the industrial chic setting: There's salvaged and refurbished wine racks made of angle iron, chairs backed by burlap coffee sacks and a wild shamrock-colored sofa matching exposed brick walls adorned with slick graphic design. Again, keeping it local, the art and metal work were crafted by Texas artisans.
But prior to hosting a gourmet eatery and grocery store, the building played a different role on Davis Street. While seated at the market's 20-foot-long communal table, landlord and Good Space developer David Spence offers a little history: Once Kemp's Garage, 634 West Davis Street was built in 1935 when the roadway was better known as Route 80, what Spence calls "a cousin to Route 66." Route 80 was later decommissioned, but numerous garages still line Davis Street, relics from a bygone age of servicing old Fords and Lincolns cruising between Georgia and California. Five years after Spence bought the property in 2006, Bolsa Mercado emerged.
The building (top left) was once home to Kemp's Garage,
a stop on Route 80. Urban farmer Tom Spicer (top right)
heading for Bolsa Mercado's red door.
Around 1:30 pm, Oak Cliff advocate Jason Roberts stops in to pick up a sandwich. Roberts lives just a few blocks away and takes the time between sandwich bites to dish out his thoughts on the new establishment. "I hope [Bolsa Mercado] will help bring more folks to live here," he says, adding that such businesses not only boost local revenue, but can attract other like-minded businesses and help sustain the community by offering unique grocery options.
Though the neighborhood does have the Urban Acres food co-op, which brings local produce to residents, a take-out dinner for two of braised pork with a roasted garlic and potato puree doesn't often make it into their co-op bin. Bolsa Mercado offers another option. While executive chef Jeff Harris busies himself in the kitchen, sous chef Matt Balke accepts a delivery of bread from Village Baking Company. Around 1:45 pm, Tom Spicer, the self-professed "flavor monger" behind the soil-to-table operation that is Spiceman's F.M. 1410, pulls up to Bolsa Mercado to deliver a luscious trove of Texas savoy spinach, tomatoes, kabocha, and a box of sealed bags containing cultivated wild and exotic mushrooms. A package of these mushrooms retails for $10 and Spicer affectionately calls it "a dimebag of 'shrooms."
Bolsa co-owners Chris Zielke and Chris Jeffers are busy with a pan of spicy wild boar sausage harvested by the folks at Broken Arrow Ranch down south. Zielke takes the time to detail how Broken Arrow Ranch employees take care to limit a wild boar's suffering, how a fleet of vehicles stand at the ready to process the meat on-site before it ships.
Zielke's eyes light up as he describes these things. He's excited. He cares that other people care. And at Bolsa Mercado he's not alone. While high-end establishments are prone to pretention, Bolsa Mercado seems rooted in simply celebrating high-quality food, especially if it's from Texas, and if it can't be found in Texas, Zielke says, "we get the best American products we can."
What's just as likeable is the market's beer and wine selection, which easily clears 100 different labels. Bolsa Mercado houses enough alcohol to drown an Oak Cliff fixed-gear bicycle gang. Incidentally, said gang could conveniently secure its bikes using the clever piperacks outside which are aptly labeled "BIKE."
With Bolsa Mercado now bathed in soft yellow light, the evening crowd descends to browse, shop and mingle at a wine tasting. Like many businesses, the success of Bolsa Mercado hinges on local support. With a streetcar project connecting Oak Cliff to Union Station still in the works, this year's opening of the Margaret Hunt Hill Bridge will speed connections between Oak Cliff and central Dallas, if not reaching the city's heart, perhaps reaching its stomach. The philosophy seems simple: foster local support by supporting the locals, and thus support the neighborhood, and by selling local and domestic products, support the suppliers' neighborhoods. Communal support, what a novel concept.
634 West Davis
(214) 942-0451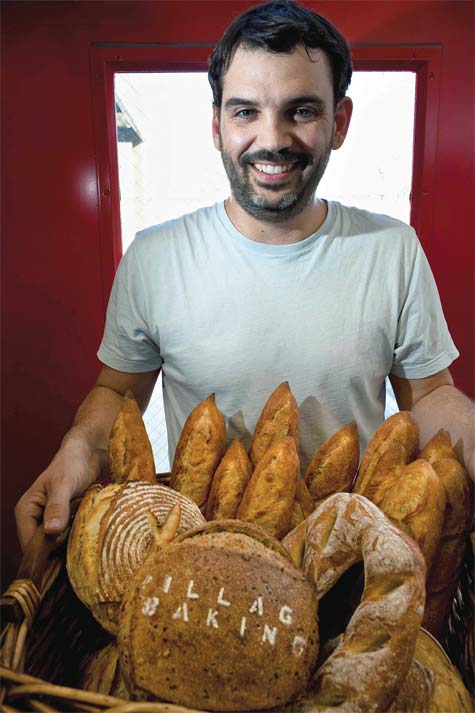 Clint Cooper with a batch of fresh breads from Village Baking Company.
A bartender and commercial fisherman in former lives, DANNY FULGENCIO is now a Texas-based freelance photojournalist. He regularly contributes to the Dallas Observer, Edible Dallas & Fort Worth and Advocate Magazine. Among others, his photography has been published on the Web and in print for the Fort Worth Weekly, Houston Press, Texas Observer, New Individualist, Lens and International Herald Tribune. He lives in Dallas with his wife, new son, two cats and the sweetest dog to ever grace the Earth. dannyfulgencio.com