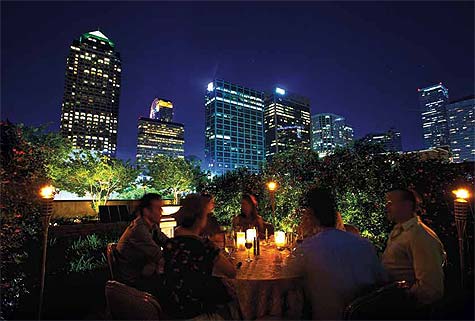 Cityscape views and candlelight dining
in the Fairmont Hotel's terrace garden
PHOTOGRAPHY BY DANNY FULGENCIO
All streams flow to the sea because it is lower
than they are. Humility gives it its power.
— Excerpt from the Tao Te Ching by Lao-tzu,
Translated by Stephen Mitchell
M
ost of us don't usually think of being smack in the middle of downtown Dallas as a way to escape the rigors of urban living, but such is the case in the Arts District, high above traffic in the Fairmont Hotel's 3,000-square-foot herb and vegetable garden.
Here, just a few floors above the hotel's venerable Pyramid Restaurant, you and an intimate group can enjoy a five-course al fresco dining experience with a dedicated server, optional wine pairings and a spectacular skyline view from a secluded garden nook.
Soil-to-table is the name of the game whenever possible: if ingredients can't be sourced from the garden, then from North Texas, if not North Texas, then Texas proper. "Modern regional cuisine," they call it. And in addition to food made with finesse and drink offered with great deliberation, there are the people who create and serve it. Humble people. People without pretention. It's an unexpected plus for four-star dining.
The tone is set by Executive Chef André Natera, a culinary artist with 17 years experience and the recipient of multiple awards, including a 2010 induction into the World Master Chefs Society and a 2011 nod from the Dallas Morning News as being among the best chefs in the Dallas-Fort Worth metroplex.
At an early age, Natera was introduced to Eastern philosophy and Taoism, concepts in which he continues to immerse himself and apply to his craft. Here's a man who strives for simplicity, both in and out of the kitchen. Walking with him through the garden, he tells you his craft is 60 percent nature, 40 percent technician. Listen further and you discover him to be as much philosopher as chef.
Like its caretakers, the terrace garden
is a statement about self-reliance and
goodwill. Guests seem to enjoy it as both
a dining venue and a sanctuary.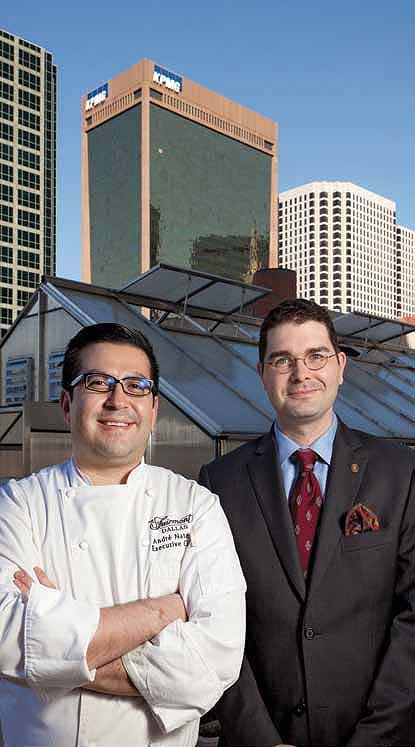 Executive chef André Natera and sommelier
Hunter Hammett by the terrace greenhouse
While delivering a speech to the 2012 graduating class of Le Cordon Bleu Dallas, Natera said, "servanthood is the value which is most neglected for chefs. We forget that there is no greater good one can do than doing something for another… Sometimes we lose sight and think they are here for us. However, the truth is we are here for them to enjoy… To feed a hungry man is an act of love. It establishes kindness."
On the fermented and distilled side of this garden equation stands certified sommelier Hunter Hammett. Hammett pairs with love, and while Natera's fare can easily stand on its own, there isn't enough praise for what a thoughtfully selected Cabernet can do for a dish. Hammett prides the Pyramid's wine program on what he calls a "sneak attack" of "understated Texas wines." Among others, the program includes Pedernales Cellars of Stonewall, Brennan Vineyard in Comanche and Red Caboose Winery in Meridian.
There's a symbiosis between Natera's creations and Hammett's suggestions and in the end, diners win big.
But long before assuming his post at the Pyramid Restaurant, and long before GQ and Esquire took a shine to him, Hammett was a lost 20-something with an English degree and a job at a liquor store. He says he found his path, his life affirmation, after his young affection for wine and spirits was nurtured by a kind employer; that, and finding himself on the business end of a stickup man's shotgun. When he recounts the latter, he takes a deep breath, his eyes swell, and you can see a powerful brand of modesty shine through. It's this modesty and approachability that Hammett brings to that round table in the garden.
Like its caretakers, the terrace garden is a statement about self-reliance and goodwill. Guests seem to enjoy it as both a dining venue and a sanctuary: Natera said he's stumbled upon a couple of women meditating in the garden; he also said he watched as young children looked both ways before plucking a few strawberries.
Even the honeybees enjoy the floral company, as there are two micro- apiaries in this urban refuge maintained by Brandon and Susan Pollard of the Texas Honeybee Guild. The honey gathered here is served alongside the restaurant's cheese dishes and is incorporated into salad dressings and most every other Pyramid recipe needing a touch of sweetness.
Beyond honeybees and roses, the garden features a lush feast of flora, from Swiss chard to creeping thyme and Anaheim peppers, blackberries to Spanish lavender. There's even a fig tree. Regarding the tree's fruit, Natera said, "I've never had a better fig from a tree in my life." Much of the garden's inventory gleams of high quality.
Why? There's the issue of immediacy, for one. Travel time for all these ingredients is just a short elevator ride downstairs. Secondly, Natera's outfit refrains from using pesticides. Finally, there's the people-factor, what Natera described best as "tender loving care" in rearing in-house ingredients.
Before we dive into the food and drink, let it be known that while the garden menu is set, it's not set in stone. Chef Natera emphasized that he welcomes—in fact, prefers that those making reservations suggest their favorite ingredients beforehand so the meal can be tailored to fit the diner.
On a warm Thursday evening, our garden-dining affair began with an avocado and cucumber soup. Just a few spoonfuls were sufficient in cutting the early evening heat. A crisp pull of Chardonnay tempered things further. In fact, each dish and pairing was not only crafted to account for taste, but to dance with the natural powers at play; namely, Texas heat.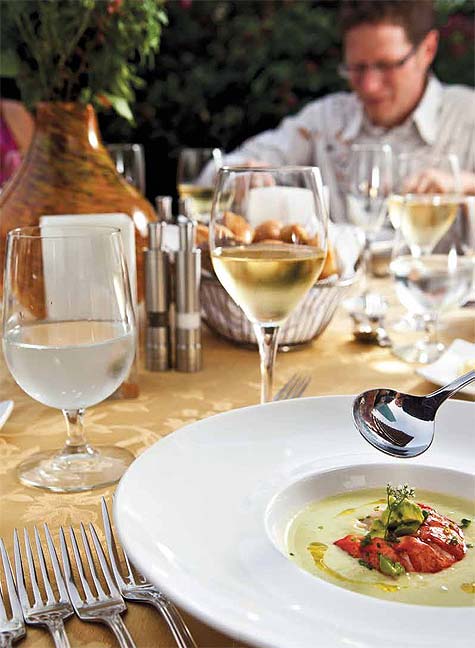 A verdant watermelon brûlée salad kicked the mercury down a few more notches. Garnished with locally-sourced cantaloupe, the salad featured feta from Brazos Valley Cheese in Waco, olive oil from Texas Olive Ranch, caramelized watermelon, petite greens from the Fairmont's greenhouse and mint grown a mere ten feet from where it was served. Can you get more local than that?
Natera received local recognition for this incredible salad, but says he can't take full credit. The success of the Pyramid's interpretation of a classic Middle Eastern salad was in large part due to the quality of ingredients. The chef said he plans to reinvent the dish this summer, opting to use more than just watermelon, but a variety of local and garden-grown melons.
Then there's the Lamb Sous Vide, which was not only cooked to gorgeous pink perfection, but thoughtfully paired with a hefty pour of 2010 Flat Creek Super Texan from the Texas Hill Country. It's hard not to smile with a wine based on its clever name, but the "Super Texan" is witty, accurate and worth her weight in silver. She's a medium-bodied red with a bouquet of garden fruit that won't burden the palate, even on a sultry Texas evening.
When Hammett added the brand to the Pyramid's wine program, the vintners at Flat Creek Estate drove all the way up from Austin to shake his hand. Sure, that's business savvy, but there's also something neighborly about that, something… Texan, which is a theme running through every dish. As Natera put it, "If we can get a great product that's local, why not?"
Just to name a few of the Pyramid's local vendors, the kitchen obtains cheese from the Dallas Mozzarella Company, bread from Empire Baking Company and some vegetables from Eden's Garden CSA Farm in Balch Springs, that is, unless the Fairmont's garden can meet the demand.
But there's a broader scope to this dining operation: Chef Natera and Hunter Hammett are establishing a subset of "Texas Cuisine," an ambiguous title in and of itself. What is it? Steak? Tex-Mex? Barbecue? Southern-style? According to Natera, he and others are pushing for a distinct culinary flare that represents North Texas. Seasonal food for locals as well as the Fairmont's domestic and international guests.
That said, Natera offered a caveat: "We understand that even though we want to do a couple things that are different and unique to us, we'd be foolish not to have a rib eye and a filet on the menu in Texas." Terrace dining at the Fairmont Hotel is not just some ostentatious rendezvous; neither is it just une promenade dans le jardin. It's a memorable experience where downtown traffic is barely audible, the rooftop breeze is a welcomed friend and the Tiki torches throw just enough light to reveal the smiling faces of good company.
Even the honeybees enjoy the floral company, as
there are two micro-apiaries in this urban refuge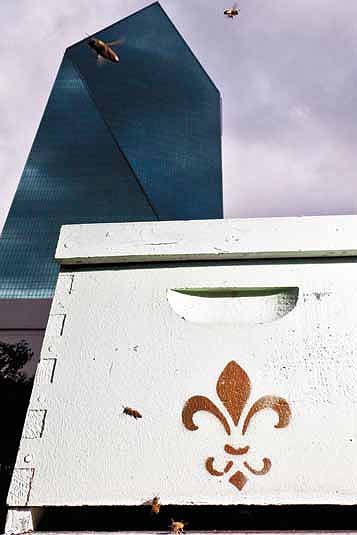 All great things come at a price, in this case dinner runs $95 per person plus gratuity, plus $40 for wine pairings—which are a must. Sure, the cost might make a few eyes roll, but let's face it: in life, it's easy to drop $135 on things of lesser value than money spent to flirt with a future memory of breaking bread in an Edenic garden with treasured companions.
Moreover, there are the people behind the magic. The garden's staff are more than stewards, they are students and servants, not only practitioners in the art of providing sustenance, but proposing a sort of reconciliation with Nature, even if beset by a Lone Star skyline of glass, concrete and steel.
A bartender and commercial fisherman in former lives, DANNY FULGENCIO is now a Texas-based freelance photojournalist. He regularly contributes to the Dallas Observer, Edible Dallas & Fort Worth and Advocate Magazine. Among others, his photography has been published on the Web and in print for the Fort Worth Weekly, Houston Press, Texas Observer, New Individualist, Lens and International Herald Tribune. He lives in Dallas with his wife, new son, two cats and the sweetest dog to ever grace the Earth. dannyfulgencio.com