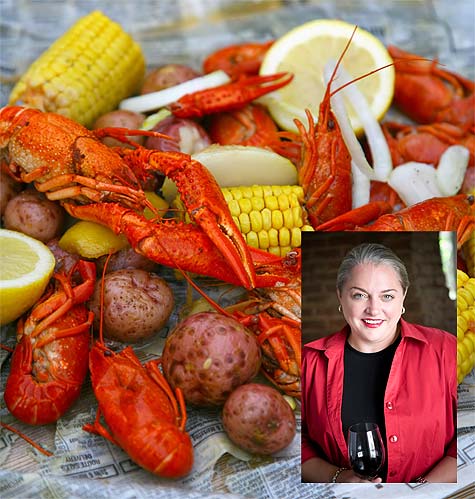 Photography by: Ellen Silverman
from BON APPÉTIT, Y'ALL
by Virginia Willis
When I was young, we spent many weekends at the Indian Creek Recreation Area, about ten miles south of Alexandria, Louisiana. In the spring, at the height of crawfish season, several families would get together and have a crawfish boil. I remember a huge pot practically the size of a bathtub filled with bright red crawfish, halved ears of yellow corn, sweet onions, whole new potatoes in the skin, and thick links of sausage, all bubbling in broth. The picnic tables were covered with newspapers and one of the men would dump a steaming basket of the potent mixture into the center of each. We'd gather around and eat, peeling the meat from the tails and sucking on the heads to get every last bit of the peppery juice.
Crawfish are also known as mudbugs, crawdads, and crayfish. These freshwater crustaceans, in season from December to May, range in size from three to six inches and weigh from two to eight ounces.
2 (3-ounce) bags Zatarain's Dry Crawfish, Crab, and Shrimp Boil
2 gallons water
¾ cup coarse salt
12 fingerling potatoes (about ¾ pound)
4 onions, preferably a sweet Texas 1015, halved
4 lemons, halved
4 whole heads garlic
4 ears fresh sweet corn, shucked and silks removed, halved crosswise
2 pounds kielbasa sausage, cut into 2-inch pieces
6 pounds live crawfish
Fill a large stockpot with the seafood boil, the water, and the salt. Bring to a boil over medium-high heat, cover, decrease the heat to medium, and simmer for 15 minutes.
Add the potatoes, onions, lemons, and garlic.
Cover, increase the heat to medium-high, and return to a boil; cook an additional 10 minutes.
Add the corn, sausage, and crawfish. Cover and return to a boil; cook until the crawfish are bright red and cooked through, about 10 minutes.
Serve immediately. 4-6 servings.
Reprinted with permission from BON APPÉTIT, Y'ALL: RECIPES AND STORIES FROM THREE GENERATIONS OF SOUTHERN COOKING by Virginia Willis, copyright @ 2008. Published by Ten Speed Press, a division of Random House www.virginiawillis.com
Book may be purchased at: www.amazon.com
Virginia Willis is the author of BON APPETIT, Y'ALL: RECIPES AND STORIES FROM THREE GENERATIONS OF SOUTHERN COOKING.