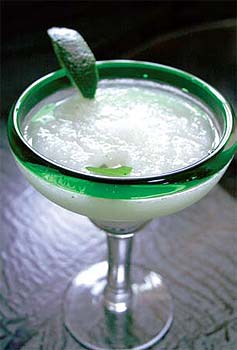 This one we had to try ourselves. Six official edible Dallas & Fort Worth taste testers spent a Sunday afternoon trying out Texas rum, served in Michael's Easy Breezy Minty Frozen Mojitos.
Treaty Oak Platinum Rum hails from Austin, Texas. Railean White Rum is distilled and bottled in the Galveston, Texas area. Edible tasters unanimously agreed that both versions were polished and flavorful.
These Texas rums are available at many Goody-Goody, Majestic Liquor Stores and Sigel's locations throughout the Dallas, Fort Worth Metroplex.
Be sure to call ahead and make sure the location you're heading to stocks them. You will be reducing your carbon footprint by purchasing locally made, Texas rum.
INGREDIENTS:
1 (6 oz.) can of frozen limeade mix
White Rum (we like that Texan Rum)
Crushed or cubed ice
A fistful of fresh mint
Sparkling water or club soda
Limes and mint leaves for garnish
PROCEDURE:
In blender, pour 1 can of frozen limeade mix, 1 can of Texas rum, and then fill blender with ice.
Place fresh mint leaves in a bowl and with a muddler, (the back of a spoon or fork will work) gently mash the leaves just enough to release their minty essence.
Place muddled mint leaves and 1 can of sparkling water into limeade-rum mixture.
Blend, adding ice or water as necessary to create the consistency of frozen slush.
Garnish with a lime wedge and a sprig of mint. Serve in wide-mouthed margarita glasses.
Sit on a porch swing with friends and enjoy!