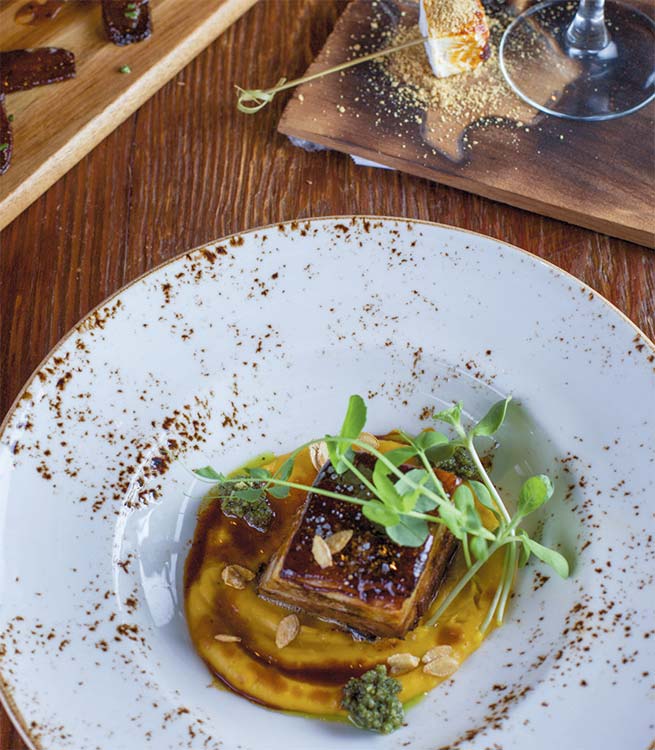 Photo: Emily Loving
Makes about 8 servings
8 (2-inch-wide) portions Apple Cider Pork Belly (recipe follows)
4 cups Maple Butternut Squash Puree (recipe follows)
Candied Butternut Squash Seeds (recipe follows)
8 ounces prepared pesto or Pumpkin Seed Pesto (see note)
Salt and pepper
Microgreens to garnish
Prepare each element of this recipe, starting with Apple Cider Pork Belly, which needs to chill overnight. Candy the seeds you scrape out of the butternut squash so nothing goes to waste. Here's how to assemble this dish.
When ready to serve: Heat a saute pan (large enough to hold the 8 portions of pork belly) on medium heat for 5 minutes, then reduce to low. Season pork belly with salt and pepper and carefully place, fat-side-down, in heated pan. Cook for 5 minutes, or until crispy, then flip over and cook an additional 3 to 4 minutes.
While the pork belly is crisping, reheat Maple Butternut Squash, if needed. Place ½ cup squash puree in the center of 8 plates. Nestle a portion of pork belly on top of the squash. Sprinkle Candied Butternut Squash Seeds around each plate. Add dollops of pesto and a garnish of microgreens. Serve immediately.
Note: For Chef Chalko's Pumpkin Seed Pesto recipe, go to edibledfw.com.
APPLE CIDER PORK BELLY
Makes about 8 servings
Canola oil for searing
2 large carrots, rough chopped
1 medium onion, rough chopped
3 celery stalks, rough chopped
2 garlic cloves
2 cinnamon sticks
8 sprigs thyme
4 green cardamom pods
2 to 3 pounds pork belly
8 cups (2 quarts) apple cider
½ cup apple cider vinegar
Preheat oven to 325°F. On the stovetop, heat over medium-high heat an empty roasting pan that's just large enough to hold all ingredients. When pan is hot, add oil and vegetables, and begin caramelizing.
Once vegetables are thoroughly caramelized (carrots and onions will be deep mahogany brown), about 10 to 15 minutes, add cinnamon sticks, thyme and cardamom. Heat 2 minutes, then nestle the pork belly on top of the items in the pan. Add apple cider and apple vinegar. Make sure pork belly is completely submerged. If not, add a bit more apple cider. Cover pan tightly with aluminum foil and roast for 3 to 4 hours, or until tender.
When pork belly is done, remove from the heat and let cool for 1 hour in the braising liquid. Remove the pork belly from the liquid and place on a sheet tray and cover with plastic wrap. Strain and reserve braising liquid for another sauce.
Place a heavy pot filled with water on top of the plastic-wrapped pork to weigh it down and compress it. (This will produce a more uniform thickness and it will cook more evenly when heated up.) Chill completely in the refrigerator, 24 hours. Once it's chilled, slice into portions 2 inches wide.
MAPLE BUTTERNUT SQUASH PUREE
Makes 4 cups
2 large butternut squash
Vegetable oil
Zest of 1 orange
3 tablespoons maple syrup
1 teaspoon ground cinnamon
¼ cup heavy cream
½ teaspoon cayenne pepper
¼ teaspoon vanilla extract
Salt and pepper to taste
Preheat oven to 400°F. Cut ends off squash and cut in half lengthwise. Scoop out the seeds and reserve for Candied Butternut Squash Seeds below. Rub the cut flesh with vegetable oil and sprinkle with a little salt. Place on a baking tray, flesh side up, and bake for 1 hour, rotating the tray halfway through.
When squash is fork-tender and has cooled enough to handle, scoop out and place flesh in a blender. Add remaining ingredients except salt and pepper and blend until silky smooth. Add salt and pepper to taste. Refrigerate until ready to use.
CANDIED BUTTERNUT SQUASH SEEDS
Thoroughly rinse and dry the seeds from 2 large butternut squash. (You may substitute raw pumpkin seeds.) Set aside. Preheat oven to 250° F. Lightly oil a baking sheet and set aside. In a bowl, whip together 1 egg white and 1 tablespoon water until frothy. In another bowl, combine 1 cup granulated sugar, 1 teaspoon ground cinnamon and 1 teaspoon salt. Add the seeds to the egg whites and coat evenly. Then toss the seeds in the sugar mixture until coated. Spread on prepared baking sheet and bake for 1 hour, stirring every 15 minutes. Remove and cool. Store in an airtight container until ready to use.