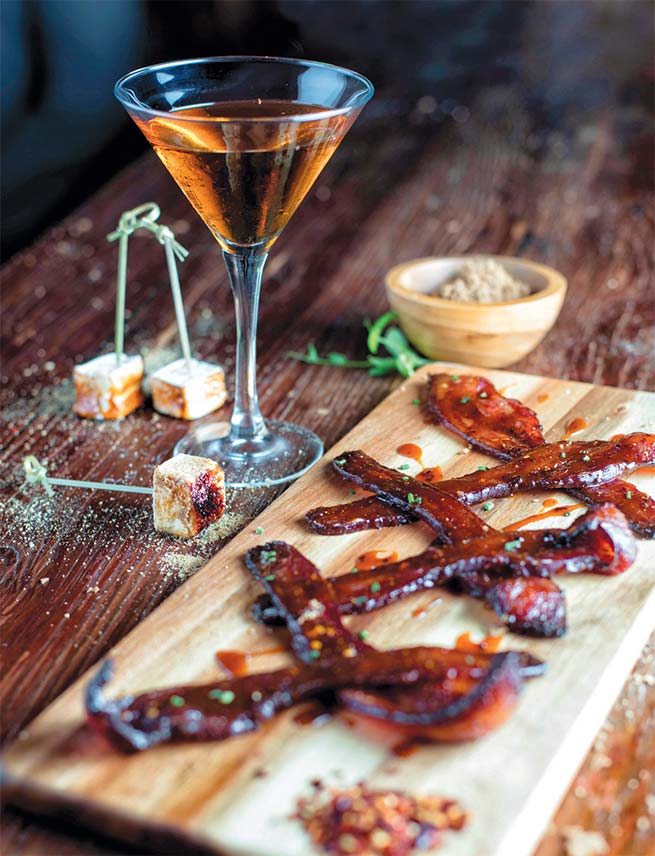 Makes about 10-14 slices
1 tablespoon cayenne pepper
1 tablespoon ground black pepper
1 tablespoon red pepper flakes
1 cup packed brown sugar
1 pound thick-cut bacon (10-14 slices)
Cayenne Caramel Sauce (recipe follows)
Preheat oven to 350°F. Place a flat roasting rack on top of a baking tray.
In a small bowl, combine cayenne pepper, black pepper, red pepper flakes and brown sugar and mix well.
Generously coat both sides of bacon slices with seasoning mixture. Place slices on rack without overlapping. Bake 20 to 30 minutes or until crisp. Remove from oven.
When cool, arrange on plate or cutting board and drizzle with cooled Cayenne Caramel Sauce.
CAYENNE CARAMEL SAUCE
1 cup granulated sugar
¼ cup water
6 tablespoons unsalted butter, room temperature
3 tablespoons heavy cream
¼ teaspoon salt
1 teaspoon cayenne pepper
In a small saucepan, combine sugar with water and cook, stirring, over medium-high heat until the sugar is completely dissolved. Reduce heat to medium and continue to cook, without stirring, until caramel reaches a light brown, about 7 minutes.
Remove from heat and whisk in butter, being very careful as the mixture will start to bubble rapidly. Then add cream. Add salt and cayenne. Let cool.
Serve Millionaire's Bacon warm as an appetizer. Or for dessert: Crumble over slices of flourless chocolate cake, then drizzle with sauce.