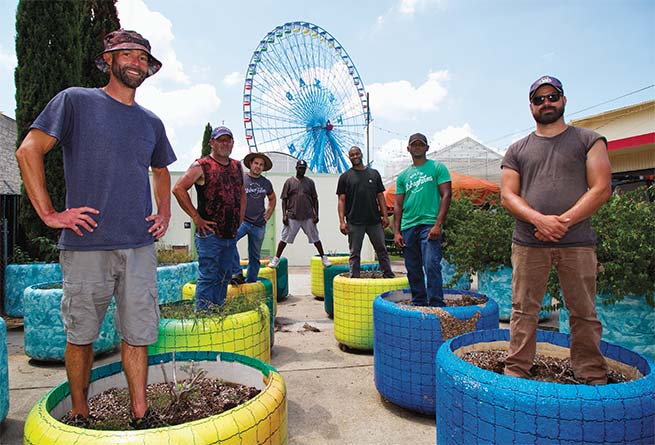 Meet the Big Tex Urban Farms team (l-r): Farm Manager Drew Demler, Don Fisher,
Robert Blackmon, Barron Horton, Donald Wesson (Cornerstone Baptist Church), Jerriah
Johnson and Ford James, standing atop concrete planters, custom made for their fruit trees
Photography by Rick Baraff
"Howdy, folks!" drawls the baritone-voiced icon standing 55-feet-tall over the midway. "Gather 'round and behold the State Fair's latest attraction—a magical, appearingdisappearing farm!"
Welcome to Big Tex Urban Farms, an endless stretch of portable planter boxes reaching across the concrete parking lots of Fair Park and into the neighborhoods beyond. This unique urban agriculture project, developed and operated by the State Fair of Texas, is bringing fresh, organic produce and much more to its South Dallas neighbors.
The wheels began turning in the head of State Fair Creative Director Jason Hays when the fair's newly minted president, Mitchell Glieber, tasked the State Fair team with refocusing on their mission to promote "agriculture, education and community involvement."
Knowing that their Fair Park neighbors lacked grocery stores and fresh food sources (aka a food desert), Jason considered the Fair's assets, most notably the space available at Fair Park, and imagined how it could be used in a meaningful way.
"How about growing food?" Jason suggested to the fair's Greenhouse Manager Drew Demler, who had grown up in Baton Rouge "doing all things with plants" alongside his horticulturally inclined father. The goal was to build community partnerships and a more vibrant environment for a population plagued with issues like adultonset diabetes and high unemployment. Together the two pitched the idea to the State Fair leadership, who blinked a few times at the question: "How about putting a farm inside Fair Park?"
As every Texan worth his denim britches knows, the State Fair utilizes just about every square inch of the park from September through much of October. So—where would they put a farm?
"Aha!" said Jason, introducing the model of Sole Food Street Farms, a Vancouver, Canada-based urban project that uses movable planters and employs underserved community members to grow and sell food commercially. "We'll build portable planter boxes for our selfsustaining, community-empowering, job-creating local food project that will create a new model for health and wellness!" That's a bit of a paraphrase, but you get the idea.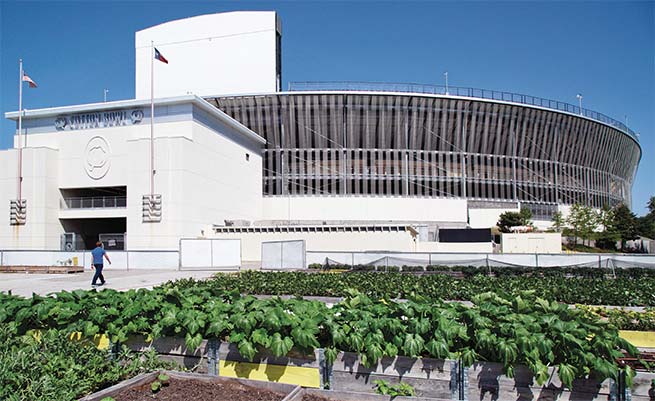 Sidling up to the Cotton Bowl, a "field" of greens.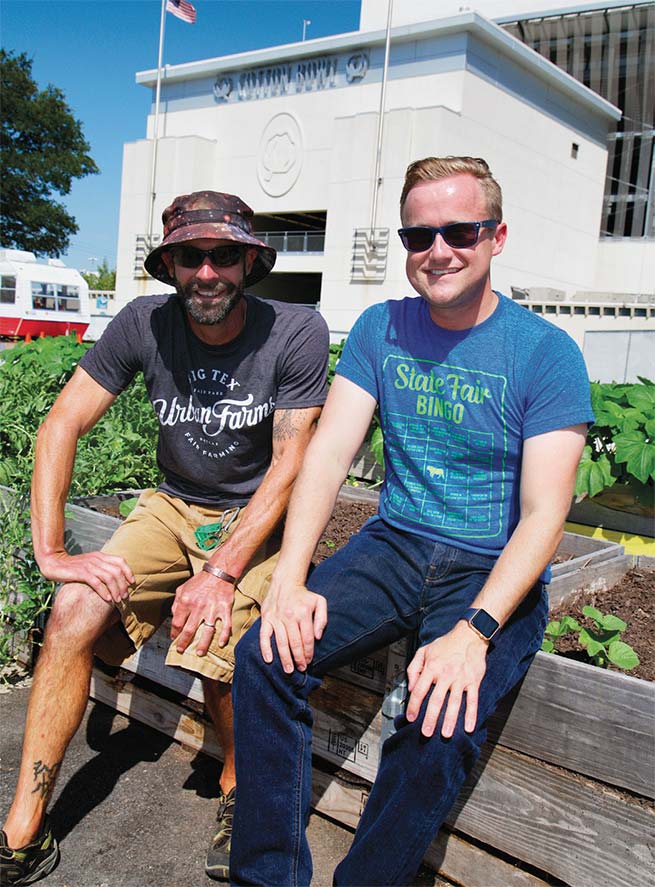 The farm's founding fathers: Drew Demler and Jason Hays.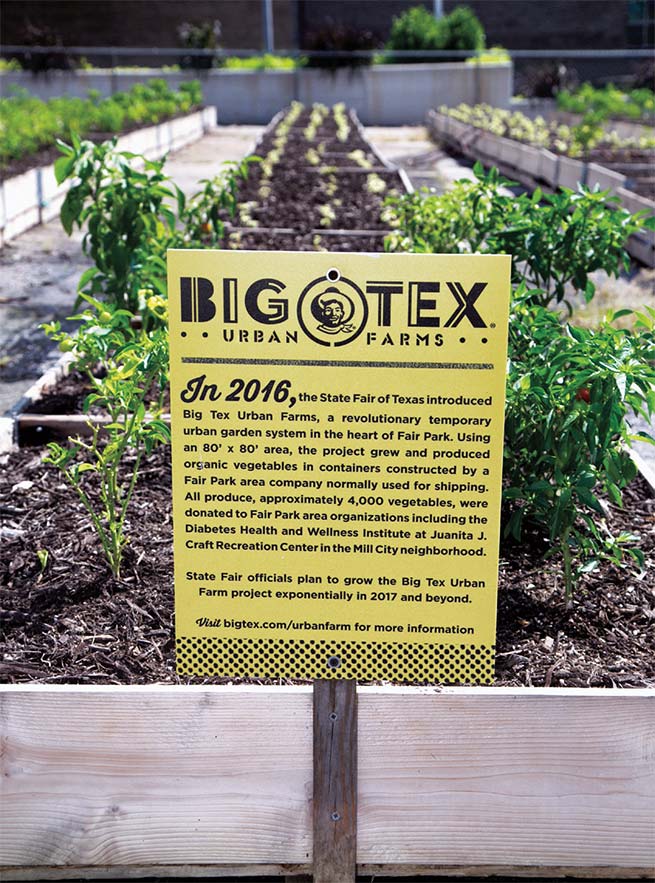 The forklift-friendly planters link together like Legos.
Combining Drew's horticultural knowledge and Jason's resourcefulness, the duo utilized the State Fair's seed money to build an initial 100 wooden boxes, 40×48-inches each, on forklift-friendly skids and outfitted them with drip irrigation. The boxes can connect like a Lego set and are easily movable during the fair. Voilà—now you see it, now you don't! And that was the duo's second aha moment!
The key to extending the magic was the farm's portability. They would not only grow food for the community, but would also provide the community with the means to grow its own. Imagine hundreds— no, thousands—of these mobile planters placed on vacant lots, in churchyards, alongside office buildings and schools. A movable feast, indeed!
If there was a name for this community-sized trick, it would be called "farming farms," Drew's term for the magic that keeps on making magic. Vetted groups in the Fair Park neighborhood receive training and then are given as many planters as they're willing to take, not only for the duration of the fair, but indefinitely, if they're so inclined.
"Each time boxes go out we're hoping that they become their own little farm," says Drew. "Of course, we'll be there to help along the way. This isn't about just passing the buck." Or the zucchini. This setup provides the community with the means to employ locals, thus doing more than just powering good health. The dream is to empower folks in the community to take ownership of their resources.
Like the Internet's technology-sharing model, Big Tex Urban Farms is an agricultural version of open-source sharing wherein the "soft wares" are squash, peppers, cucumbers, greens and other seasonal vegetables. There are also fruit trees and eggs from their fledgling chicken coop.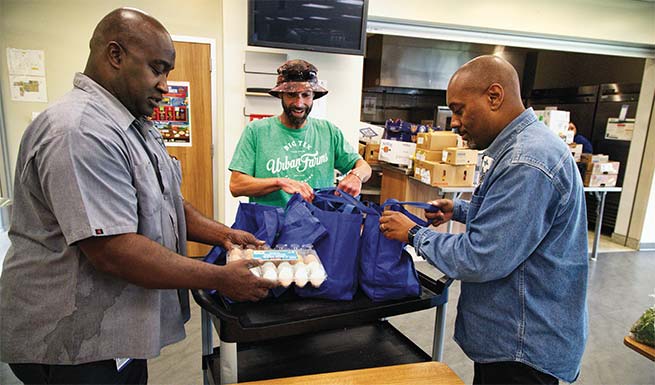 Drew (center) delivers eggs and produce to Floyd Black and David Edwards
at the Diabetes Health and Wellness Institute.
There's a full-time staff of four plus volunteers who tend to the chickens, oversee the plants and help deliver produce. And because magic tricks can get complicated, the team partners with the Hunt Institute for Engineering and Humanity at Southern Methodist University and Texas A&M AgriLife Extension Service to help with the science of the boxes—finding the best building materials and fine tuning the soil content to maximize growth.
In the first six months of 2017, the onsite farm provided 1,500 pounds of food (6,600 meal servings) and 101 eggs to its beneficiaries. "We now have 529 boxes rocking with food," says Drew, "and a lot of interested folks in the neighborhood who want to be a part of our program."
Because there are only high-priced, snack-laden convenience stores in a food desert, South Dallas residents wanting fresh vegetables must travel miles to reach the nearest grocery, a time-consuming round-trip that costs upwards of $5 via public transportation.
"That's a lot for low-income families, especially if you make multiple trips per week," says Donald Wesson, program director at Cornerstone Baptist Church, whose kitchen utilizes the farm's produce in the meals prepared for low-income community members. "There's a different type of interaction that happens when you share a wholesome meal that includes fresh vegetables and a prepared main dish versus a cold-cut sandwich. By providing better meal options, we are literally and figuratively changing the conversation of food—over food."
The farm also provides a portion of its harvest to the biweekly farmers market at the Diabetes Health & Wellness Institute (part of Baylor Scott & White Health), located at the Juanita J. Craft Recreation Center. "We sell their produce for very reduced costs because we recognize the health benefits," says David Edwards, lead health educator at this unique center, a combination of medical facility and community space.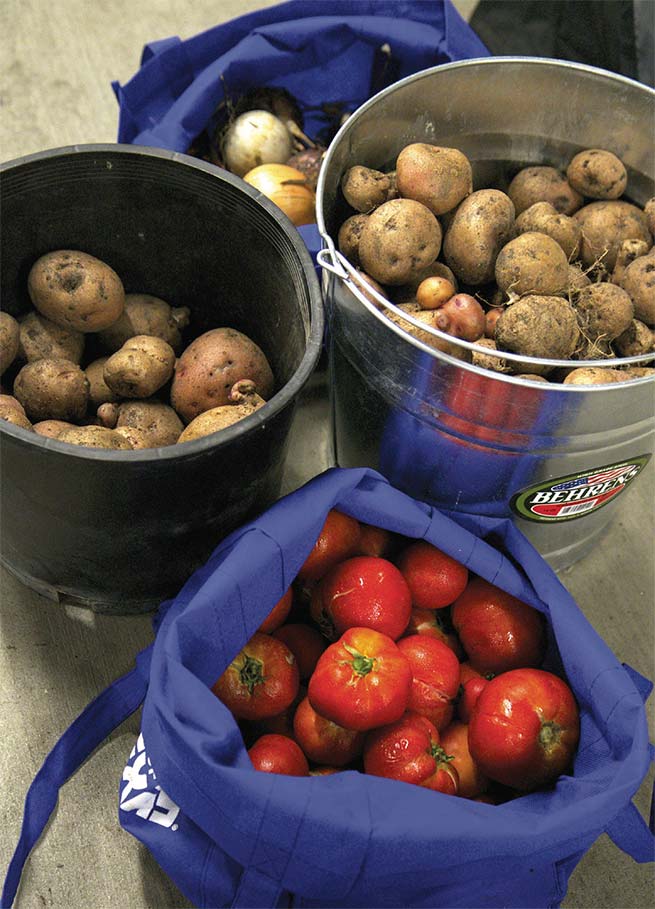 The organic harvest includes Kennebec potatoes and a variety
of tomatoes, like Rutgers, Early Girl and Better Boy.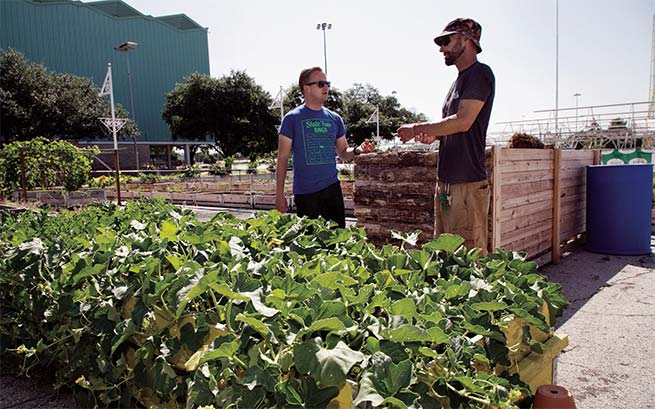 Jason Hays and Drew Demler survey the farm's planters.
Several groupings are on display during the fair.
"People in the area are excited and want to participate," says Drew. "We love to teach and engage with folks, and anyone is welcome at any time." The team encourages school field trips, and there's a summer camp for kids in the neighborhood to teach them how vegetables are grown.
So, enjoy those corny dogs, funnel cakes and Ferris wheel rides guilt free. The State Fair of Texas is one of our area's largest fundraisers, with money going to scholarships and other noble causes, including Big Tex Urban Farms.
At this year's fair, a display of the mobile planters will be showcased to promote the project, but most will have already been dispersed throughout the neighborhood. AgriLife educators will pay weekly visits to the recipients and offer advice on the care of the plants. They will keep track of what's being grown and the success thereof. After the fair, each organization will have the chance to keep their boxes, ask for more, or return them. The hope is that these new "farmers" will pass on their knowledge to others and the program will expand.
"[The farm] has become a catalyst for conversations in our neighborhood," says Jason. "It helps bring the community together, connects people, and creates a real engine for change."
Says Drew, "It's amazing how far we've come in sixteen months. Now, we're gearing up to add hydroponics so we can really scale up to make an even bigger difference."
"And there you have it," concludes the world's tallest cowboy, tipping his 95-gallon hat. "Our produce-exchanging, community-engaging, neighborhood-changing spectacle—Big Tex Urban Farms!"