Tackling the Challenge of Lasting Food System Change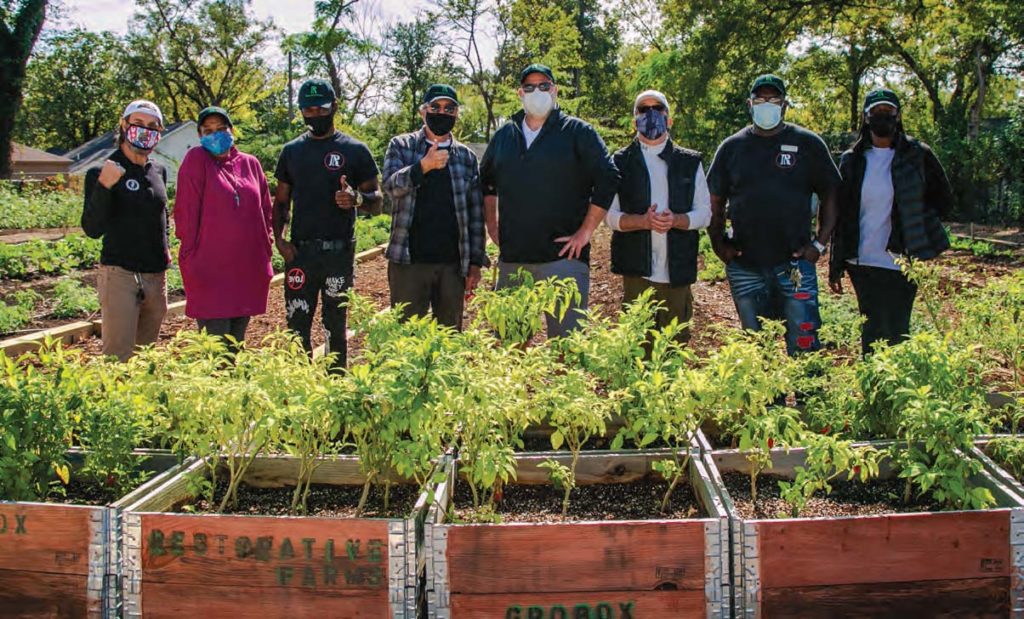 South Dallas used to be full of vegetable gardens. For generations, the elders in the community made sure that people ate and shared quality foods grown right in their own backyards. People also bought fresh greens or canned vegetables from local farmers markets. "My granny would tell me it was fields, dirt pastures, and homes along the boulevards," says Charles Bryant, a Farm Associate with Restorative Farms, a nonprofit dedicated to building a self-sustaining urban farm system in South Dallas.
South Dallas still has a lot of fields: empty ones where many of these homes used to sit.
"A big reason was the crack epidemic," says Tyrone Day, Restorative Farms' co-founder, referring to the cheap street drug version of cocaine that turned many cities upside down in the 1980s. "The generation that still grew food in their home gardens was dying out as crack hit South Dallas. The houses, the parks, the community got run down. Instead of vegetables on the ground, it was crack bags and needles. And that knowledge and sense of community was mostly lost."
Simultaneously, fast food got a stranglehold on less affluent neighborhoods, providing calorie-dense but unhealthy meals for cheap. Today, the North Texas Food Bank and other national organizations recognize South Dallas as one of the largest food deserts in the country, a USDA designation for a place where a vast percentage of the population has to travel long distances to procure fresh foods and often lacks transportation to do so.
"A food desert is also a job desert. South Dallas needed job opportunities and training, access to food, and the means to become more resilient. Our goal was to design a system approach to do these things," says Dr. Owen Lynch, a professor at SMU and co-founder of Restorative Farms.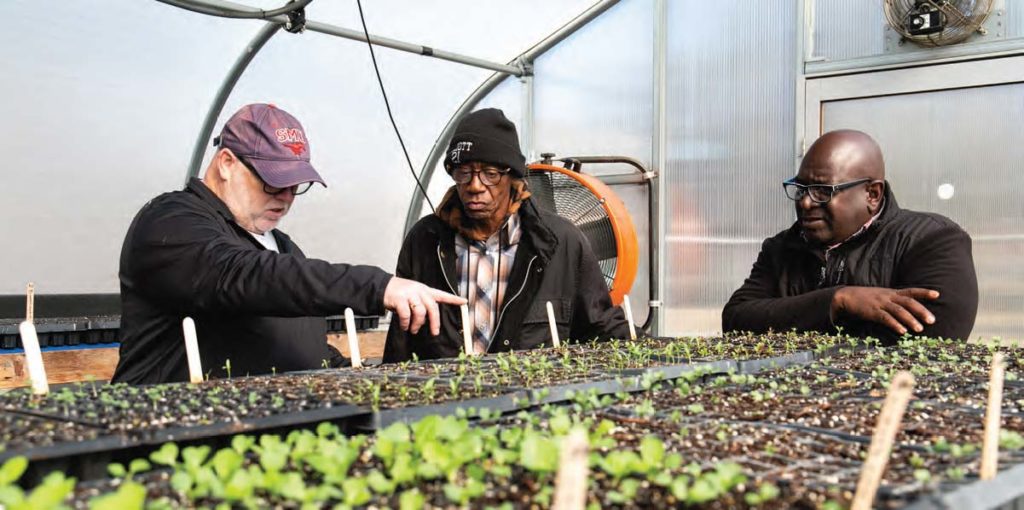 "I'm from right here and I want to stay here until it's done. I want to create the ambition to get our community back to the home remedy of growing your own food." –Tyrone Day
Dr. Lynch wanted to study the issues surrounding food deserts in order to figure out if there was a viable solution that could include the notion of restorative justice, which emphasizes repairing the harm caused by crime by having the victims, offenders, and community members get together to help decide the best plan forward.
As per RestorativeJustice.org "it emphasizes accountability and making amends."
This led Dr. Lynch to put together a coalition of farmers, scientists, entrepreneurs, government officials—and, most importantly, local citizens—dedicated to developing an urban agrisystem in South Dallas. In short, they imagined an integrated, farm-based, huband- spoke food system that went from seed to table to seed again, all while employing and empowering the people of the community to transcend the current barriers they face with regards to resource and job scarcity.
Some people see urban farm projects like this as building bridges to the community, but Dr. Lynch sees it more systemically: he wants to "smash the f*cking walls down," referring to these barriers. And that's the underlying attitude of this project which has gathered some notable partners for doing things differently by applying a systematic, accounting-like methodology to growth on all fronts.
"We're not Facebook Farmers," notes Brad Boa, another co-founder, referring to efforts that might have lofty intentions and mission statements but without the infrastructure to remain viable.
"While we applaud everyone who's started an urban farm, most unfortunately fail within three years. We're here to calculate and measure every bit of real-world data and turn that into actionable things we can do every day to build and scale something that will last. It's very hard work to maintain energy, interest, and especially the financial aspect of running one."
The first component was The Seedling Farm at the MLK Community Center a few blocks from Fair Park. The Seedling Farm focuses on germinating the seedlings (young plants). These are then moved to the Hatcher Station Training & Community Farm, a parcel gifted by another partner, DART, adjacent to the Hatcher Station light rail. At Hatcher, Day helps train an ever-growing contingent of aspiring Apprentice Farmers.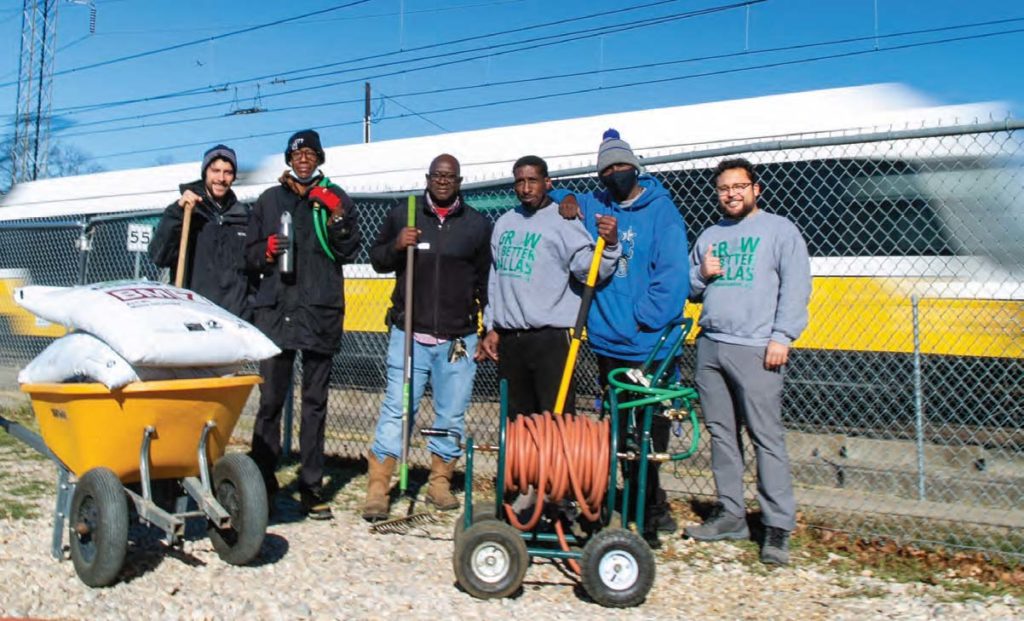 With the help of partners at Texas A&M Agrilife, the team planned every detail of how to maximize every inch of the space and calculate what would grow best in each season as well as the cost of soil, seeds, tools, and more. Handmade GroBoxes—easyto- use raised bed planters for home, schools, or businesses—are another component that helps raise funds through direct sales.
Next came GroZilla, a high-tech hydroponic container farm at Fair Park. It's a one-of-a-kind unit for research, food production, and teaching. Between all these components, Restorative Farms now employs six people and impacts many more.
Restorative Farms is ultimately striving to achieve what might be called the holy trinity of professional urban farming: 1) Provide healthy, affordable, locally grown produce for the community; 2) create income for community growers with profits from production and sales; and 3) provide viable training and entrepreneurial and leadership opportunities.
There's a huge financial incentive beyond just selling food to the South Dallas community. It's estimated that there's roughly a billion- dollar gap across the whole DFW area between what consumers want in healthy fresh food options and what's currently available. So the agrisystem model can hopefully involve more people starting their own farms or food-related ventures to become viable "spokes" in the hub.
But the other side of the master plan is to make this model opensource and replicable in any other urban environment. Meaning, yes, they're giving away the blueprints.
"Making this system truly viable, making sure the community itself is involved, and disseminating the proper knowledge and empowerment is the only way we're going to create long-lasting change to our entire food system. And ultimately our collective future," adds Dr. Lynch.
As for notable partners, this includes Tito's Vodka, whose Love Tito's philanthropic arm not only embraced them with financial support but sponsored a fundraising brunch with Netafim, a leader in farm irrigation technology; Whole Foods Market; SMU; Green Mountain Energy; Toyota USA; and Kosmos Energy, which helped fund a pilot CSA (Community Supported Agriculture) program for its own employees.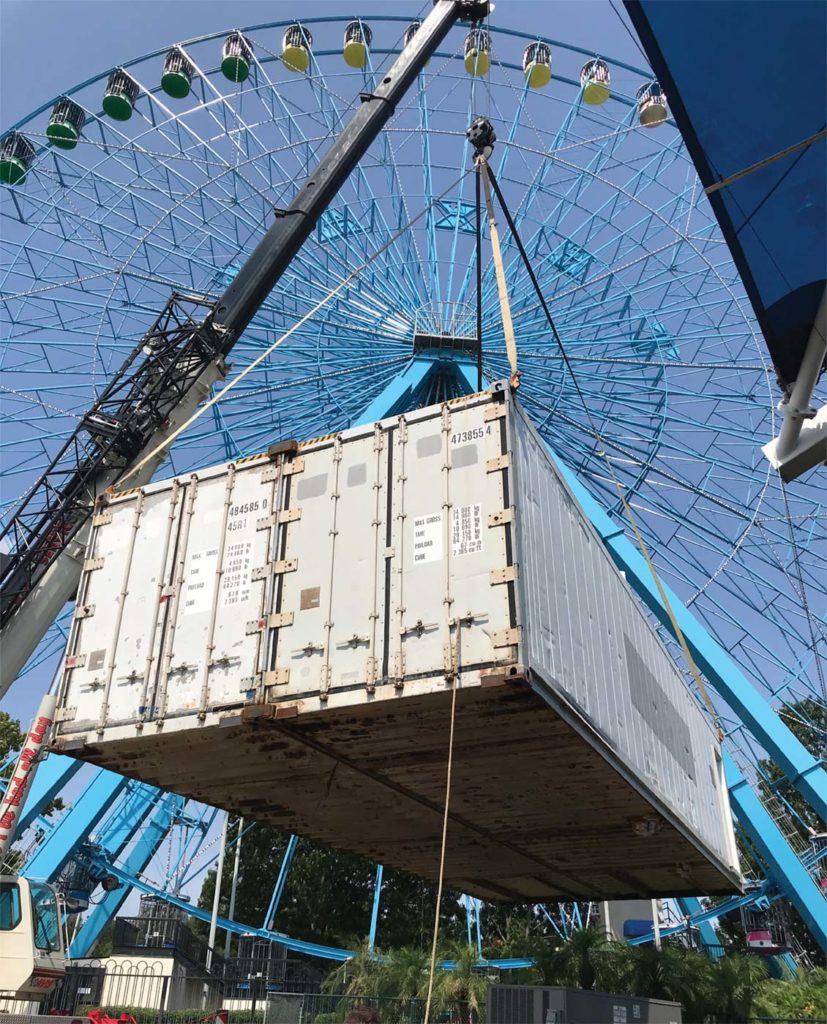 "It's a great experience to watch the vegetables you see in the store come out of the ground from our hard work and know that we're helping rebuild our community closer to how my granny saw it." —Charles Bryant
GroZilla at Fair Park
The CSA, where farmers from the area aggregate their goods to provide weekly boxes of food directly to the public for a fee, is the first example of how all the components of the agrisystem can function together.
"What a wonderful asset to our city to help increase the access to fresh food and to create new job opportunities," said Dallas cookbook author Alex Snodgrass after hosting the bruncheon in November.
Restorative Farms has also built a buzz with like-minded, can-do nonprofit organizations including 4DWN Project, who run a safe, inclusive skatepark and help build GroBoxes, and Harvest Project and Oak Cliff Veggie Project, both of which redistribute food destined for the landfill in addition to educating people about nutrition.
Day's vision is to create a local food hub like the one that used to exist. "It's not going to happen overnight. Probably closer to 10 years until people really latch on and understand they're living in a food desert and can gain the knowledge and infrastructure to eat healthier again.
"I'm from right here and I want to stay here until it's done. I want to create the ambition to get our community back to the home remedy of growing your own food," Day says as he prepares to pull the cover crops that were sown for the overwinter months.
"It's a great experience to watch the vegetables you see in the store come out of the ground from our hard work and know that we're helping rebuild our community closer to how my granny saw it," adds Bryant.
Please visit Restorative-Farms.org to sign up to volunteer, to buy a Gro- Box or seedlings, to donate, and to find more information.