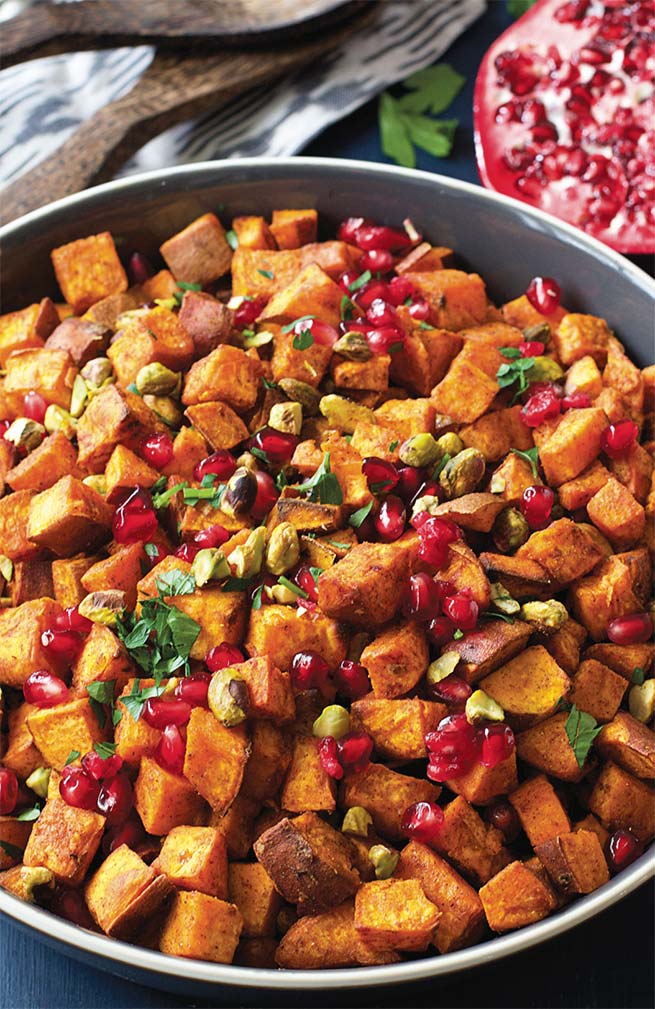 With its gold-hued spices, earthy pistachios and ruby red pomegranate arils, this gorgeous sweet potato dish is as brilliant as a drift of autumn leaves.
Serves 6
4 large unpeeled sweet potatoes (3 ½ to 4 pounds), cut into 1-inch cubes
1 tablespoon olive oil
1 teaspoon ground cinnamon
¾ teaspoon curry powder
½ teaspoon ground cardamom
½ teaspoon kosher salt
¾ teaspoon fresh ground black pepper
½ cup pomegranate arils
½ cup shelled pistachios
1 tablespoon chopped fresh parsley
Preheat oven to 425˚F
In a large bowl, toss to combine sweet potatoes, olive oil, cinnamon, curry powder, cardamom, salt and pepper. Evenly spread potatoes on a parchment-lined (optional) rimmed baking sheet. Roast 45 to 50 minutes, stirring halfway through, until cooked through and slightly golden. Toss roasted potatoes with pomegranate arils, pistachios and parsley, and serve.