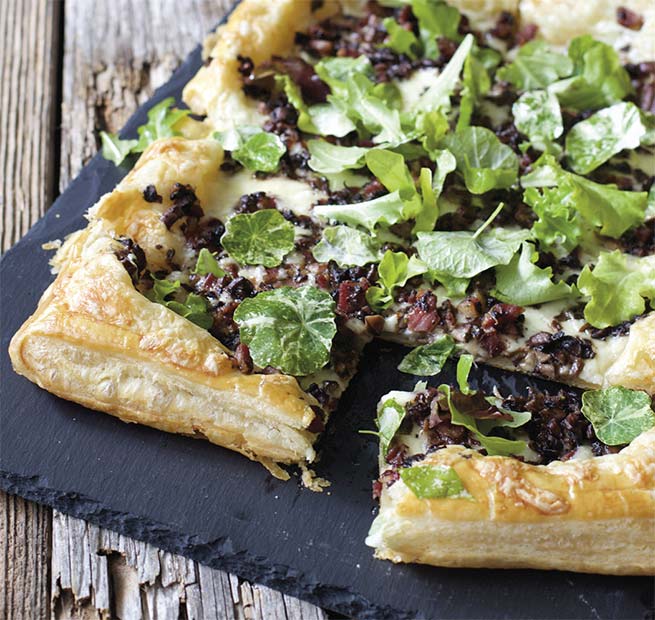 Earthy cremini mushrooms sautéed in the drippings of crisp pancetta, then deglazed with red wine and baked on an airy puff pastry with a blanket of fontina cheese: an impressive tart for any meal.
Serves 6
4 ounces thickly cut pancetta (about 2 slices)
6 ounces diced cremini mushrooms with stems removed
1 shallot, minced
1 garlic clove, minced
¼ cup Pinot Noir
1 teaspoon chopped rosemary
1 puff pastry sheet
½ cup shredded fontina cheese
1 tablespoon extra virgin olive oil
½ tablespoon lemon juice
1 cup microgreens or arugula
Slice pancetta into ¼-inch cubes and place in a skillet over medium-high heat. Cook until golden and crisp and then transfer to a paper towel-lined plate.
Reduce heat to medium and add mushrooms, shallot and garlic. Sauté until mushrooms are cooked and fragrant, about 5 minutes. Add wine and cook, stirring frequently until there isn't any liquid left in the pan.
Remove from heat and cool completely. Add pancetta and rosemary to the mushrooms; taste and season with salt and pepper, if necessary. Preheat oven to 400°F.
Roll the pastry into a 10×13-inch rectangle and transfer to a parchment paper-lined baking sheet. With a knife, lightly score a 1-inch wide border around the outside of the tart. This will make the pastry rise and form a crust when baked. Evenly sprinkle cheese inside of the border and top with mushroom and pancetta mixture. Bake for 20 to 25 minutes, until the crust is puffy and golden.
In a bowl, whisk together olive oil and lemon juice. Add microgreens and toss until coated. Garnish tart with the microgreens. Slice and serve.
Recipe from Effortless Entertaining Cookbook, Page Street Publishing Co.