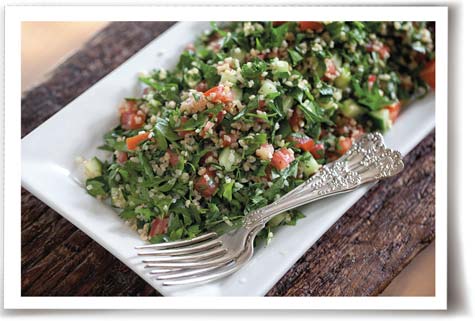 Photo by Kelly Yandell
by Chef Chad houser, Café Momentum
In 2011, I embarked on a culinary journey to Lebanon, a country with a history older than the Bible. Whether cooking in various kitchens, foraging through the Kadisha Valley, tasting wine at a vineyard or buying shawarma from a street vendor, I could feel all of the ancient food traditions in my bones and smell them in the air. Several of these traditions I experienced firsthand from my friend and host, Kamal Mouzawak. Kamal, one of the most progressive and trend-inspiring people I have ever met, prepared food with me as if we were cooking with his ancestors from generations before. Th e two biggest lessons I learned from Kamal: 1) If you chop the parsley correctly (for tabbouleh), the knife will only touch the leaves once and never leave them "shamefully bruised." 2) When ordering food for a mezze (appetizers) always order twice as much food as you think you can eat. In Lebanon, nothing is more offensive than leaving an empty table. And as hard as it is to walk away from all of that uneaten food, never ever ask for a doggie bag.
Serves 4
½ cup bulgur wheat
1 cup boiling water
3 cups chopped flat leaf parsley (from 2-3 bunches)
1½ cups tomatoes, cut into ¼" chunks (about 2 medium-sized)
⅔ cup English cucumber, seeded and cut into ¼" chunks
3 tablespoons lemon juice (about 3 lemons)
2 tablespoons olive oil
¾ teaspoon salt
¼ teaspoon black pepper
Place the bulgur wheat in a heatproof bowl and add boiling water.
Cover with plastic wrap and allow it to stand for 15 minutes. Drain the wheat in a sieve, pressing it with a spoon to remove any excess liquid.
Transfer the bulgur to a medium size bowl and add the parsley, tomatoes and cucumber.
Prepare the dressing by mixing together the lemon juice, oil, salt and pepper. Add the dressing to the salad and toss to combine.
Note on Parsley: Pull the parsley leaves from the stems and bundle them into a loose ball with your fingers. Use a slicing technique to cut the parsley to avoid bruising.
Note on Bulgur Wheat: All bulgur is cracked wheat but not all cracked wheat is bulgur. Bulgur has been parboiled so that it cooks more quickly. And there are various sizes of bulgur. If larger, it takes longer to soak.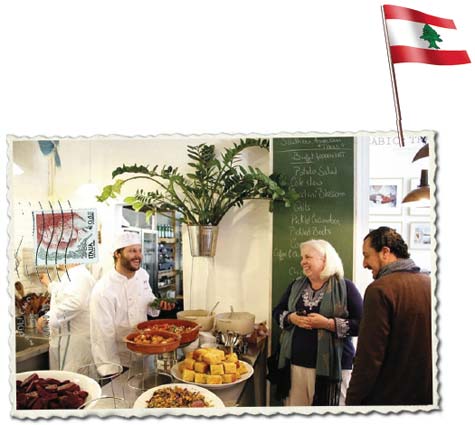 Chad Houser and Kamal Mouzawak with Maura Connelly,
U.S. Ambassador to Lebanon
photo by Randy Potts

CHAD HOUSER is a proud native of the great state of Texas and is a true connoisseur of all her fruits, whether it's locally-grown Lemley tomatoes, a refreshing Viognier from the Hill Country, or a mean plate of Dr. Pepper BBQ ribs straight from his home kitchen. Often referred to as the "King of Freshness" by his local foodie paparazzi, Chad, recently nominated by D Magazine as Best Up-N-Coming Chef, is a co-owner and chef of Parigi Restaurant. He is also President of the Board of Directors for the Dallas Farmers Market Friends, where he partners with local legends like "Mama" Ida Papert to promote anything and everything local. Chad is a Texan through and through -- big heart, big boots, and some serious spurs to match.