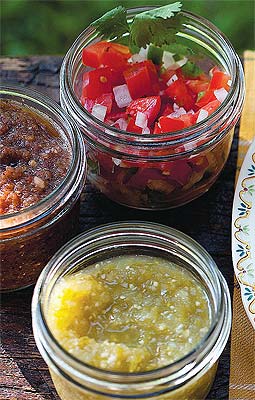 by Chef Tim Byres, SMOKE, Dallas
TOMATILLO SALSA VERDE
The tomatillo has mildly tart, green fruit hidden beneath its papery sheath of leaves. It is the tangy foundation for many Mexican green sauces.
1 pound fresh tomatillos, skins removed and halved
½ yellow onion, quartered
2 jalapeños, stems and seeds removed
5 cloves garlic, peeled
2 cups water
1 teaspoon kosher salt
½ cup cilantro leaves
In a saucepan, combine the tomatillos, onion, jalapeños, garlic and water. Bring to a simmer and cook for 10 minutes.
Using a slotted spoon, remove the tomatillos and vegetables from the cooking liquid to a bowl. Allow them to cool. Return the saucepan to the heat and boil the cooking liquid until it is reduced to about ½ cup. Pour the reduced cooking liquid into the bowl with the tomatillos. Place the bowl in the refrigerator and allow it to cool completely.
Place the tomatillos in the bowl of a food processor or blender. Add the cilantro and the salt. Blend it until the salsa is completely smooth.
ROASTED ASH SALSA NEGRO
This recipe requires a wood fire grill. The peppers, roasted directly on the coals, become blistered and ashen, an essential component of this dark, earthy salsa.
2 poblano peppers
2 jalapeño peppers
2 red onions, peeled
5 cloves of garlic, peeled
5 Roma tomatoes, halved
Using a long fire tool, prepare a hollow in the coals of a wood fire about the size of a medium bowl. Throw the peppers, onions and garlic directly into the clearing and roast until the skins are burnt. Using long fire-proof tongs, scoop vegetables into a bowl and allow them to cool. Dust off any debris, leaving the burnt skin intact.
Replace the grill over the coals. Take the tomato halves and place them directly on the grill. When they are softened and have nice grill marks, remove them from the grill with a spatula.
Place the peppers, onions, garlic and tomato in the blender with the remaining ingredients and blend until smooth. Add water as necessary to achieve a smooth salsa. Season to taste with salt and pepper.
PICO DE GALLO
This simple condiment is healthy and flavorful. Serve with tortilla chips as a dip or as a light, zesty topping for fish, chicken or pork.
1-½ Roma tomatoes, seeded and chopped
⅓ cup chopped onion
½ cup chopped fresh cilantro
3 tablespoons fresh lime juice
3 tablespoons jalapeños, minced
1 clove garlic, minced
1/8 teaspoon celery seed
Mix to combine and cool in the refrigerator until needed.