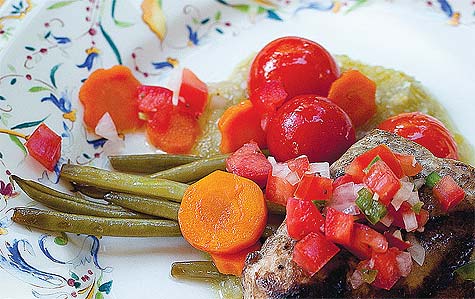 by Chef Tim Byres, SMOKE, Dallas
Though Southern-style barbecue and smoked meats are at the center of Chef Tim Byres' menu, SMOKE also offers plenty of heritage-inspired vegetable dishes to satisfy the non-meat eater. This recipe is a warm mélange of blistered tomatoes, gingered carrots and pickled green beans seasoned with guajillo chiles. The pickled vegetables should be made at least one day ahead and stored in the refrigerator to allow the flavors to develop.
1 tablespoon olive oil
24 to 30 cherry tomatoes
1 pound pickled carrots (See below)
1 pound pickled green beans (See below)
To Serve:
Heat oil until very hot in a cast iron skillet. Add the tomatoes to the skillet and shake them around until they are evenly blistered and heated through.
Add the pickled vegetables to the pan with the tomatoes and sauté quickly, merely to heat them through, but not to cook them any further.
For Pickled Carrots
1 pound carrots, peeled and cut into ¼" slices
1½ cup distilled white vinegar
2½ tablespoons kosher salt
6 tablespoons granulated sugar
1 medium piece of ginger, sliced
To Make Pickled Carrots
Combine all of the ingredients in a saucepan. Bring the liquid to a boil and then remove the saucepan from the heat. Allow the carrots and vinegar to cool completely in the saucepan.
Remove the carrots and pickling liquid to a bowl, cover the bowl and place the pickled carrots in the refrigerator until they are needed.
For Pickled Green Beans
2 dried guajillo chiles
2 cups distilled white vinegar
7 tablespoons granulated sugar
¼ cup sherry vinegar
1 tablespoon chile powder
2 teaspoons kosher salt
1 bay leaf
1 pound green beans, rinsed and stemmed
To Make Pickled Green Beans
Preheat the oven to 400°F. Place 2 dried guajillo chiles on a baking sheet. Place the baking sheet into the oven for 30 seconds to a minute to toast the peppers slightly. Remove the peppers from the oven. Cut and discard the stems and seeds.
Place peppers in a small saucepan and add just enough water to cover them. Bring to a simmer then remove from the heat and let sit for 15 to 20 minutes to rehydrate. Place the peppers and liquid in a blender and process until smooth. You will need 1½ tablespoons of the puree for the pickled beans.
Bring pepper puree and all of the remaining ingredients except the beans to a boil in a small saucepan. Place the green beans in a bowl and pour the heated pickling liquid over the beans. Refrigerate the beans until needed.