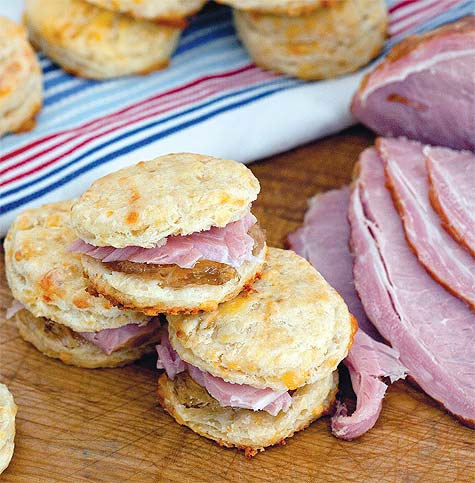 Photo by Kelly Yandell
Chef Robert Lyford, Patina Green Home and Market, McKinney
Makes 24 biscuits
Chef Robert Lyford's smoked cheddar and ham biscuits are a regular sellout at Patina Green Home and Market. Patina Green stocks artisanal food products, like Leslie Luscombe's award-winning jalapeño jellies and Veldhuizen Family Farm's cheddars, alongside vintage furniture and home accessories. Each day Chef Lyford gets fresh smoked ham from his McKinney neighbor Matt Hamilton at Local Yocal, a neighboring grocery specializing in grass-fed meats and local produce. A tray of these delicious little biscuits are a guaranteed hit at any gathering.
4 teaspoons cane sugar
2 teaspoons sea salt
2 ½ teaspoons baking powder
4 ¾ cups all-purpose flour
1 ½ sticks of butter
1 ½ cups smoked cheddar cheese (grated)
2 cups whole milk
1 egg, beaten
9-ounce jar of jalapeño jelly
(Luscombe Jalapeño Peach Jelly, preferred)
1 pound pasture-raised smoked ham, thinly sliced and torn into half dollar-sized pieces
Preheat oven to 375°F.
Sift together sugar, salt, baking powder and flour. Using a pastry cutter, cut butter into dry ingredients. Butter should be worked in until it is in small pea-sized pieces.
Add cheese and mix. Next, add milk and stir, forming a dough ball.
Turn out onto floured surface and knead until dough forms. The dough should be dry enough so that it doesn't stick to your hands or the surface. You may need to add a pinch or two of flour to achieve this consistency.
Roll dough with floured rolling pin to a 1" thickness.
Cut with a 2" round cutter and place on a parchment lined baking sheet. Space out the biscuits and give them room to rise. With the scrap dough, you may repeat this procedure additional times until all the dough is used.
Brush the biscuits with a beaten egg and bake for 15 minutes.
To assemble: Slice warm biscuits horizontally and place tops to one side. Spread 2 teaspoons of jelly on each bottom half then place several pieces of ham on top of jelly. Replace tops of biscuits to complete the sandwich.