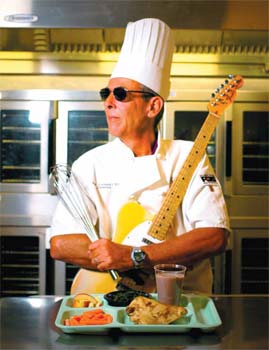 Photography by Richard Adams
"With the popularity of chefs on television, kids think
chefs are cool, and we can make that work for us."
—Executive Chef Brad Trudeau, Dallas ISD
If you've ever fed kids, you know that getting them to eat healthy foods can be tough. Experts say a child may have to taste a new food up to 15 times before deciding that they like it. That can add up to a lot of uneaten squash casserole. If you've had this experience in your own kitchen, imagine what it's like for the folks who make the lunches for North Texas school children.
First, multiply your personal challenge by hundreds of thousands of kids, ages four through 18. Add in the fact that the price charged for a school lunch is around $1.50, often less than the cost of the ingredients. Mix in childhood obesity, which has risen alarmingly in the last twenty years, and it's a recipe laden with frustration.
But what if you spiced up the kids' lunch experience with a white-jacketed chef like the ones they've seen on TV? And what if that whisk-wielding super star actually sat down and talked about the joys of eating squash casserole or fresh spinach? Or helped plant a garden so the kids could grow their own vegetables, or held a cooking class for the students and their parents? There's a good chance that those kids would be a lot more enthusiastic about what lands on their plates at lunchtime.
That's the thinking behind a new program called "Chefs Move to Schools," part of First Lady Michelle Obama's fight against childhood obesity. The official White House launch was on June 4, and Chef Sharon Van Meter, Executive Director of Milestone Culinary Arts Center, was in attendance representing the Dallas chapter of Les Dames d'Escoffier. Van Meter, a Le Cordon Bleu-trained chef and a committed humanitarian, was inspired by the experience.
"It was an incredible feeling to be in the midst of this pack of 900 chefs from across the country," said Van Meter. "We were all wearing our white coats and toques when we walked onto the South Lawn of the White House together to hear Mrs. Obama speak about the program."
Also in the crowd were Chef Tim Byres of Smoke in Dallas and Chef John Tesar, Culinary Director for DRG Concepts.
Upon his return to Dallas, Chef Tesar signed on with DISD's Stonewall Jackson Elementary. Van Meter, who is Director of the Dallas chapter of the Texas Chefs Association, has been speaking to various organizations encouraging them to use funds allotted for community service to support the program.
While chefs are a vital part of the equation, garnering enthusiasm with the folks who work in school cafeterias and the administrators who supervise them is just as important. After Jamie Oliver's reality show tussle with the "lunch ladies," who would blame them for being skeptical?
To ease fears and answer questions, White House Assistant Chef Sam Kass came to Dallas to attend the annual meeting of the School Nutrition Association (SNA), a national professional organization representing more than 55,000 members who provide high-quality, low-cost meals to students across the country.
The current president of the SNA is Dora Rivas, who also oversees the Food and Child Nutrition Services Department of DISD. Rivas shared her enthusiasm for the "Chefs Move to Schools" program saying, "We've been looking hard at our menus, and we really want to involve the kids in making good choices. This program ties in beautifully with what we want to achieve."
Speaking for the Fort Worth ISD, Stephanie Adin, Child Nutrition Services Coordinator indicated that they're interested in the program as well. A look at the "Let's Move" website shows that approximately 25 North Texas schools and 30 chefs have already enrolled. The next step is to match schools with chefs.
Executive Chef Brad Trudeau, DISD's Director of Production and Procurement for Food Services, is helping to facilitate the program in Dallas. Trudeau is aware of both the challenges and opportunities involved in running a successful school meal program. He and Rivas referenced the belttightening schools have had to do. Two bills working their way through the U.S. House and Senate would allocate more funds for school nutrition.
"We all know that you can put the healthy stuff out, and the kids don't necessarily eat it," said Trudeau. "But with the popularity of chefs on television, kids think chefs are cool now, and we can make that work for us."
Chef Kass was recently named the Obama Administration's Senior Policy Adviser For Healthy Food Initiatives. He stressed to members of the SNA that the program is a cooperative one. "This program is not here to tell schools what they should do.
Each school is unique and has its own needs. It's designed to be something individual chefs and schools can draw on and tailor to their particular situation. You may not have room for a garden, but you could partner with a local farmers market or take kids on a tour of a working kitchen."
Along with his other responsibilities, Kass helps tend the garden planted on the South Lawn, regularly serving freshly picked produce to the Obamas. (He claims that the first daughters eat what's put in front of them.) He's helped develop Mrs. Obama's initiative in part by talking with the school children who come to plant seeds and pick from the White House garden. Kass noticed that they had a sense of pride and ownership about the vegetables they had planted themselves.
"So this little boy is chomping on some broccoli, and he tells me how much he likes it," recalls Kass. "When I ask him why he likes it so much, he looks at me like I'm a moron and says, because it's my broccoli."
"And it was," Kass acknowledges. "He helped plant the garden at his school, watched the broccoli grow, picked it himself, washed it himself and made the decision to chomp into it. No wonder it tasted so delicious."
If you know of a school that might benefit from some rockstar chef infusion, or you're a compassionate super chef who wants to give back to the community, go to www.LetsMove.gov. The program is growing daily as chefs and schools unite. Better school lunches and healthier kids who enjoy their fruits and veggies? Sounds like a good move.
PENNY RUEKBERG is a professional freelance writer based in Dallas. She has written for numerous local magazines, including Richardson Living and The Texas Jewish Post as well as for numerous regional and national publications. She is also an enthusiastic amateur cook and a fan of good food.