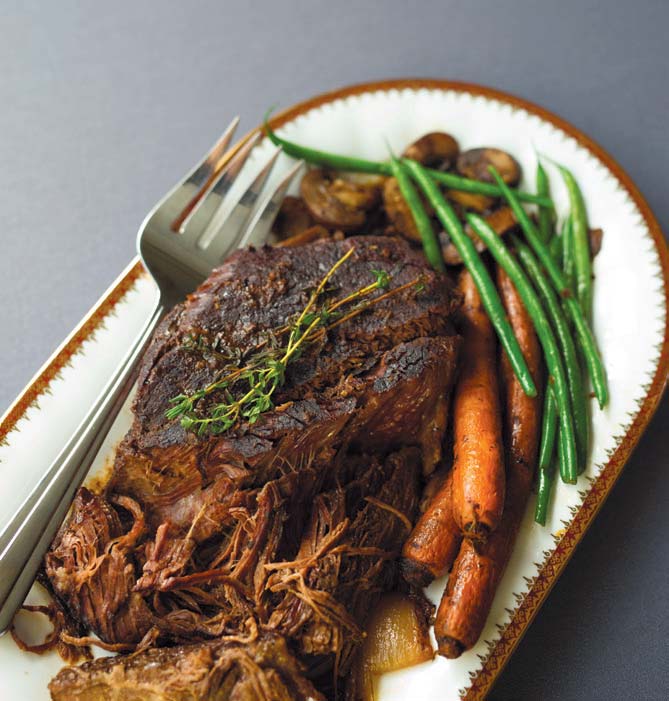 Serves 6
3 lb chuck roast (bone in or out)
2 teaspoons kosher salt or sea salt
1 teaspoon coarsely ground black pepper
2 teaspoon finely chopped garlic
1 Tablespoon olive oil
1 cup chopped onion
¾ cup chopped celery
½ cup red wine
½ cup beef stock
*1 bouquet garnish
1 Tablespoon unsalted butter (optional)
Rub the roast with the salt, pepper, and garlic. Cover and let stand at room temperature 1–2 hours.
Preheat the oven to 225°F. Set a large, preferably cast-iron Dutch oven over medium-high heat. When it begins to smoke, carefully drizzle in the olive oil. Brown the roast on all sides, about 7–9 minutes per side, until it has a rich brown crust all over. Transfer the roast to a platter.
Add the onion and celery to the pot and stir well, cooking until the onion is translucent. Add the wine, stock, and bouquet garnish and bring to a boil, and reduce the liquid by about a quarter. Reduce the heat to a low simmer and add the roast back to the pan.
Place a piece of aluminum foil over the top of the pot. (This will create a tighter seal, holding the moisture in.) Cover the foil with the pot lid. Place the roast in the oven and cook until fork-tender, about 4 hours.
The slowly braised roast produces wonderful meat juices. After removing the roast from the pan, these can be further reduced for a jus to be poured back over the roast. If desired after reducing, add the butter, and stir until melted.
*Edible Tip: To make the bouquet garnish, place 1 bay leaf, 1 sprig fresh rosemary, 3 sprigs fresh oregano, and 5 sprigs fresh thyme in a piece of cheesecloth, and tie it closed with kitchen twine.