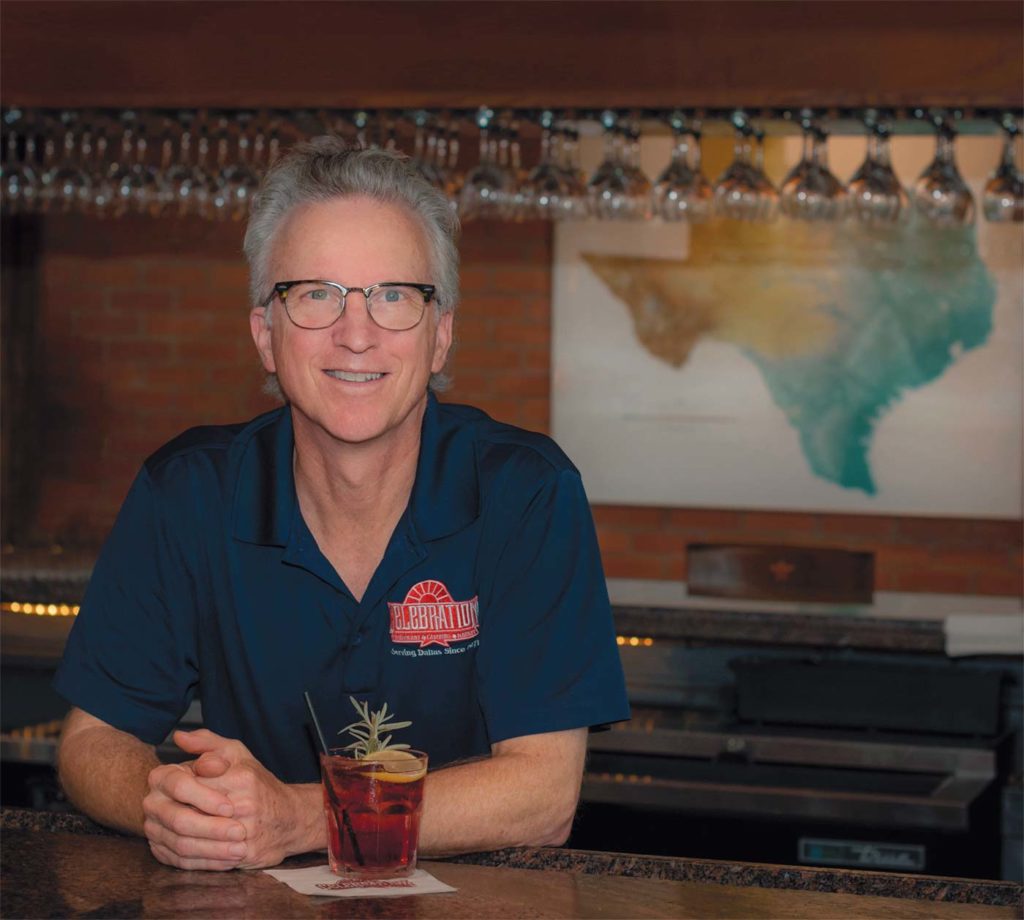 Thirty-six years ago, in June of 1986, Jon Radke walked into the Celebration Restaurant bar, and the rest, as they say, is history.
New to Dallas from college at the University of Chicago, he remembers he replied to a newspaper "want" ad. "I'm sitting and waiting" for his future boss, he recalls. "This tall dude with a checked shirt" slipped by, "carrying this big old raft of broken-down cardboard boxes," heading for the bins outside the kitchen's back door. It was Ed Lowe. "Yeah, that's the owner," Jon was told, and from that moment was impressed by and understood the spirit of community he so intrinsically upholds.
When Ed passed away four years ago, the team had to "band up, shore up and persevere," Jon says, and he himself stepped into a new role.
"We were all looking to each other: How do we get through this? How do we navigate this?" Shannon Galvan, president of the beloved establishment, admits. "Jon was one of the ones that most people looked to. His compassionate leadership helped get us through a really tough time, while at the same time, he was grieving himself."
His philosophy hasn't changed. When he welcomes guests, he figures "they're kind of coming over to our house, that's how I think of it: Make them comfortable, remember what they like, have things ready. That's a hard ask, because things get chaotic. But that's the core," he says. "They're sitting and lingering a little longer. They're coming to our house."
In the cozy, brick-and-wood interior of a stone-fronted cottage serving comforting food, "It feeds on itself." (Jon himself met his wife there: she was working at the homestyle restaurant when he began.)
Shifts have made themselves apparent during his time. Hard spirits segued to wines, which now represent more than two-thirds of his pours, accompanying a meal. But should you have a hankering to bring out a particular favorite of Jon's, sidle up to the bar, where he presides weeknights, and ask for a Sidecar. He'll make it with brandy, not bourbon, showing his Wisconsin roots. And you will feel at home.
FB & IG @celebrationrestaurant
Make it to Celebration Restaurant between now and when it rings in its 52nd anniversary on March 2, 2023.
EVE HILL-AGNUS teaches English and journalism and is a freelance writer based in Dallas. She earned degrees in English and Education from Stanford University. Her work has appeared in the Dallas Morning News, D Magazine, and the journal Food, Culture & Society. She remains a contributing Food & Wine columnist for the Los Altos Town Crier, the Bay-Area newspaper where she stumbled into journalism by writing food articles during grad school. Her French-American background and childhood spent in France fuel her enduring love for French food and its history. She is also obsessed with goats and cheese.