Photography: Eric Swayne and Jarek Cebroski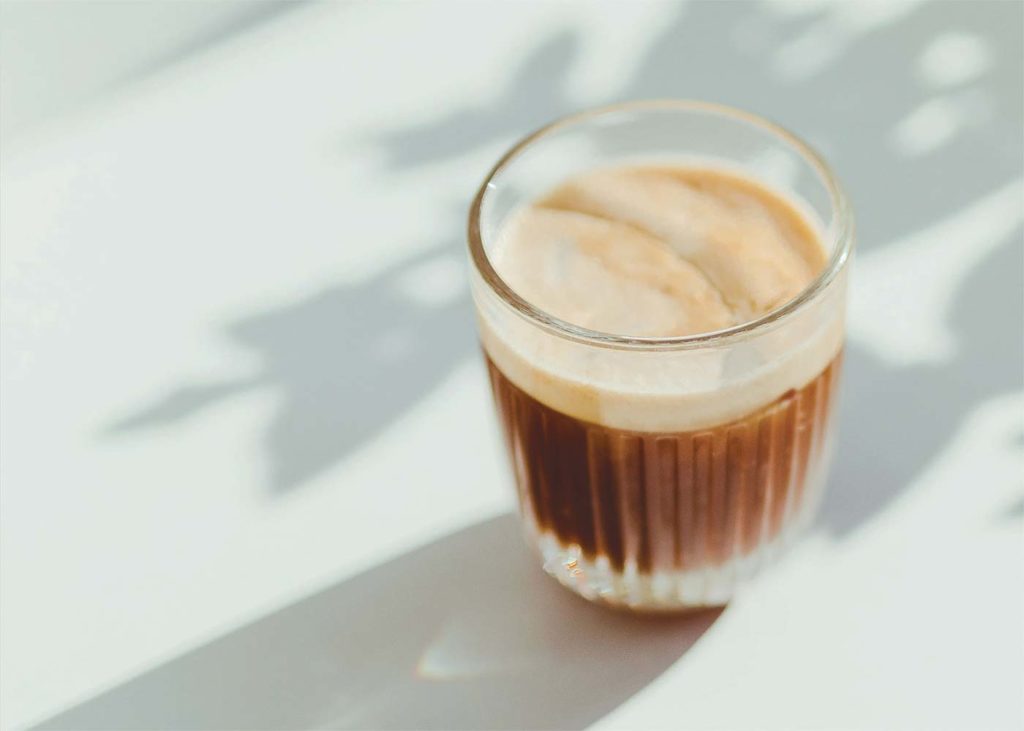 Tell me about the last time you had coffee. Was it yesterday? This morning? A second ago? Think about what you had with it, where you were, and who was around you. Would you be surprised that I know something about your last sip of coffee, no matter where you were or what you had? Despite all the ways we enjoy this amazing beverage, there's one constant: people made your coffee.
Even if the final step of your coffee's journey came from your own hands pouring water through a Chemex, plunging a French press, or flipping a switch on a drip brewer, your coffee arrived at the end of a labor of love from many people. Coffee is unique that way: human hands are always required, somewhere in the process. Even your mega- mart tub of grounds at one point had to be grown by a farmer, hulled and washed by a processor, roasted by a roaster, and may have involved many more roles along the way.
Throughout the coffee scene in the Dallas–Fort Worth area, shops are bringing new tastes with their coffees – not just from the beans, but flavors of the cultures and communities they represent. These owners and companies want to do more than simply serve a cup that will amaze you; they want to tell you a story. This art-in-a-beverage can reveal more about their culture, invite you into their community, and connect you with people in ways you may never have experienced before.
So, let's go on our own journey. We'll take a coffee crawl through three shops in DFW that not only serve up a great cup but also connect us to cultures both in other countries and even in our own Metroplex.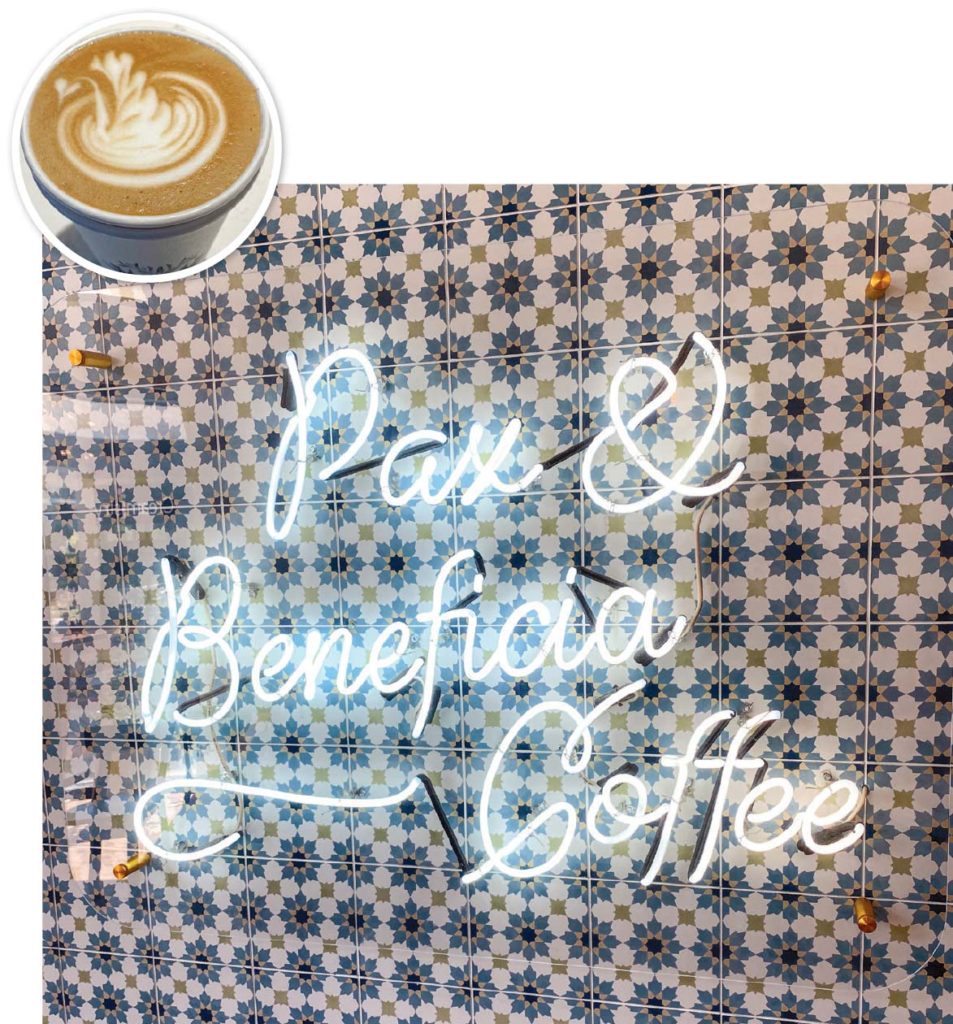 PAX & BENEFICIA
LOCATIONS
Las Colinas, Sundance Square in Downtown Fort Worth, and coming soon to Victory Park near Downtown Dallas.
PaxandBeneficia.com
I guarantee you're going to first say something about how absolutely beautiful this coffee shop is, which is especially striking as you're strolling into their Las Colinas location from the pedestrian promenade under the monorail track, just off the canal. Dr. Mamdouh Khayat and Mouyyad Abdulhadi have designed an immediate visual that shows why they wanted to bring Pax & Beneficia (Latin for "peace and blessings") to life. You'll find the minimalism born of travels through Scandinavia meshing with the lush ornamentation of Persian carpets and Moroccan tile patterns to create a perfectly inviting space.
WHAT TO ORDER
I'd invite you to enjoy their Turkish coffee, made with an incredibly fine grind of coffee and cardamom, as it offers a new ritual experience many have never had before. If you're not up for a Turkish coffee, definitely order Sunshine in a Cup, a latte made with the perfect blend of lavender, vanilla and lemon peel.
BLACK COFFEE
LOCATION
1417 Vaughn Blvd., Fort Worth
BlackCoffeeFW.com
Polytechnic Heights is actually called Poly by the locals, and we are so lucky that Mia Moss is one of its alums. I hope you get to meet her when you visit Black Coffee on the east side of Fort Worth. When you get there, make sure to ask about the history of the 1940s building. While today it's a sleek black and yellow statement ready to take fl ight with a beautiful mural of outstretched wings, it stands just beside Texas Wesleyan University (formerly Polytechnic College) because of what it used to be: Poly Grill, a soul food diner and favorite of the university faculty until it closed in 2013. Mia brought her expertise from Seattle's Best Coff ee, plus her training from Bellissimo Coffee Advisors in Portland, to reinvent the space into another university favorite with some of the best specialty coffee in the Metroplex.
WHAT TO ORDER
I hope you get over there quickly, because right now the seasonal menu features a Sweet Potato Pie Latte, which is both a far cry from pumpkin spice anything and far better than every dessert I had last Thanksgiving (sorry, Uncle). On the menu year-round is the Black Eye, a special take on a red-eye that combines a drip coffee made with their lighter Eastsiders blend along with espresso from their Poly blend. It results in a delicious depth with layers of complexity, in a beverage certain to keep university faculty and students fueled for study.
When I asked Mia Moss why she wanted to bring Black Coffee to her home neighborhood, she gave the perfect reason why any of us should enjoy a coffee crawl through cultures and communities. "We can't know about experiences unless we've tried them," she said. I hope you'll try these experiences as well.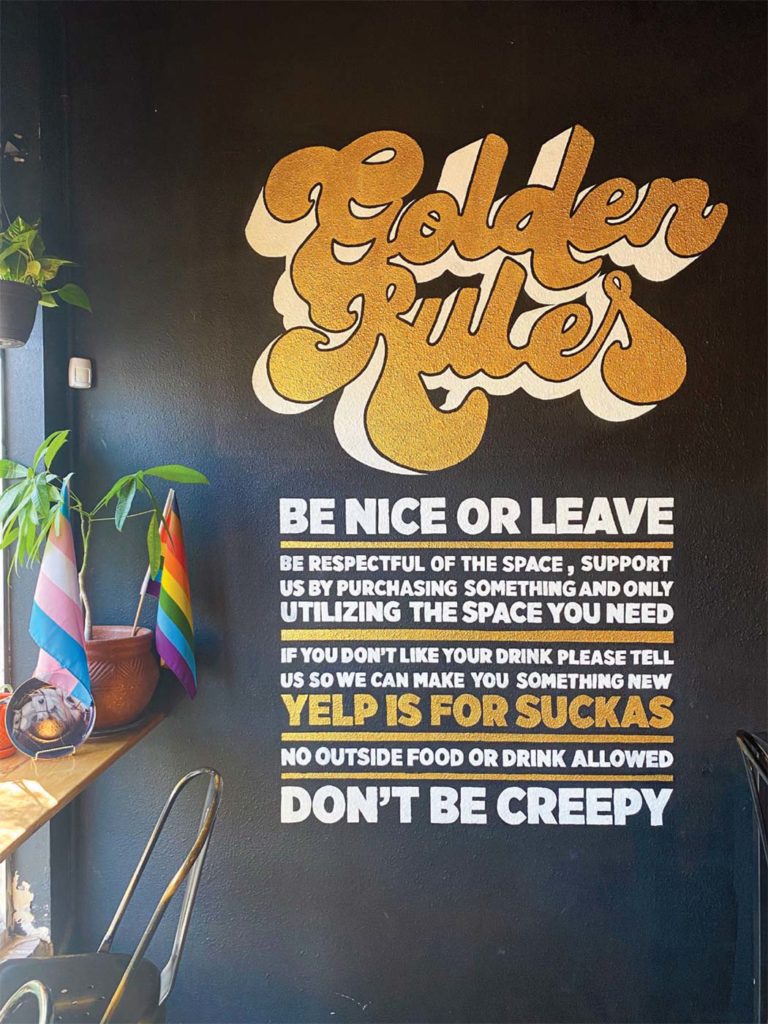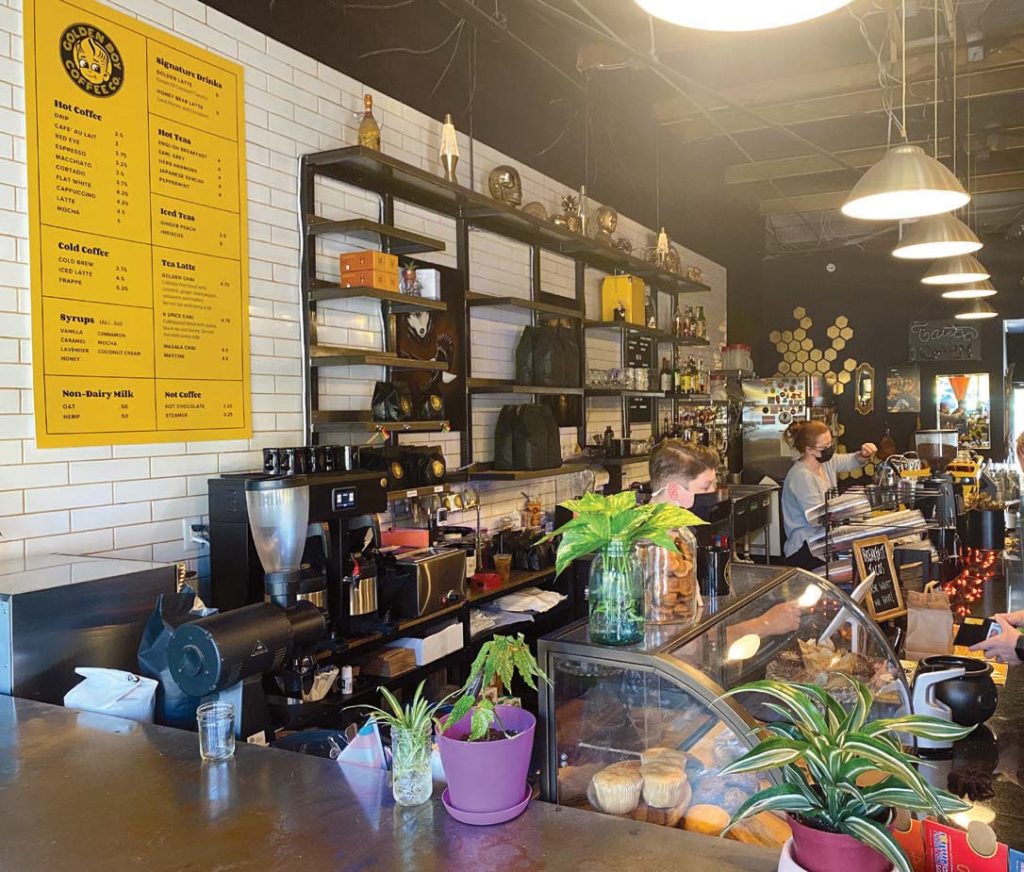 GOLDEN BOY COFFEE CO.
LOCATIONS
Just north of the Courthouse Square in Denton, and in Plano at The Boardwalk at Granite Park.
GoldenBoyCoffee.com
Trey Suire and Andy Cunningham have created a space and a brand with Golden Boy that welcomes absolutely every kind of person, no matter who you are. And they'll welcome you almost any time as well: both locations switch to serving alcohol at night. The Boardwalk location keeps it Plano classy and slips into wine bar mode in the evening with an extensive list of varietals; in the evening in Denton, they open both the cocktail bar and The Gold Room, a music and events venue next door. I love the sunshine in the mornings streaming in through the windows and sparkling off golden accents throughout their decor (who knew gold tile grout was a thing?), but the evenings can be a real spectacle with anything from a community market to a roller rink to a drag show. Come early, drink often, and have a blast.
WHAT TO ORDER
Of course, you have to start the day with a Golden Latte, combining turmeric and coconut milk with bright espresso. But since you're staying the day, you'll get to cap things off with a Gold Fashioned, a spin on the classic cocktail that also brings new flavors of local honey and orange blossom.
LOCAL BUZZ
Coffee Destinations and Roasters with a Local Flare
Curated and Recommended by Friends of Edible Dallas & Fort Worth
Photos by Maria Whitworth
Armor Coffee Co.
Local veteran owned by Army armor officer Mike and HGTV wife, Jenn. Beans are ethically sourced from farms, and roasted on site using Bellwether emission-free coffee roaster. Best known for our obsession with quality cra beverages and scratch-made foods, amazing service, and intentionally created vibe with a focus on connection and FUN.
190 E Stacy Rd. #408, Allen
972.678.1466
ArmorCoffee.com
@armorcoffee
Coffee & Crumbs
Local non-profit initiative advocating for inclusive work, recreation and educational activities for high school and college students with disabilities. Our coffee is sustainably grown in Honduras, with careful a‡ention to community health and education. Best known for our handcra ed drinks that are second to none, and our exceptional and friendly service that will keep you coming back.
Mobile coffee pop-up in McKinney, Celina, Weston, and Melissa
972.658.9855
Inkorporated.org
@coffee.n.crumbs
fILTER(ed)
Local woman-owned shop sourcing coffee from local Cuvée Coffee roasters, who use a direct trade model with farm partners. Seasonal coffee menu, and pastries scratch-made in house. Best known for our inviting environment, engaging ambiance, and people-loving crew, with cra coffee and artistry at the core,
218 E Louisiana St. #400 in Downtown McKinney
469.219.8300
GetMeFiltered.com
@filteredcoffee
1418 Coffee
Locally owned, and locally roasted beans by our sister company, Celina Coffee Roasters; featuring 1418 branded coffee (house blend "K Avenue" and "Downtown Espresso") and a variety of single origin coffees from around the globe. Best known for our cra coffee and selection of pastries, pies and hand-cra ed sandwiches; cozy vibe to work study, meet and gather;
Mobile Espresso service available for events.
Plano: 1418 K Ave. in Historic Downtown
Garland: 2660 Shiloh Rd.
1418coffee.com
@1418coffee
La Finca Coffee & Bakery
Locally owned coffee shop and small batch roaster of sustainably sourced beans. Best known for our freshly roasted coffee and scratch kitchen bakery, offering a Mexican inspired menu and great service.
7511 Main St. #150, Frisco
972.486.9600
LaFincaCoffeeBakery.com
@lafincacoffeebakery
Combs' Coffee
Locally owned, sustainably sourced and locally roasted, Green Certified, and Q Arabica Graded. Best known for being the world's largest solar-powered coffee and cacao roasting company.
Corinth: 1402 N Corinth St.
Gainesville: 701 E. Broadway
940.703.4535
CombsCoffee.com
@combscoffee
Ascension Coffee
Locally owned, locally roasted, sustainably and seasonally sourced. Best known for being a neighborhood cafe offering exceptional, internationally rated coffee, an all-day menu, weekend brunch, wine and cra cocktails.
Dallas: 1621 Oak Lawn Ave.
214.741.3211
Dallas: 200 Crescent Ct. #40
469.941.4542
Dallas: 3121 Olympus Blvd.
972.863.3000
Addison: 14131 Midway Rd.
972.850.9224
Frisco: 3625 The Star Blvd. #300
972.292.9766
Fort Worth: 1751 River Run #151
817.865.3829
Ascension.coffee
@ascensioncoffee
BREWED
Locally owned, emission-free coffee roasting, and Texas cra beer on tap. Best known for being the "Locals Living Room," a comfy hangout where people come to eat, drink and gather.
Fort Worth: 801 W Magnolia Ave.
Dallas: 111 W Davis St. #170
DFW Airport: Terminal D, Gate 27
BrewedFW.com
@brewedFW
Fire Grounds Coffee Company
Local firefighter and veteran owned, with coffee roasted locally by firefighters in support of firefighters. Best known for our cold brew, our community focus, locally sourced baked goods, and donating coffee to our first responders — any firefighter, EMS or police officer that stops by in their apparatus gets a free iced or drip coffee.
1300 S Polk St., Dallas
FireGroundsCoffeeCompany.com
@firegroundscoffeecompany
Pax & Beneficia
Locally owned, sustainably sourced, and locally roasted (Merit).Ÿ Best known for our unique in-house cra ed syrups, diversity of coffee options (including Turkish coffee), and our delectable toasts. We are passionately focused on preparing the best quality product with a spirit of hospitality felt on every visit.
Irving: 5244 N O'Connor Blvd. #150
Fort Worth: 105 W 5th Street
214.390.6883
PaxandBeneficia.com
@paxandbeneficia
Roots Coffeehouse
Femme-founded and locally owned, featuring local ingredients throughout our quarterly seasonal menu and offering local products on our shelves. Best known for our hospitality, community building, excellence, sustainability, and serving cra coffee made locally with love.
North Richland Hills: ›9101 Blvd 26, #101
817.503.7344
Fort Worth: 400 Bryan Ave, #101
817.349.8059
RootsCoffeehouse.com
@rootscoffeehouse
Well Grounded Coffee Community
Local non-profit sourcing from local food producers, and coffee roasted by our local Full City Rooster. Best known for our exceptional coffee with an amazing cause: we give 2nd chances by hiring, training, educating, and creating community for the marginalized in Dallas.
9219 Garland Rd., #2109, Dallas
214.918.3538
WellGrounded.coffee
@wellgroundedcoffeeco
CJs Coffee Roasters & Cafe
Local woman-owned shop and roaster, sourcing from rain forest alliance certified and organic growers; locally roasted to the level that brings out the best flavor profile for that particular type of bean. Best known for the freshness of our coffee, served within 2 weeks of roasting; our baked fresh daily pastries and breads, homemade sandwiches, salads and soups, strawberry cupcakes, espresso brownies, and especially for our commitment to commUNITY.
Denison: 514 W Main St.
Denison: 5101 Gateway Blvd.
Sherman: 818 N Travis St.
CJsCoffeeCafe.com
@cjscoffeecafe
Honeybean
Local woman-owned shop sourcing fresh coffee beans, locally roasted to our specifications. Best known for our always fresh coffee served in a cozy "hive" vibe, with pastries, pies, cakes and handmade breakfast and lunch. Available to host private events.
212 E Marshall St. in historic downtown Van Alstyne
903.712.2326 (BEAN)
HoneybeanVA.com
@honeybeanva
COFFEE ROASTERS
Full City Rooster
Locally owned and operated coffee roasting studio. Best known for our highly cra‰ed, small batch, fresh roasted coffee and hosted tastings. Our comfortable social space aŠracts cool people moving in the world of civics, arts and culture.
1810 S Akard, Dallas
469.500.5566
FullCityRooster.com
@fullcityrooster
Noble Coyote Coffee Roasters
Locally owned and national award winning small-batch coffee roastery, commiŠed to ethical and fair trade coffee sourcing. Best known for our educational coffee lab, focus on environmental sustainability, and working with programs that give back to community organizations. Roast to order for curbside pickup, and find us in local retail stores.
819 Exposition Ave., Dallas – in Expo Park neighborhood
214.321.4321
NobleCoyoteCoffee.com
@noblecoyotecoffee
Parker County Coffee Roasters
Local coffee roasters importing beans from around the world and roasting to order. Best known for our locally roasted artisan coffee, delivered fresh to your door. Shop online or find us in local stores.
Roasted in Weatherford, Texas
ParkerCountyCoffee.com
@parkercountycoffee