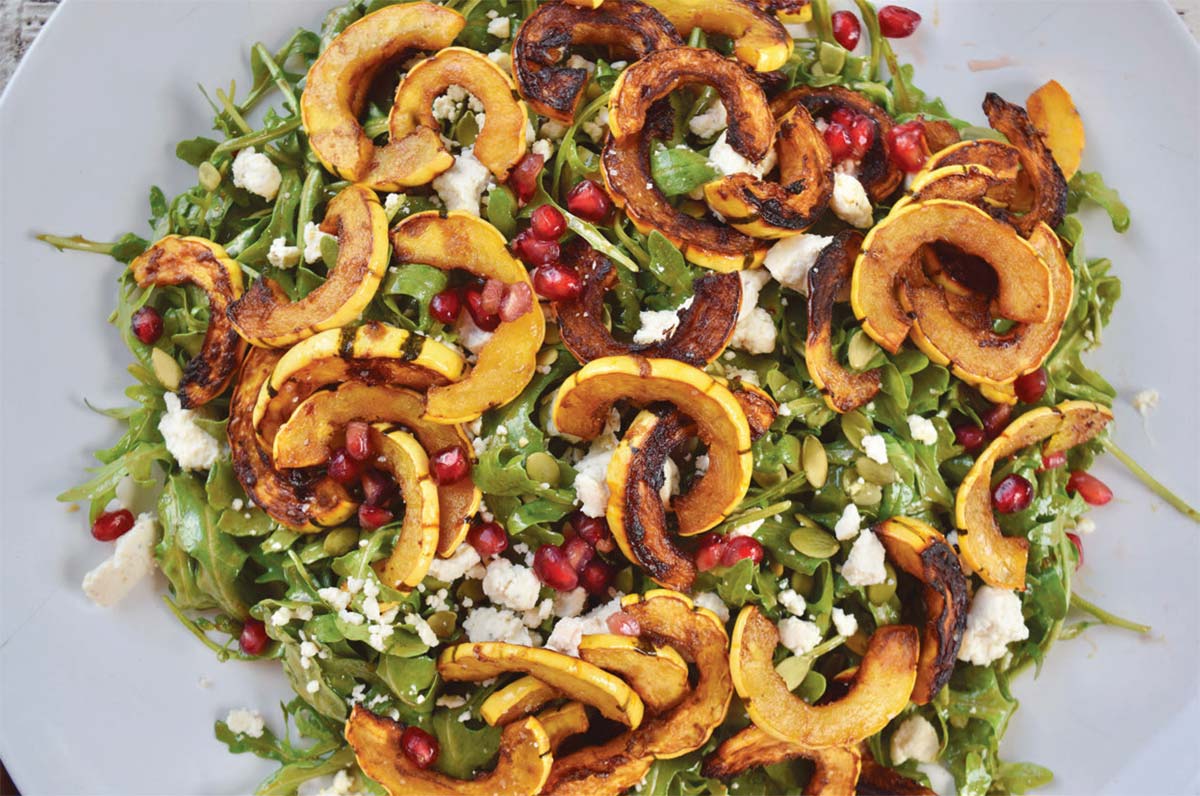 Exploring the best of the winter season is a specular fete. With so many wonderful options, this hearty delicata squash and spicy arugula salad is complemented by local cheese purveyors Haute Goat Creamery and will become a staple in your seasonal dining.
Makes 4 servings
¼ cup extra-virgin olive oil
2 tablespoons balsamic vinegar
2 tablespoons organic maple syrup (or agave nectar)
2 tablespoons coarse ground Dijon mustard
1 teaspoon rosemary, chopped
1 teaspoon salt
1 teaspoon pepper
1 teaspoon red pepper flakes
2 medium-sized delicata squash
8 ounces arugula (1 bag)
4 ounces fig/black pepper goat cheese, crumbled (locally available from Haute Goat Creamery)
¼ cup pomegranate seeds
¼ cup pepitas (pumpkin seeds)
Preheat oven to 425°. In a small bowl mix olive oil, vinegar, maple syrup, Dijon mustard, rosemary, salt, pepper and red pepper flakes and whisk until just combined.
Cut delicata squash in half length-wise, and use a spoon or your hands to scoop out the seeds. Slice squash about ½ inch thick, and toss with half of the maple-Dijon dressing.
Lay the squash on a parchment-lined baking sheet and roast until caramelized and color appears – about 40 minutes – while flipping squash every 10-12 minutes for even roasting.
Remove from oven and cool. Toss arugula in a large bowl with the reserved dressing, then place in a serving dish. Top with roasted squash slices, crumbled goat cheese, pomegranate seeds and pumpkin seeds. If you have any dressing left in the bowl, pour over the top. Serve immediately.
Blog: Eat Style Dallas - Alex Young is an established men's lifestyle blogger in the Dallas-Fort Worth area. You can follow him on Instagram at @eatstyledallas.