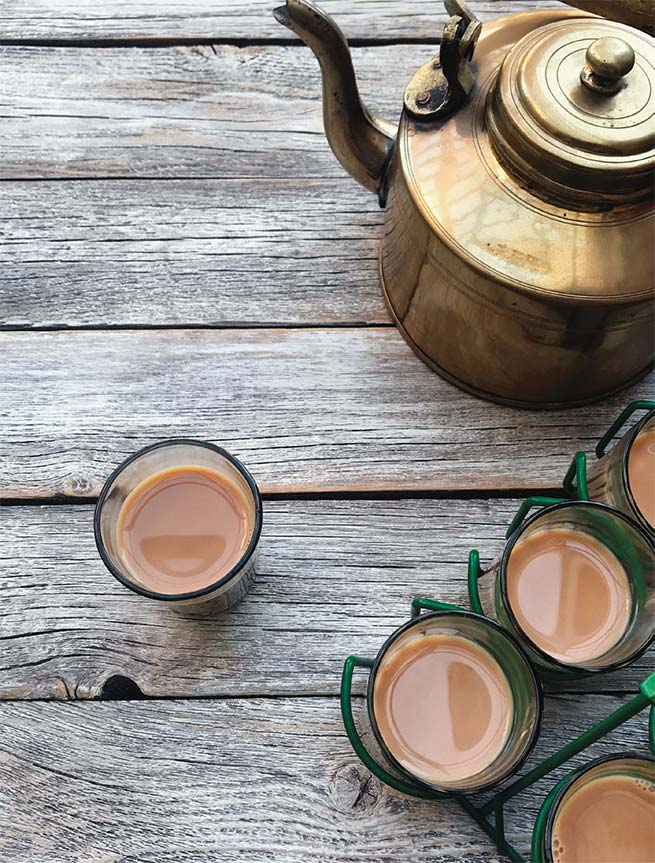 PHOTO: SAPNA PUNJABI-GUPTA
Buy Sapna's chai blend online or at the Coppell Farmers Market. Or make your own with this recipe.
Makes 1 serving
1 cup water
2 thin slices of fresh ginger (about ½-inch thick)
1 whole green cardamom pod
1 teaspoon Indian black tea (see note)
1/3 cup whole milk or non-dairy milk (almond/soy/coconut)
Sweetener of choice (see note)
Begin heating water in a small pot.
Gently grind the spices in a mortar with pestle and add to the water before it boils. Allow spices to boil in the water for a good 1 minute.
Add the loose black tea and boil for another 1 to 2 minutes.
Add whole milk and allow all the ingredients to cook to a rolling boil.
Remove from heat and strain the chai with a ne-mesh tea strainer. Add sweetener of choice and serve hot.
Note on tea: Sapna suggests either Darjeeling or Assam tea from India. During winter, add tulsi (holy basil) leaves or use a tea variety with added tulsi in it. Spices in the tea should vary depending on the season. e recipe above is perfect for winter.
Note on sweetener: Sapna adds organic cane sugar. If you're using honey, stir it into your cup a er chai is o of direct heat. Never add honey while chai is cooking.