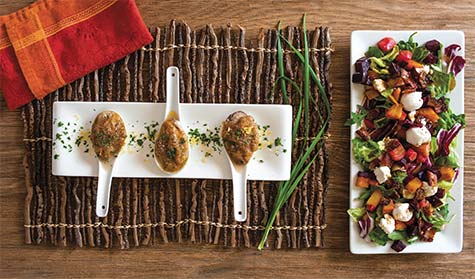 This dish is a luscious experience combining the opulence and finesse of mineral-rich oysters with the fatty, rich and nutty qualities of butter and cheese. These characteristics demand a "locapour" of Dallas winemaker Dan Gatlin's Inwood Estate Dallas County Chardonnay. Yep, Chardonnay in Texas. It doesn't happen all the time, but this one is special with its green apple fruit, light French oak aging and minerally complexity that harmonize with the elements of this dish.
For the beets & vinaigrette:
Texas extra-virgin olive oil
4 large shallots, roughly chopped
3 dried arbol chilies
1½-inch section fresh ginger root, peeled, thinly sliced and smashed
1 cup soy sauce
¼ cup real maple syrup
2 quarts chicken stock, preferably homemade
⅓ cup light brown sugar
½ cup dry sherry
5 medium-size red beets, washed and trimmed
5 medium-size golden beets, washed and trimmed
For the salad:
⅓ cup red wine vinegar
¾ teaspoon kosher salt
1 teaspoon freshly ground black pepper
1½ teaspoon minced fresh thyme
1½ teaspoon snipped fresh chives
1½ teaspoon minced fresh flat-leaf parsley
1½ tablespoon Dijon mustard
⅔ cup roasting liquid from cooked beets
1½ cup Texas extra-virgin olive oil
Mixed romaine, radicchio, butter lettuce and arugula
4 ounces plain, mild goat cheese, shaped into small rounds using a melon baller
5 slices artisan peppered bacon, cooked until crisp then drained and crumbled
For the oysters:
12 shucked Texas Gulf oysters and their liquor
¾ cup unsalted butter
1 teaspoon Texas Pete Hot Sauce
1½ teaspoon minced lemon zest
1 heaping tablespoon minced flat-leaf parsley
½ teaspoon kosher salt
½ cup unseasoned bread crumbs
2 tablespoons grated Romano cheese
Lemon wedges, to garnish
Preheat the oven to 375°F and heat a glaze of olive oil in a large braising pan over medium-high heat. Sauté the shallots, chilies and sliced ginger root until the ginger is browned—about 5 minutes. Add the soy sauce, maple syrup, chicken stock, brown sugar, sherry and beets and bring to a boil. Remove from the heat, cover and roast in the preheated oven until beets are soft —about 45 minutes to 1 hour. Set aside until cool. When the beets are cool enough to handle, drain them—reserving ⅔ cup of the roasting liquid. Strain the reserved liquid and set aside. Peel the beets, cut them into bite-size pieces then refrigerate until chilled.
Meanwhile, combine the red wine vinegar, salt, pepper, thyme, chives, parsley, mustard and reserved roasting liquid in the work bowl of a high-speed blender and blend until very smooth. With the machine running, add the olive oil in a slow, steady stream until all has been added. Blend an additional 15 to 20 seconds to form a strong emulsion. Cover and refrigerate the vinaigrette until ready to use. Shake vigorously before using.
After the beets are roasted and the salad dressing is made, preheat the broiler and position an oven rack 6 inches below the heat source. Arrange 12 metal or porcelain Chinese soup spoons on a baking sheet and place one oyster in each spoon along with a little of the oyster liquor. Set aside. Combine the butter, hot sauce, lemon zest, parsley and salt in a small saucepan and cook to melt the butter. Stir in the breadcrumbs and cheese—blending well. Divide the buttery crumb mixture between the oysters, topping each with a little pile. Place the baking sheet under the preheated broiler and cook for 4 minutes, or until the topping is golden brown and bubbly.
To assemble the dish, combine the greens and toss to blend well. Arrange the greens in the center of a large platter and drizzle with the roasted beet vinaigrette. Scatter pieces of roasted beets, balls of the goat cheese and bits of the crumbled bacon on top of the salad. Place the oysters in a circle around the salad. Serve with small tongs. (Oysters can be assembled a few hours before serving, arranged on a baking sheet and refrigerated until ready to broil and serve). See photo of finished dish on Page 3.

TERRY THOMPSON-ANDERSON is a professional chef, cookbook author, culinary instructor and restaurant consultant. She has written five cookbooks and numerous articles for various publications. She is a member of the International Association of Culinary Professionals, The Southern Foodways Alliance and Les Dames d'Escoffier, International.