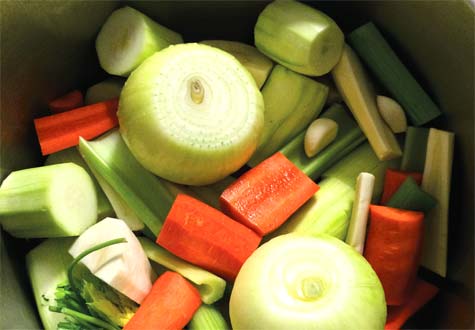 About 8-10 servings
2 white onions, medium
5 zucchini
5 carrots
2 parsnips
2 celery roots
20 white button mushrooms
5 garlic cloves
1 bunch of parsley
1 bunch of celery (stalks with leaves)
1½-2 tablespoons kosher salt
1 teaspoon fresh ground black pepper
1 whole chicken (or 5 chicken legs), skin removed
Peel all the vegetables, including the roots. After peeling, cut the vegetables. Shape is important for getting a richer broth. Cut only the ends off each onion. They will be flat on either end. Cut each zucchini into 4 cylindrical pieces, about 1-2" each. Don't cut lengthwise or the pieces will fall apart during cooking. Cut each carrot and the parsnips in half and then lengthwise into 4 pieces (cutting lengthwise gets more taste into the water). Cut celery roots in half and then quarter each half.
Cut legs off mushrooms.
Tie the parsley and celery stalks together with cooking string, so you can remove as a whole at the end.
In the bottom of a 10-quart pot, sprinkle salt and pepper. Next layer all the vegetables and the mushrooms, including parsley/celery bundle. Place chicken on top of these. Order is important. Cover with water (filtered water is best) and bring to a boil.
When you start seeing white foam on the top, start skimming. The end result should be a clear, crisp broth so continual skimming throughout the cooking process is important. Once liquid begins boiling, reduce heat to low. Continue skimming to eliminate all foam and all small bits of fat that might be floating. These add a bitter taste so take them out as quickly as possible. Let simmer for 2½ to 3 hours.
For serving: Remove the bundle of parsley/celery stalks. Remove chicken and reserve for other uses. The parsnips, onions, celery roots will also remain in the water. Taste broth and correct salt and pepper before serving. In individual serving bowls, place an assortment of mushrooms, zucchini and carrot pieces. Then fill the bowl with the clear broth.
Variation: Serve with thin egg noodles, if desired.
Rachel Lavy is the grandmother of Lior Lavy, the Vice-President of Marketing and co-owner of Artizone, an online home-delivery service specializing in local artisan food items.