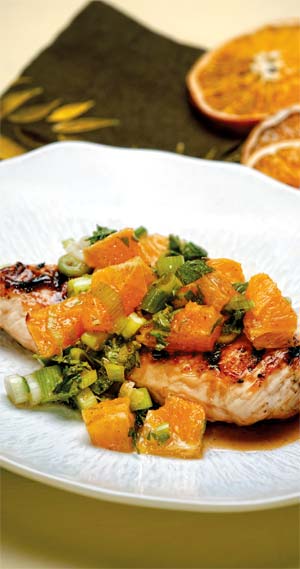 Recipe by Chef Cosme Alcantar, Blue Mesa Grill
From EDIBLE DALLAS & FORT WORTH: THE COOKBOOK
The Southwest meets the Far East in this citrus-rich dish from Executive Chef Cosme Alcantar. Glazed chicken breasts are topped with a chunky relish of sweet oranges flavored with mint, green onions and smoky ancho chili powder. At Blue Mesa Grill restaurants, the arrival of Texas citrus is celebrated with an annual Citrus Festival in February and March. For more information: bluemesagrill.com.
Serves 4
For Brining the Chicken
½ cup kosher salt or ¼ cup table salt
½ cup sugar
4 (6-ounce) skinless, boneless chicken breasts
For the Relish
Juice of 2 limes
2 tablespoons olive oil
½ teaspoon ancho chili powder
8 orange segments, white pith removed, roughly chopped
3 green onions (white & part of green), thinly sliced
3 tablespoons chopped fresh mint
For the Glaze
1 cup orange marmalade
2 tablespoons soy sauce
1 tablespoon toasted sesame oil
1 tablespoon rice wine vinegar
1 tablespoon sriracha sauce
To Finish the Dish
¼ teaspoon freshly ground black pepper
½ teaspoon salt
Brine the Chicken
Fill a large container with 4 quarts water. Pour the salt and sugar into the water and stir until dissolved. Put the chicken breasts in the brine, cover, and refrigerate for 1 ½–2 hours.
Make the Relish
In a medium bowl, combine the lime juice, olive oil, chili powder, chopped orange, green onions and mint until the pieces of orange are evenly coated with juice, oil and seasonings. Cover and refrigerate.
Make the Glaze
Combine the marmalade, soy sauce, sesame oil, vinegar, and sriracha sauce to a rolling boil and continue to cook on high heat for 3 minutes. Remove from the heat and cool before using to baste the chicken.
Finish the Dish
Preheat the grill (or a grill pan) to medium-high. Remove the chicken from the brine and dry with a paper towel. Season with the salt and pepper; then grill until an instant-read thermometer inserted into the thickest part of each reads 165°F, 5–7 minutes per side. Brush with the glaze 5 minutes before the chicken is done. Glaze again on other side about a minute before removing from the grill. To serve, top each grilled breast with one-quarter of the relish.