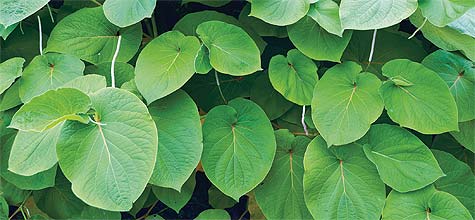 PHOTO BY ALFONSO CEVOLA
This autumn, exhausted from a New York City trip, I went to bed early. Around 2 a.m., the Texas skies started rumbling. At first it was only wind, but the fence-toppling kind. I arose to make sure all the gates were fastened. Inside my little urban compound, I was awaiting the last harvest of hoja santa leaves for Paula Lambert's Mozzarella Company. Only four weeks earlier, the most biblical of hailstorms had pounded my Dallas home, scattering hail as big as quarters for ten minutes.
The broad hoja santa leaves that remained took the beating of their lives. In fact, the only thing in my yard that survived was the okra. Perhaps I had chosen the wrong plant to adopt. But the sweet little Mexican pepperleaf won my heart and owned my yard, and so we were bound.
How did I come to grow this leaf that wraps one of Paula's most highly awarded and successful cheeses? It started on a lark. I had some epazote, and Paula found out about it and asked if I'd like to trade herbs for cheese. A few years later, I asked if there were any other plants she needed. "Why, yes," she volunteered. "Hoja santa. I can never get enough of it, and we have started to make a goat cheese that we cover with the fragrant leaves."
I went to my local nursery. Oh yes, they had hoja santa. There were only three pots. I figured I could use about three more. "No problem," said the salesman. "I have a stand out back. They grow like bamboo. Hard to get rid of them once they establish themselves." I took those six plants and spaced them in my garden, thinking they would never get in each other's way. Little did I know they had expansion plans.
Hoja santa, also known as yerba santa, hierba santa, Mexican pepperleaf, acuyo, anisillo, root beer plant and sacred pepper, is indigenous to Mesoamerica. Paula told me she first encountered it when Southwestern culinary legend Stephan Pyles wrapped salmon with hoja santa at a luncheon he had for Julia Child in the late '80s at Routh Street Café. Paula also remembered having it at the 50th birthday party of Mexican culinary icon Patricia Quintana, who'd wrapped both fish and chicken in hoja santa leaves and steamed them in a pit at her Veracruz ranch.
Paula was influenced by the chestnut-wrapped cheeses of France and, as she tells it, "When the thought came to me to wrap a cheese in a leaf, I knew we didn't have chestnut leaves in Texas. … I knew that Stephan and Patricia wrapped things in hoja santa. … so I just wrapped my goat cheese in hoja santa." That was the beginning. As the years have passed, my "plantation" has grown to the point that the hoja santa has taken over my flower beds. Today, I'm one of five growers – and the closest one to Paula's cheese factory. I hand-harvest in the morning when dew is still on the organically grown leaves, and I get three harvests from July to November. Within minutes of harvesting, I drive the leaves to the cheese factory.
In New York, a huge storm hit and I ducked into Beecher's Handmade Cheeses in the Flatiron District to escape the rain. There, behind the cheese counter, was my little Mexican pepperleaf cheese – one of my children, in a big-city cheese display. My leaves have gone on to a life married to cheese, united by Paula and her strong, Mexican women cheesemakers. I love the ladies who make our cheese. Together we bring the best of Texas to the world beyond, no one suspecting its humble beginnings in my yard and the tiny Deep Ellum cheese factory.
The Mozzarella Company, currently celebrating its 30th anniversary (2012), was the recipient of four awards at the 2011 American Cheese Society competition in Montreal. Their Hoja Santa Goat Cheese captured first-place in the herbal goat cheese category.
Italian wine blogger ALFONSO CEVOLA writes "On the Wine Trail In Italy," rated one of the top 10 wine blogs in the world. www.alfonsocevola.com