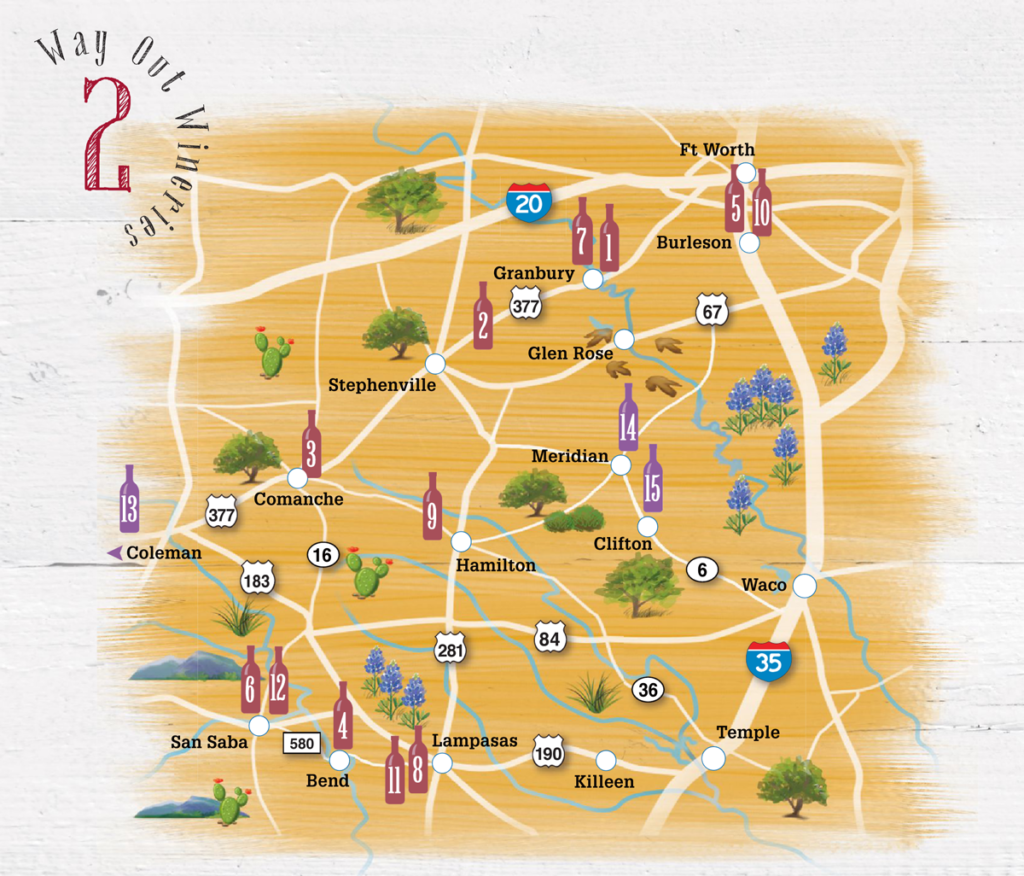 Way Out Wineries
This trail arcs through the heart of Texas, from the western edges of Tarrant County to the unspoiled top of the Hill Country. Suggested stops along Hwy. 377: Veldhuizen Cheese Shoppe and Dublin Bottling Works.
More online at wayoutwineries.org
---
On the Trail
1 Barking Rocks Winery
Rural setting and rustic tasting room offer tasting experience away from the madding crowds. Coowner- winemaker Tiberia (yes, one name) uses Texas grapes for boutique production. Tiny, 150-vine Black Spanish vineyard. For a summer refresher, try Vino Panko, a dry rosé blending (wait for it) Cinsault, Vermentino and Mourvèdre. Co-owner: Sissy Andrews.
1919 Allen Court, Granbury
Sat 1-5 pm – 817-579-0007
2 Bluff Dale Vineyards
Owners David and Theresa Hayes keep winemaking in the family with son Chris Hayes. Father-and-son team makes wine using all Texas grapes plus Cabernet Sauvignon and Petite Sirah from their modest, 5-acre estate vineyard. Rustic tasting room with patio overlooking the vines. Winning wines: Cab-based blends Paragon and Nexus.
5222 CR 148, Bluff Dale
Mon, Wed – Sat 11am – 6 pm, Sun Noon – 6 pm – 254-728-3540
3 Brennan Vineyards
Premier Texas winery and vineyards owned by Dr. Pat and Trellise Brennan. The McCrary House, one of the oldest remaining homesteads in Texas, is site of charming Comanche tasting room. Winery and winemaker Todd Webster took top honors at 2017 TexSom International Wine Competition for their Texas 2015 Roussanne and 2014 Cabernet Sauvignon.
802 S Austin St., Comanche
Wed-Sat 11 am – 5pm – 325-356-9100
4 Fiesta Winery
Winery and 12-acre vineyard located on multi-generational ranch, home of the Baxter/McCoury family. Growing 13 grapes varieties. Ranch memorabilia—remnants of old outhouse, boot collection—on display in tasting room, which features 27 wines and artisan pizza. Bar and deck have scenic views. For summer hikes: Yes Way Rosé, sparkling dry and in a can!
18727 W FM 580, Lometa
Mon-Thur 10 am-5 pm, Fri-Sat 10 am – 6 pm, Sun Noon – 5 pm – 325-628-3433
5 Lost Oak Winery (See Cross Timbers Trail )
6 Old Man Scary Cellars
This new kid on the block is a stroll away from mentor Wedding Oak Winery. Owners Dr. Gabe and Carrie Hisel oversee their Rattlesnake Road Vineyards near Brownfield, while daughter Emily manages the San Saba tasting room. Artsy décor and 12 wines, mostly from Texas. Try Prima Volta: Riesling blend with estate-grown Roussanne.
302 E Wallace, San Saba
Mon and Wed 11 am- 6 pm, Thur -Sat 11am- 7pm, Sun Noon- 6 pm – 325-372-6071
7 Pemberton Cellars
Modest winery in corrugated metal building with covered porch for relaxed tasting. Owned by Jeff and Lynn Pemberton. Jeff and son Dax make the wines–100% estate-grown on 6.5 acres. Grapes include Tempranillo, Ruby Cabernet, Cabernet Sauvignon, Zinfandel (that's right), Sauvignon Blanc, Viognier and (struggling) Riesling.
3500 Lipan Highway, Granbury
Sat Noon – 7 pm – 817-408-0473
8 Pillar Bluff Vineyards
Established by Gill and Peggy Bledsoe in 1999, Pillar Bluff is the oldest of the wine trail members. Celebrate the summer solstice on their 60-foot-round outdoor pavilion. (Think Stonehenge). Perfect for star-gazing. For the trail's June cookoff, they'll serve Greek burgers with tomatoes and Tzatziki sauce. Pair with their Tempranillo Rosé.
300 CR 111, Lampasas
Fri-Sat 10am – 5 pm, Sun 12:30 -5pm – 512-556-4078
9 Red Wing Dove Vineyards
From tasting room patio, sweeping views of 7-acre vineyard and the Gholson Creek Valley. Owners Susan and Ellis Vandiver, both retired engineers, divide duties: he tends the vines, she makes the wines. Last Friday of month–homemade tamales and sangria. Susan's summer sipper: White Dove, from estate-grown Pinot Blanc and Pinot Gris.
9112 FM 2005, Hamilton
Fri 4 – 7 pm, Sat 1-7 pm, Sun 1- 4 pm – 254-372-3202
10 Sunset Winery (See Cross Timbers Trail )
11 Texas Legato Winery
Pet-friendly covered patio. Slide into a rocker and gaze out at Sulynn and Bill Bledsoe's vineyard–10 acres with over nine grape varieties, including Malbec, Merlot and Petite Sirah. The Bledsoes love being small enough to personally introduce their awardwinning, all Texas wines to tasting room visitors. Bill is twin brother of Pillar Bluff 's Gill Bledsoe.
2935 FM 1478, Lampasas
Thur-Mon Noon- 5 pm – 512-556-9600
12 Wedding Oak Winery
Located in northern Hill Country's charming San Saba. Mike and Lynn McHenry's award-winning winery is named for 400-hundred-year-old oak, an historic wedding site. Attractive tasting room and production facilities in restored 1920s building. Winemaker Penny Adams' summer picks: Bridal Bliss, bubbly Muscat Canelli, and 2014 Bridal Blush (Double gold Houston Rodeo).
316 E Wallace St., San Saba
Mon -Thur 11am-6 pm, Fri -Sat 10 am- 6 pm, Sun 11 am – 5 pm – 325-372-4050
---
Off the Official Trail
13 Rancho Loma Vineyards (RLV)
Robert and Laurie Williamson's chic RLV tasting room and neighboring pizzeria have added foodie flair to Coleman. Their vineyard is 10 miles away, near their boutique hotel and restaurant, an oasis on the range. At the 2017 TexSom International Wine Competition, newbie RLV and winemaker Kyle Johnston took top honors for their Rhone-style white blend, RLV III.
411 S Commercial, Coleman
Thur 4- 8 pm, Fri -Sat 1- 9 pm, Sun 1- 5 pm – 325-625-1010
rlv.wine -or- rancholoma.com
14 Red Caboose Winery and Vineyards
Architect Gary McKibben's award-winning, eco-friendly winery and vineyard. Harvested rainwater, solar-powered electricity, recycling, composting. Sixteen-acre vineyard with Touriga Nacional, Muscat Blanc, Cab Franc, Viognier, Tempranillo and more. For vineyard experience, visit Meridian. Also, tasting room/deli in Clifton. Winemaker George Taylor's summer pick: Zinfandel Rosé from estate grapes.
1147 CR 1110, Meridian
Sat 10 am – 6 pm – 254-435-9911
15 Red Caboose Tasting Room and Deli
903 S Avenue G, Clifton
Thur – Fri Noon – 7 pm, Sat Noon – 8 pm, Sun Noon – 5 pm – 254-675-0099