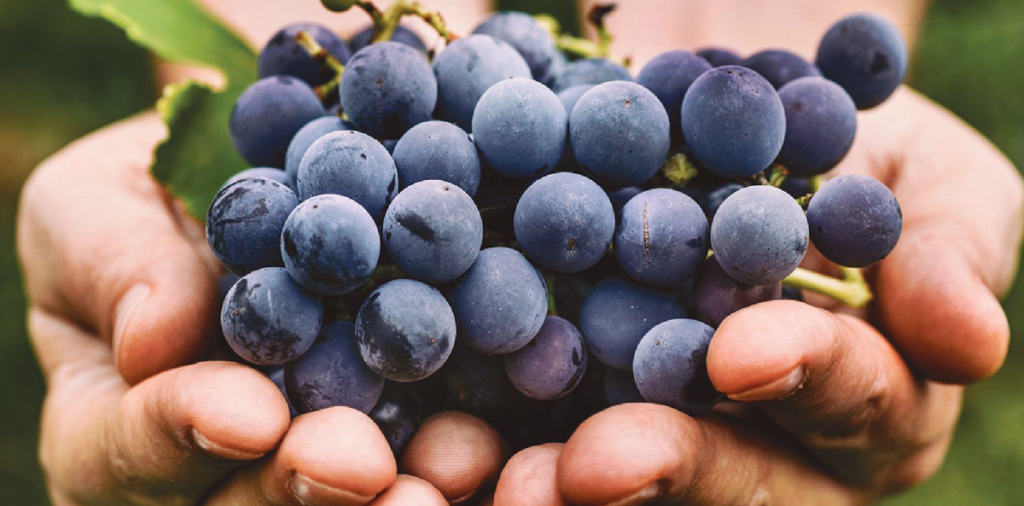 French Bordeaux Varieties
Cabernet Franc (Cab Franc) – Cab-er-nay Franc; red wine with red berry and herbal character.
Cabernet Sauvignon (Cabernet) – Cab-er-nay Saw-vee-nyon; full-bodied red wine with black currant and tannic character.
Malbec – Mal-bek; fruit-driven red wine with tones of black cherry and mocha – popular in Argentina.
Merlot – Mer-loh; red wine with nuances of red plum and soft tannins.
Spanish Varieties
Albariño – Al-bah-ree-nyoh; aromatic white wine with peach characteristics.
Tempranillo – Tem-prah-nee-yoh; red wine, medium-to-dark color, red berry character, usually added tannins from oak aging.
Southern French Varieties
Marsanne – Mar-san; white blending grape used with Roussanne and Viognier with mineral notes.
Mourvèdre – Mohr-ved-dra or More-ved; medium-to-dark colored red wine with notes of earth, game and leather.
Roussanne – Ru-san; medium-bodied white wine with notes of tea, lemon and peach.
Syrah – See-rah; intensely colored red wine with notes of blackberry, pepper and mineral.
Tannat – Tan-not; robust and dark red wine with characteristics of red plum, raspberry and impressive tannins.
Viognier – Vee-on-nyay; white wine, medium-bodied with characteristics of peach, apricot and floral notes.
Italian Grape Varieties
Aglianico – Ah-lian-neek-oh; red wine with black fruit and tannic character.
Dolcetto – Dohl-cheh-toh; deep purple wine with ripe-berry flavors.
Montepulciano – Mohn-teh-pool-chan-oh; red wine with soft tannins, made to drink young.
Nero d'Avola – Nay-roh Dah-voh-lah; red wine of southern Italy, plum and peppery flavors.
Sangiovese – San-joh-vay-zeh; medium-bodied red wine with red fruit character.
Trebbiano – Treb-byah-noh; white wine with neutral nose, bright acidity and light herbal aromatics.
Vermentino – Ver-men-tee-no; bright, acidic white wine with characteristics of lemon citrus and thyme.
Muscat – Moos-kat; dry to sweet white wine with pungent floral notes and characteristics of orange blossom and apricot.
Texas Native and Hybrid Varieties
Blanc Du Bois – Blonk du bwah; versatile and aromatic white wine with citrus and pear characteristics made in dry to sweet styles.
Black Spanish– (also called Lenoir – Len-uwar); red wine usually made in a port-style, but can be blended with other red grapes to make a dry table wine.
Muscadine – Muhs-kuh-dyne; usually semi-sweet to sweet wine, but now some made dry (can be white or red). Wines made from this native grape common in East Texas have a pronounced grapey aroma and flavor.
Mustang – Muhs-tang; a tart wine (can be white or red) made from this native grape common in Central and North Texas having red berry flavor usually made sweet to offset the wine's high natural acidity.
Norton (Cynthiana) – Two closely related red wine grape varieties that originated from native American species. Found in Texas but grown mostly in the Midwest and eastern United States. Produces medium-to-full bodied dry red wines, but are also adaptable to semi-sweet and port-style wines.