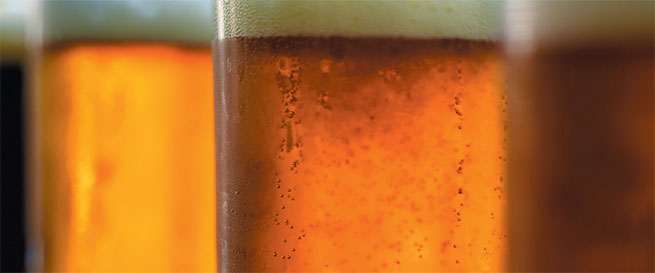 Photo: Sergio Salvador
BY BRIAN BROWN
The inevitable arrival of a North Texas summer means it's time to start thinking about ways to beat the heat. If those plans involve reaching for a beer, local breweries have you covered.
Today, over 60 brewing operations are active around Dallas-Fort Worth, and many produce a range of summertime brews.
Most of us will pass up weightier brews in favor of more refreshing options. On the lighter side, pilsners and other easy-drinking styles are a popular choice while lounging poolside. For a little more flavor, herb and spice beers offer another alternative, as do fresh fruit infusions. There's no way to account for them all, but here's a list of twelve such beers to get you started on your thirst-quenching quest.
Franconia's Kristallweizen—Filtered to be crystal clear in appearance, this "crystal wheat" is brewed with malted wheat and traditional German yeast. The result—a fresh and fruity session beer that's lower in alcohol and perfect for a ernoon swilling. franconiabrewing.com
Lakewood Brewing's Zomer Pils—Revamped in 2017, Zomer Pils is now dry-hopped with Lemondrop and noble hop varieties. The additional hops give this Bavarian-style pilsner a flavor boost and enhance its thirst-quenching qualities. lakewoodbrewing.com
Noble Rey's European Vacation—New for 2018, this fruity and spicy saison in the Belgo-Franc brewing tradition is the ideal summertime travel tonic. noblereybrewing.com
Rabbit Hole's El Conejo Mexican Lager—"The Rabbit" is a pale, Mexican-style lager brewed with German ingredients, featuring clean flavors and a dry finish. Snare the hare to beat the heat. rabbitholebrewing.com
Deep Ellum Brewing's Deep Summer—Brewed with hibiscus, lemon peel and chamomile flowers, Deep Summer shines the spotlight on its citrus flavors and a fresh oral essence. Available exclusively in the brewery's Summer 12-pack. deepellumbrewing.com
TUPPS Brewery's Northbound 75—Turn up the heat with this seasonal. Immerse your taste buds in the smoky stylings of a beer brewed with fire-roasted poblano peppers and spices. tuppsbrewery.com
Peticolas Brewing's Good Call—A good call for those looking for a blonde ale with bit more complexity. Ginger instills a touch of spice, with elements of citrus, lemon peel, fresh berries and vanilla, all sourced from a select blend of hops. peticolasbrewing.com
Armadillo Ale Works' WunderMelon—Summer wouldn't be summer without watermelon, the juice of which takes center stage in this watermelon kölsch. Built on a base of biscuity malts, WunderMelon is a dry and slightly tart refresher. armadilloaleworks.com
Community Beer Company's Passiflora White IPA—Named for the passion fruit ower, Passi ora is a mash-up of an American IPA and a Belgian witbier. Tart passion fruit plays well with the fruity esters from a traditional Belgian yeast, while also being complemented by avors found in Mosaic and Citra hops. communitybeer.com
Martin House Brewing's Cherry Limeade—It won't be delivered by way of a carhop, but this lower-strength, midsummer sour from Martin House promises to be just as refreshing as what gets doled out at the drive-in. martinhousebrewing.com
Oak Highlands Brewing's Guava Good—Delivering the goods with a summertime take on its year-round German kölsch, Oak Highlands adds guava to Allgood, giving this light-bodied, full- avored ale a tasty tropical twist. oakhighlandsbrewery.com
Panther Island's Summageez—Life's a peach with this variant of Panther Island's unfiltered American wheat beer, Allergeez. Parker County peaches are blended with Texas honey, chamomile owers and rose hips to create a brew that pairs well with patio time. pantherislandbrewing.com
For more about the local craft beer scene, go to Brian's blog, beerinbigd.com, or to The Craft Beer Guide at edibledfw.com.