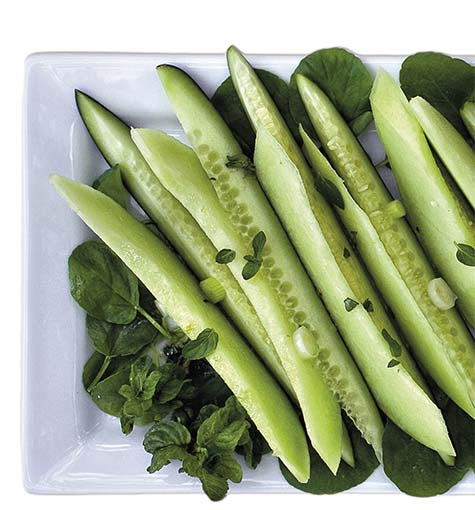 photo: Kelly Yandell
By Deborah Madison, The New Vegetarian Cooking for Everyone
Salad with fruit elements can open or close a meal or in sufficient quantity can be the center of the meal. As with vegetables, ripe, full-flavored fruits are most fundamental to the success of this salad. Cucumbers and melons are closely related not only botanically but also in texture and sometimes flavor, depending on the variety.
Serves 4
1 honeydew, cantaloupe or other melon, chilled
3 cucumbers
2 cups watercress or arugula leaves
Lime and Fresh Mint Vinaigrette or juice of 2 limes
Sea salt and freshly milled pepper
Scoop out the seeds, then slice the melon into narrow wedges and remove the skin. Scrub the cucumbers or peel if the skin is thick; cut into sixths.
Make a bed of greens on four plates and arrange the melon and cucumbers on top. Spoon the dressing over the top and season with salt and pepper.
LIME AND FRESH MINT VINAIGRETTE
Makes about ½ cup
1 teaspoon grated lime zest
2 tablespoons fresh lime juice
1/4 teaspoon sea salt
5 to 6 tablespoons sunflower seed or olive oil
2 green onions, including an inch of the greens, thinly sliced into rounds
2 tablespoons chopped mint or 2 teaspoons dried, crumbled
Combine the lime zest and juice and salt, then whisk in the oil. Stir in the onions and mint. Taste and correct the seasonings for balance if needed.
Reprinted with permission from THE NEW VEGETARIAN COOKING FOR EVERYONE by Deborah Madison, copyright (c) 2014. Published by Ten Speed Press, an imprint of Random House LLC.
Deborah Madison is the author of THE NEW VEGETARIAN COOKING
FOR EVERYONE, (c) 2014. Published by Ten Speed Press, an imprint of Random House LLC.