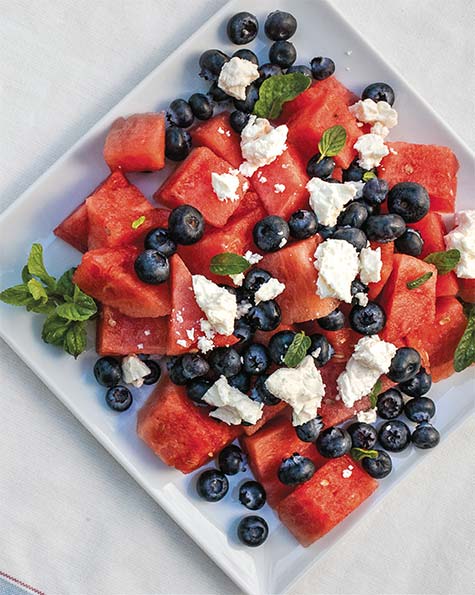 Photo: Kelly Yandell
by Cathy Barber, Food Editor, The Dallas Morning News
Excerpted from Edible Dallas & Fort Worth: The Cookbook
Think of Texas blueberries as a gateway food. Picking berries is a fabulous way to introduce little ones to the experience of acquiring fresh, local fruits and vegetables. Blueberries are a relatively recent addition to the Texas landscape, with Texas A&M University taking the lead in the early 1980s helping establish the industry with the Texas-tough blueberry: Rabbiteye. Today East Texas is dotted with farms, including many that will let you pick your own. Many have a farm stand where pickers can stock up on local jams and preserves and other produce too.
Serves 4
2 pints blueberries, rinsed
4 cups cubed watermelon
4 ounces feta cheese, or to taste, crumbled
2 teaspoon chopped fresh mint (optional)
In a large bowl, gently combine the blueberries and cubed watermelon. Sprinkle on the crumbled feta, garnish with the mint and serve immediately.
Reprinted with permission from EDIBLE DALLAS & FORT WORTH: THE COOKBOOK © 2012 by Edible Communities, Sterling Epicure, an imprint of Sterling Publishing Co., Inc.