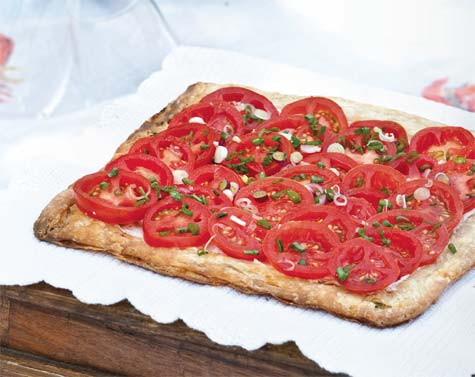 Serves 4-6
1 sheet of puff pastry (can use prepared pastry; thaw before using)
1 4-ounce container of Latte Da Dairy chèvre
8-10 Fourth of July tomatoes, or other small, vine-ripened tomato
Salt and freshly ground pepper to taste
Fresh oregano or basil, to garnish
Preheat oven to 400 °F.
Line a baking sheet with a piece of parchment paper and place the rectangle of puff pastry in the center. Coat the underside only of an 8" square baking pan with nonstick cooking spray and center the pan on top of the puff pastry. Fill the pan with dried beans or pie weights.
With a sharp, small knife, score the puff pastry, tracing around the outside of the 8" baking pan. Do not cut all the way through the pastry. Leave the weighted pan on top of the puff pastry, and place in the preheated oven. Bake the pastry for 20 minutes, and then remove the pan from the oven.
Carefully remove the smaller, weighted pan from the pastry and set aside.
Place the baking sheet and pastry back in the oven and continue baking until the crust is golden brown, another 5 to 10 minutes. Remove from the oven and let cool completely.
Meanwhile, core and slice the tomatoes about 1/8" thick and place on paper towels to let drain. Soft en the cheese by mixing it in a small bowl with a fork. If needed, add a tablespoon or two of milk, cream or half-and-half to the cheese to make it spreadable. Spread the cheese evenly over the center of the cooled tart, as defined by the scored markings. Shingle the tomato slices over the top of the cheese. Sprinkle with salt, pepper and fresh herbs.
The Fort Worth Symphony Orchestra's 23rd annual Concerts In The Garden Summer Music Festival offers 16 nights of outdoor concerts, June 7 – July 6, at the Fort Worth Botanic Garden. fwsymphony.org/concerts
Gwin Grimes and her Artisan Baking Company: artisanclasses.homestead.com
Gwin Grimes is the Chef-Owner of Artisan Baking Co., Fort Worth
and President, North Central Texas Farmers Market Corp.