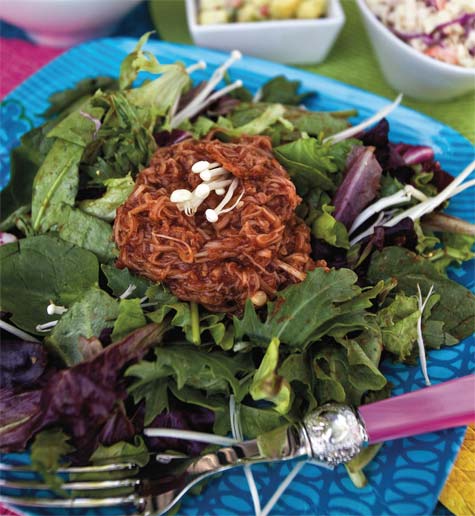 By Haylee Otto
vagabondveggie.com
Serves 2-4
for Barbecue Sauce
4 Roma tomatoes
1-2 chipotle chiles, soaked (see note)
4 sun-dried tomato halves, soaked (see note)
2 teaspoons tamari
1 clove garlic
2 teaspoons apple cider vinegar
1 date, pitted
1 teaspoon chili powder
Salt & black pepper to taste
for Salad
4 cups spring salad greens
1¾ pounds enoki mushrooms (see note)
1-2 tablespoons Texas olive oil
A pinch of salt
To Make Sauce:
Add sauce ingredients to a high-speed blender and combine until smooth and emulsified. Season with additional chili powder, salt and pepper, if needed. to Assemble: Cut the mushrooms at the base and wash. Separate the stems.
In two or three batches, lay mushrooms on a paper towel and sprinkle with salt. Place another paper towel on top and pass over the mushrooms several times with a rolling pin, which will extract some of the water and soften them.
Reserve 2 tablespoons of barbecue sauce, and then pour the remainder of the sauce over the softened mushrooms, coating them well. Toss greens with olive oil, salt and reserved barbecue sauce, and then top with saucy mushrooms.
Notes:
Rehydrate dried chipotle chiles and sun-dried tomatoes by soaking in separate bowls of water for approximately 20 minutes before using. After soaking, remove chiles and tomatoes. Discard water or reserve and use in dressing recipe below or in other recipes to add extra flavor.
Enoki mushrooms can be purchased at Whole Foods and Central Market. They aren't always in stock, but if you place an order, they will be received within a couple of days. Vacuum- packed enoki mushrooms are readily available at Asian groceries. Use 4-7 ounce packages for this recipe.