Country sensation Miranda Lambert's down-home
roots stretch to local vineyard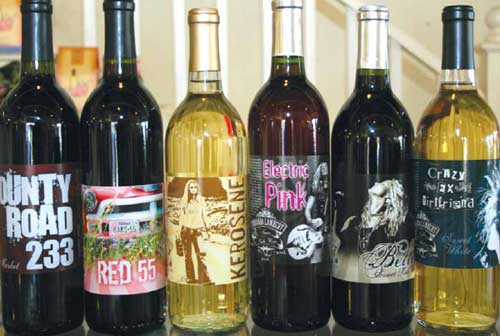 Music fans across the nation are familiar with County Road 233 as the setting for country star Miranda Lambert's hit song "Gunpowder and Lead." Over the past year and a half, this fictional thoroughfare's popularity has expanded to include – of all things – the oenophile sect.
This unexpected yet undeniable crossover success comes courtesy of the Red 55 Winery, a line of varietals developed to match Lambert's vibrant musical style, including its dazzling County Road 233 Cabernet Sauvignon.
The brainchild of Miranda's mother, Bev Lambert, Red 55 is the product of a passionate collaboration between two hard-working Texas families – the Lamberts of Lindale and the Sulphur Springsbased LouViney Vineyard and Winery.
The impetus for the Lamberts' leap into the spirit world came when Miranda was approached by a California vintner who wanted her to help them promote their wines. "Once that idea started rolling in my mother's head, she thought it would be great to test the Texas wine market with the same concept," says Miranda.
Bev's devotion to staying true to her daughter's Lone Star roots set her and her husband, Rick, on a voyage to seek out and sample the wares of a great many Texas winemakers. In the end, it was LouViney, a little-known lone star of sorts a mere 40 miles from Lindale, which impressed her most with across-the-board quality and the extensive variety of their wines.
The Lamberts spent most of 2007 plodding through the rigorous nine-month licensing process. Fortunately, that unsavory chore wasoffset by more enjoyable tasks, like figuring out what varieties of wines to include in the line, and developing the names and artwork to go with them. All of Red 55's wines feature names inspired by Miranda, her music, her style or her past.
The business itself was named after Miranda's first truck, a candy apple red 1955 Chevy Stepside pick-up. Red 55's first bottling, a dry white called Kerosene, shares the same title as Miranda's first commercial single. A blush was given the handle Electric Pink in reference to the color of both the wine and Miranda's signature guitar.
The only essential step of the process, more enjoyable than coming up with those clever names, was sampling the wines.
"We had many wine tasting meetings," Bev fondly recalls. Aside from maximizing the quality of the finished products, these get-togethers allowed Bev to recognize similarities between her family and the family of winemakers with whom they had teamed. The three sisters and a brother share a passion for grape growing and in 2005, from that solid backbone, LouViney Vineyards and Winery was born. "It was a hobby that turned into a career," says Susann Briggs, who handles the chef duties at LouViney's on-site restaurant. Her brother, Will, manages the operation while her sisters, Susan Jones and Nancy Briggs, handle winemaking and marketing respectively.
"We all work in the business doing daily details from bottling wine to bussing tables. We all seek the same goals, successes and maintain open and honest communication," says Susann. "We are used to being close to each other and we are having fun!"
Bev is quite familiar with this business model in her capacity as the head of her daughter's home-based support system in which she manages Miranda's fan club, the company store and in tandem with Rick, the new wine business. Son, Luke, serves as the webmaster for his big sis' official site and single-handedly designed the labels for each of the Red 55 wines.
Mutual respect and elbow grease have led to a partnership that has blossomed and matured as beautifully as a precisely cellared cab and, since the line's debut in November of 2007, the world has been taking notice of the little red engine that could.
"The public's response to the wines has been absolutely fantastic," says Bev. "Everyone has welcomed our line with open arms. We couldn't be happier that we decided to take this step."
In its first year of business, Red 55 sold over 450 cases of wine, a figure made even more impressive by the fact that, due to stringent shipping laws and regulations, the line was sold almost exclusively in Lindale, a town of just under 3,000 people. But that doesn't mean the rest of America isn't aware of Red 55.
"When news first got out that we had a wine line, it was the topic of nearly every interview Miranda did, including radio, TV and even the red carpet at awards shows," says Bev. Red 55's wines have gone on to be featured on Great American Country and Country MusicTelevision. Country Weekly has devoted ink to the winery and a neat little vino-centric publication by the name of Wine Spectator, offered up a positive review of the line.
Such positive reactions from the public and media have the Lamberts thinking about expansion. When Miranda's new album hits stores in autumn of this year, one or two wines (probably a Chardonnay and/ or Chablis) will likely be added to the line. Yet, even with such success and reputable industry praise, the Lamberts feel inclined to drive
home a major point about the wines.
"There's more than just a pretty face on them," says Bev.
"They are more than just a novelty wine," seconds Miranda. "The quality of the wine stands up against others in the same price range. So many people buy them to simply display on a shelf. Drink them… there's more where that came from."
It's a good thing there is an ample amount of reserve as there's no shortage of wine lovers clamoring for a bottle.
"When my parents come to a venue, they usually bring some wine with them for me and the band," says Miranda. "Several of my band members are into wine, so they really get excited when they know mom and dad are driving to a show!"
There's another member of that touring party that has a defined ardor for the wines.
"Last year, I called my mom and asked her to bring my boyfriend, singer Blake Shelton, and me a few cases of wine," Miranda recalls. "We planned on handing out bottles for Christmas."
When Bev later asked her daughter for a run-down of which wines she had given to each of her giftees, she noticed that none of the County Road 233 or Red 55 Merlot, both of which just so happen to be Miranda's favorites, had been given as gifts.
"All I could do was smile and say, "Well, I gave myself a little Christmas cheer," says Miranda.
Residents of Texas, Alaska, New Hampshire, New Mexico, Illinois and Oregon can get their own dose of liquid cheer anytime of the year by purchasing Red 55 wines online at Miranda's website – mirandalambert.com/store. Fans and wine lovers are also encouraged to take a day trip to the Miranda Lambert Store in downtown Lindale where
wine and a great deal more is available.
The Miranda Lambert Store & Red 55 Winery
100 E. Hubbard
Lindale, Texas 75771
Phone: (903) 882-9305
Hours: Tue. Thu.–Fri. 10 A.M.–9 P.M.;
Mon. & Wed. 10 A.M.–6 P.M.
mirandalambert.com
LouViney Vineyard & Winery
206 Main Street
Sulphur Springs, Texas 75482
Phone: (903) 438-8320
Hours: Tue.–Thu. 11 A.M.–9 P.M.;
Fri.–Sat. 11 A.M.–10 P.M.
louviney.com
BRANDON HERNANDEZ is a California-based writer with a passion for food and the culinary arts. He has been featured numerous times on The Food Network hit program Emeril Live, is the author of a cookbook titled The Restaurant At Home and offers his expertise on food preparation and menu planning as a culinary consultant via the San Diego-based Deep Crimson Culinary Visions. He welcomes questions, comments and general conversation at [email protected] .