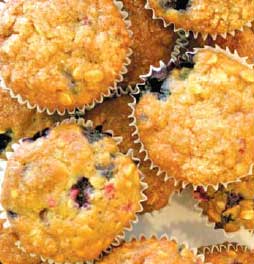 4 large eggs
2 cups sour cream
10 tablespoons (1 ¼ sticks) unsalted butter
2 cups light brown sugar, packed
2 cups old-fashioned rolled oats
2 cups all-purpose flour
2 teaspoons baking powder
1 teaspoon baking soda
1 teaspoon salt
1 cup blueberries
1 cup raspberries
2 tablespoons sugar
Preheat the oven to 350 degrees.
Line muffin pans with paper liners.
In a large bowl, beat the eggs with the sour cream until thoroughly combined.
In a medium-size saucepan, over medium heat, melt the butter and brown sugar. Cool slightly, and then beat this mixture into the egg mixture. Stir in oats.
Combine flour, baking soda, baking powder, and salt. Fold dry ingredients into the egg mixture and then, very gently, fold in the berries.
Fill the muffin cups two thirds full. Drop a generous pinch of sugar onto the top of each muffin.
Bake the muffins at 350 degrees for 25 to 28 minutes, or until the edges are medium brown and the tops are firm. Cool for 5 minutes; then remove the muffins from the pan and finish cooling them on a rack.
Makes: 2 dozen. Recipe source: Candace Williams