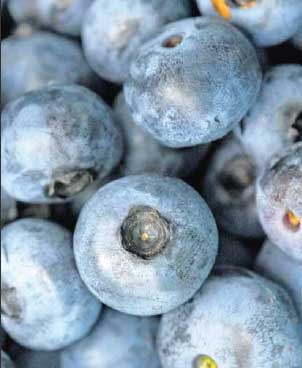 Yield: 8 servings
1 loaf challah bread, crust removed, cut in 1" cubes
2 ½ cups fresh local blueberries (Farmers Markets or Local You-Picks
are good places to find local berries)
5 oz. cream cheese, cubed
8 large eggs, beaten
1/2 cup milk
1/3 cup maple syrup
1/4 cup melted butter
1 tablespoon ground cinnamon
1 teaspoon salt
3 tablespoons powdered sugar
Maple syrup for serving
Pre-heat oven to 350*. Grease a 9×9 glass-baking dish. Place half of the cubes of Challah bread in bottom of pan. Sprinkle half of the blueberries and the cream cheese on top of bread. Top with remaining bread cubes and blueberries. In a medium sized bowl whisk together eggs, milk, maple syrup, butter, cinnamon and salt. Pour mixture over top of bread mixture making sure to evenly distribute.
Bake at 350* for 1 hour or until knife inserted in middle of French toast comes out clean. Let cool 5-10 minutes then sprinkle powdered sugar on top. Serve with maple syrup.
KATY DAUME LOPEZ is a chef consultant for edible Dallas & Fort Worth. She earned her BBA in Marketing at Texas Christian University and shortly after graduating attended culinary school in Fort Worth to follow her true passion, food. She works in a variety of aspects of the culinary industry including recipe development, management, product development and catering. Katy loves bringing people together to eat great meals made from fresh, locally grown ingredients.