Awassi and Lacaune sheep grace the land (above). Chelsey Veldhuizen in the cheese shop.
WELCOME TO THE ONLY SHEEP'S MILK DAIRY AND CHEESEMAKING OPERATION IN TEXAS
PHOTOGRAPHY BABS HOGAN
East of Highway 377, about seven and a half miles north of Dublin, we pull onto a small County Road (CR 299)—a small byway used mostly by farm trucks and tractors. Passing fi elds and grazing animals, we continue until we spot the sign announcing Veldhuizen Farm. Turning onto the gravel drive, we slow the car to a crawl and take in the views.
To our left , two rams graze, seemingly oblivious to the Great Pyrenees dogs discretely standing guard nearby. Th e breed, developed in Europe centuries ago to protect sheep from wolves and other predators, is integral to the fl ock on Veldhuizen Farm. With 60 cows and more than 120 sheep—not to mention 150-plus new lambs each spring—working dogs are a must on this 180-acre spread.
As we continue our drive, we pass a field of cows. Then the road curves and the farm's "aging cave" becomes visible; set into a hillside, this vital part of Veldhuizen's cheese-making process appears as two rustic wooden doors flanked by walls of stone. It looks ancient, like any cheese aging cave would have two centuries ago.
From here we can also see the cheese shop, and beyond, a large barn. With dogs, cats and chickens watching our slow advance, we come to a stop in a parking area for visitors.
We toured the farm in 2011 to interview Stuart and Connie Veldhuizen about their cow's milk cheeses. We were impressed by Stuart's philosophy, which remains unchanged: "Everything starts with the soil," Stuart said then, as we crossed one of his pastures. "We do not use herbicides or insecticides. We follow farming practices that conserve water and the natural microbes in the soil. We plant a variety of grasses, wildfl owers and herbs for the cows to graze on. Healthy soil makes great feed, which produces high quality milk." He wouldn't brag, so this observation is ours: High quality milk produces delicious cheese.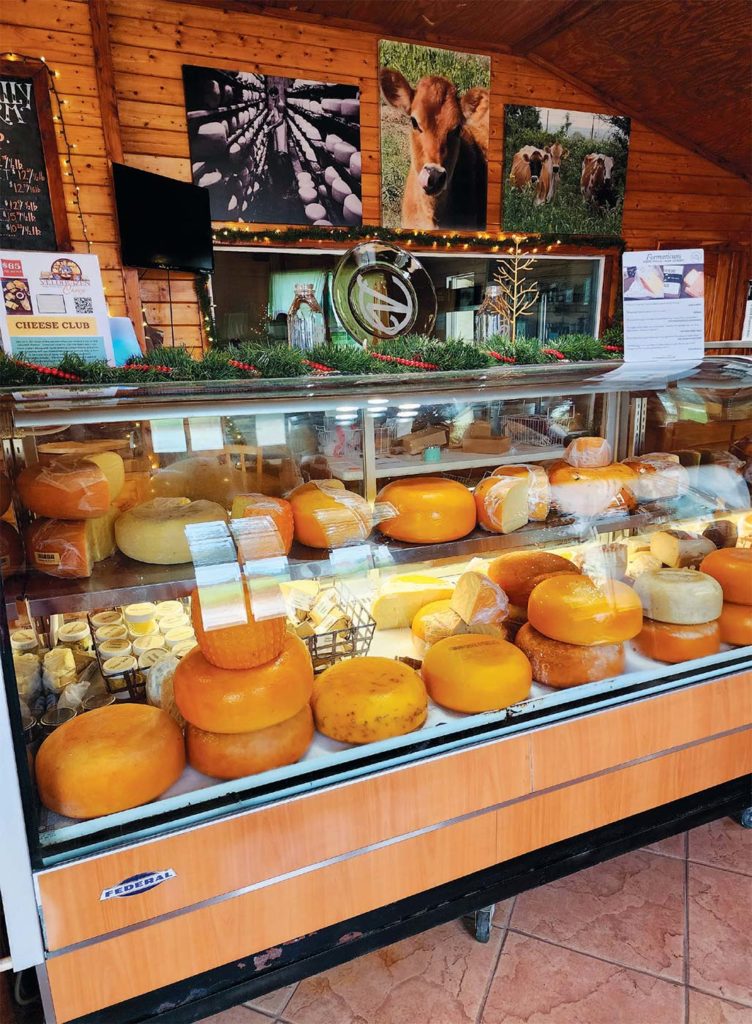 Today, 12 years later, we're here to learn about the Veldhuizens' foray into sheep's milk cheesemaking.
In 2015, Stuart's daughter Rachael and her husband decided to move back to the farm with their four children. Dairy farming and cheesemaking were work Rachael knew well; she and her six siblings grew up helping their parents on the farm. She had an idea for another business: add a flock of sheep and make cheese from their milk. "We wanted to increase the farm's product line and our capacity to support our family," she says. But she had to convince her parents first, and her father was skeptical. After all, Texas is about cows and cattle. But Rachael wanted to establish a distinctly different dairy business. A lot of research and hard work later, she proved the merit of her plan. Today, the Veldhuizen Farm is the only sheep's milk cheesemaking dairy in the state of Texas; surprising because there's a long list of reasons to be a fan of sheep's milk cheese.
"My first task was to find two breeds that were good producers and could tolerate the Texas heat," Rachael says. "That's when I discovered Awassi [a breed popular in the Middle East] and East Friesians [considered the world's highest-producing dairy sheep]. We started with nine ewes. It was clear early on that the right breed could do well here. There was a lot of trial and error in those early days, but my parents were on board."
Eventually, they replaced the East Friesians with Lacaune sheep, a French breed known for its good milk production and ability to tolerate extreme heat. As we walk beside a field where sheep graze, Rachael tells us, "Lambs are nursed by the ewes 30-40 days, normally." The ewes are milked by the Veldhuizens even as they nurse their lambs, "since the ewes normally have plenty of milk."
Among those born each year, female lambs are kept for the milking flock, replacing a portion of the "old" ewes. By the fifth lactation, production declines, though a ewe can be milked for five to seven years.
(left)The production room's small vat holds 300 gallons; (right)One of the farm's yearly 150-plus lambs.
We wondered if there was a learning curve when it came to making these cheeses. "Making cheese from sheep's milk is not all that different from making cheese from cow's milk," Rachael explains as she leads us into the cheesemaking room. "There are a few tweaks to the process, because sheep's milk has more protein and fat than cow's milk. That difference, plus the fact that sheep's milk has less water, means less rennet is required," she says, referring to the coagulating agent used in most cheesemaking processes.
We pause to meet cheesemaker Emily Winkler, who stands next to an enormous stainless steel vat. Part of the Veldhuizen cheesemaking team for 11 years, Emily tells us they have experimented with different recipes for the sheep's milk cheeses. The result to date: four distinct cheeses produced from Veldhuizen's flock, plus two cheeses made from a combination of the farm's cow's and sheep's milks. Emily shares an interesting fact: Six pounds of sheep's milk make one pound of cheese, while it takes 10 pounds of cow's or goat's milk to produce that same weight.
We step out into the cool December air to head to the aging cave. This is where the cheeses rest until they are ready to be sold. The space seems like a chapel—still, quiet, and dim. As the door opens, the rich aroma of aging cheese fills our senses. Floor-to-ceiling shelves hold wheels of two dozen varieties of artisan raw-milk cheeses. The wheels, each coated and labeled or washed by hand with a brine until a natural rind forms, will spend two months to two years here.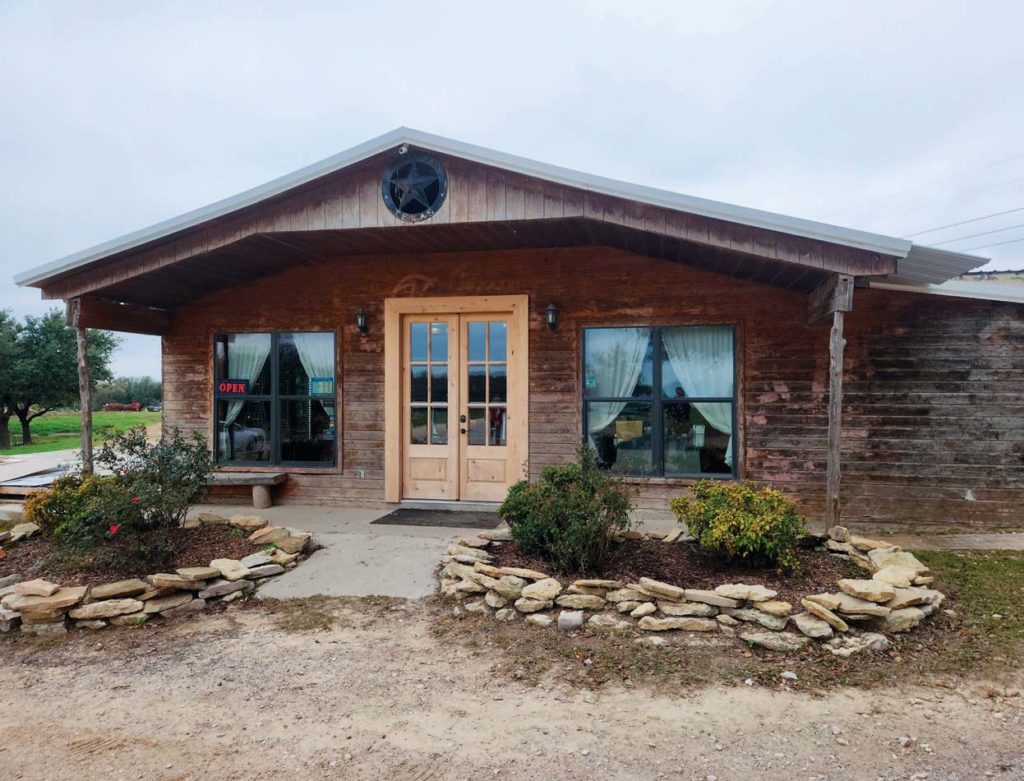 Finally, it's time to head to the cheese shop for a tasting. Had the public been reluctant to try sheep's milk cheese? we ask. "When we introduced the new line, a lot of people were timid because they had not tasted sheep's cheese," Rachael says. "Sheep's milk cheese in general is unfamiliar to Texans, and the varieties we made at fi rst—which we still make: Fat Tailed Tomme and Wooly Texas—are also unfamiliar. When we began to make Cheddar with our sheep's milk, some customers' inhibitions were removed."
With that, she leads us into a cheese-lover's world, the farm's cheese shop where Chelsey Veldhuizen stands ready to answer any and all questions, and to off er samples that illustrate her point.
As this family farm continues its 23-year tradition of good stewardship of the land and production of artisan raw-milk cheeses, we leave with gratitude and a purchase of a heft y wedge of each sheep's milk cheese. We're pretty sure you'll want to do the same.
A WORD FROM CHELSEY VELDHUIZEN ON VELDHUIZEN FARM SHEEP'S MILK CHEESE
Chelsey, director of marketing for the farm's cheese shop, led us through a tasting:
Fat Tailed Tomme: "It's named for the Awassi sheep in our flock because of their fat tails. A Manchego-style cheese, it has a rich flavor, leafy green sweetness and milky notes with a clean, complex finish." Texture: semi-firm to firm. Rind: edible, rubbed with olive oil. Color: rich yellow-gold.
Wooly Texas: "Wooly Texas is a Gruyère style, an Alpine style, pleasant and very nutty. It is smooth with nice acidity; notice the flavors of toasted cashews and lingering notes of vanilla and butter." Texture: firm but pliable. Rind: edible. Color: light yellow.
Sheep Gouda: "This fatty-in-the-mouth Gouda has a perfect eye formation and delicate texture. Its flavors cover the spectrum from sweet to savory; note the salty caramel and rich, musky quality found only in sheep's milk. The texture is firmer than cow's milk and sweeter than a cow's milk cheese." Texture: firm. Rind: edible. Color: light yellow.
Sheep Cheddar: "Our recipe is very traditional. It's the hardest of our sheep cheeses. Its flavor is earthy, sweet and buttery—truly a 'medium-sharp' cheddar." Texture: hard, crumbly. Rind: edible but most remove it. Color: rich gold.
Mixed Milk Gouda: "A perfect blend of sheep and cow milks, it begins with a traditional Gouda flavor but finishes with buttery and slightly nutty notes." Texture: firm but creamy. Rind: edible. Color: pale yellow.
Shepherd's Blend: "This Manchego-style cheese is made with cow and sheep milks, yielding a bright cheese that is creamy yet firm, with sweet lemony flavors and a velvety finish." Texture: semi-firm. Rind: edible. Color: yellow orange/gold.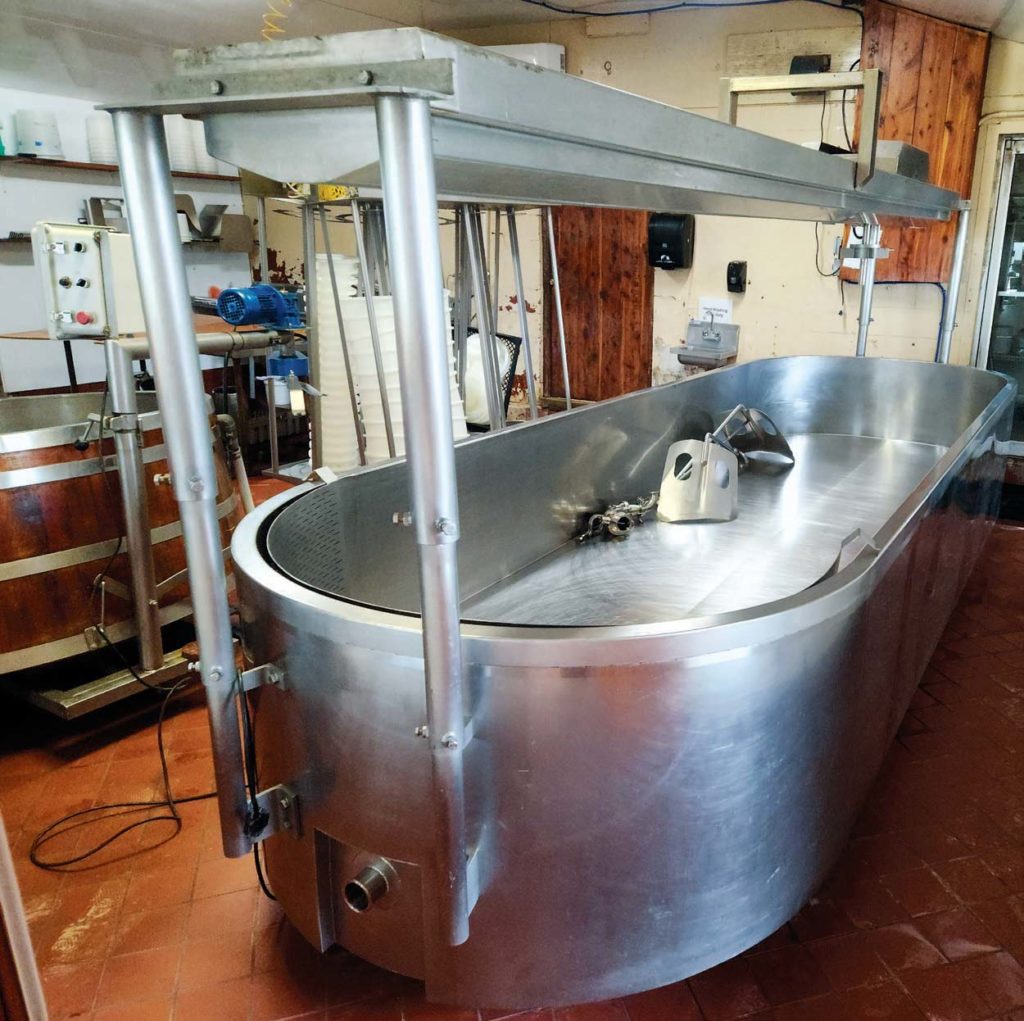 TO YOUR HEALTH— SIX REASONS TO EAT SHEEP'S MILK CHEESE
Sheep's milk cheese contains twice the protein of goat's or cow's milk cheeses.
Sheep's milk cheese is rich in important fatty acids and minerals including calcium, phosphorus, iron, magnesium, and zinc. Additionally, it provides most of the B complex vitamins, plus vitamins A, D and E.
Biopeptides found in the milk of animals that consume rich green grasses, wildfl owers, and herbs—as do the sheep at Veldhuizen Farm—provide antibacterial, antiviral, and anti-infl ammatory properties.
The milk from animals that graze on lush pastures contains elevated levels of conjugated linoleic acid (CLA). Researchers are studying why high levels of CLA help prevent cancer, Type 2 diabetes and Alzheimer's disease.
Due to its high fat content—double the amount in goat's or cow's milk—sheep's milk cheese triggers the feeling of fullness, called satiety. This feature of sheep's milk cheese is good news for those trying to lose weight, as a feeling of satiety triggers the brain to stop eating.
Aged, hard sheep's milk cheese can be consumed by people who are lactose intolerant due to its low sugar levels.