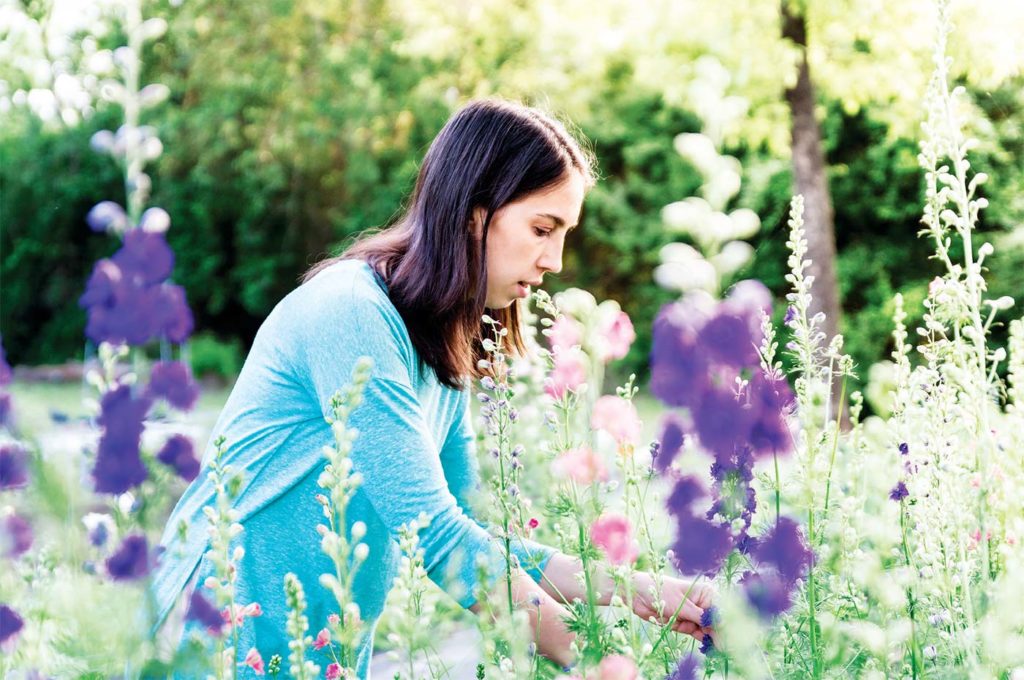 LOCAL FLORISTS AND FLOWER FARMERS BLOOM INTO A NEW, MORE THOUGHTFUL SOURCING SYNERGY.
PHOTOGRAPHY BY LEXI MEADOWS PHOTOGRAPHY
Sarah Jo Eversole prefers to be in the field. The cut flower farmer who lives in historic Lancaster with her husband Matt, son Zebediah, and daughter Ahava in a quaint Victorian house on the edge of her 1/8th-acre bloom field is shifting gears this year from bouquet subscriptions and farmers markets to growing for local florists. She's doing so for a reason.
In her floral kingdom, with its well tended rows and homemade greenhouse tunnel meant to brave the unexpected February freezes and the summer days of triple-digit heat, Eversole uses ecologically friendly practices, including compost tea and a no-tilling method intended to preserve the soil's natural ecosystem. In the flower industry, though, there can be an internalized impression that being the farmer is "the lesser thing," Eversole says. Beauty is in the eye of the beholder.
"We tend to value things that are beautiful," she says. Indeed, the flower industry is a highly aesthetic realm. But "I think we've misdefined it: we've defined beauty really narrowly," she continues, "when there's a lot of beauty in being a farmer." She herself finds joy in coaxing the culminating bloom from the earth, not simply reveling in its opulent end result. "It's the process I'm interested in."
What's more, she's finding that florists increasingly want to buy local blooms.
Master Florist and floral designer Shane Connolly, a florist for the British crown, who crafted the arrangements for Prince William and Kate Middleton's wedding, was erroneously told that local blooms didn't exist in North Texas when he came for an event. "He found me and emailed me and told me he wanted to buy everything I had," Eversole recalls. Amanda Vanhoozier of Bishop Hill Farm Flowers had already been growing flowers for five years, a pioneer in the industry. In 2019, she was among the local farmers Eversole gathered to source only local stems for an event Connolly designed for the Dallas Women's Club. In March 2020, he used local blooms again for Dallas Art in Bloom at the Dallas Museum of Art. Many non-profits would likewise like to source close-to-home blossoms. But, in a landscape where property is expensive, "there are not enough flower farmers," Eversole says.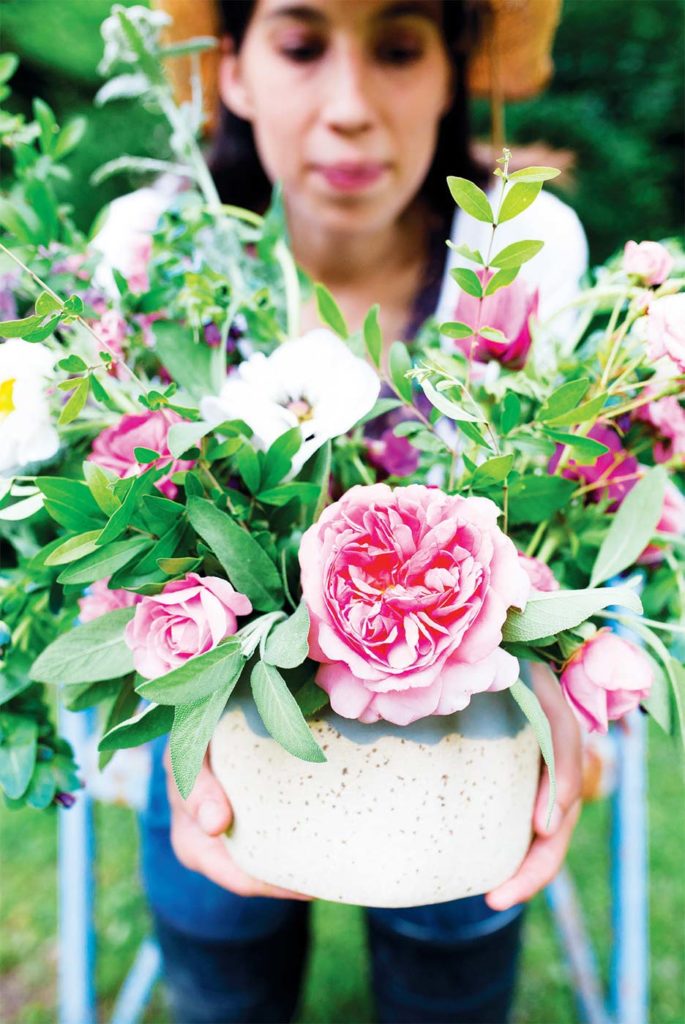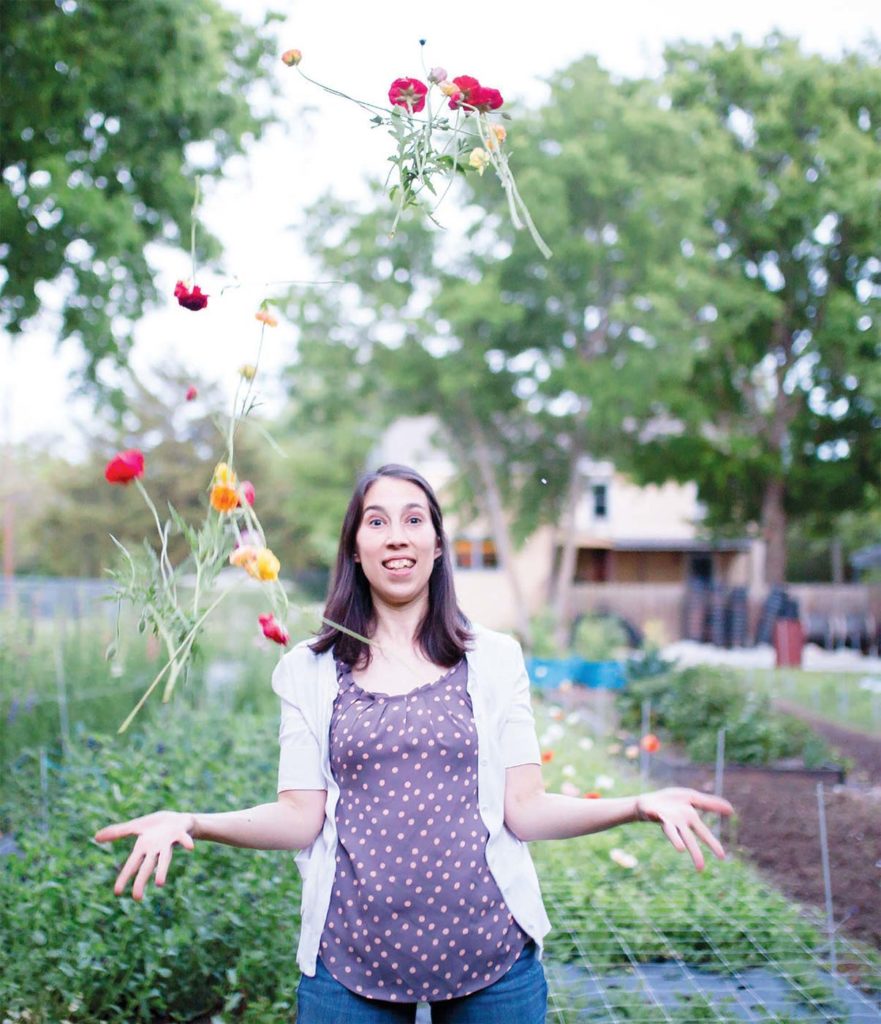 If all of the cut flower farmers of North Texas—a group of 23 that participate in a monthly video call (originally organized by Vanhoozier), meet in person roughly quarterly, and mostly farm under one acre—were to pool their output, they would be hard pressed to fulfill demand for a several- thousand-bloom event. Eversole frequently has conversations with florists and freelancers "who are trying so hard," she says. "They want a bloom that comes from a cultivating process that takes care of the earth and not just destroys it." But "they've talked about how difficult it is for them to find [enough] local flowers."
Eversole feels passionately about their plight. She is one of the landstrapped farmers who wants to contribute to the larger sustainable flower cycle story.
So toward the end of 2022, Eversole stopped selling her weekly bouquets for individuals at the Saturday Saint Michael's farmers market in North Dallas. "I almost cried when I had to tell the market manager," she says. "I will miss my customers," for whom she'd snipped sunflowers and snapdragons in winsome, simple bouquets.
For florists, she's shifting her crops—growing flowers with longer vase life and thinking about texture and flounces for weddings: not sunflowers but lisianthus, ranunculus, anemones, and peonies.
The shift also reflects her interest and preference: the joy and care she places in farming and the pleasure she derives from it. "I just enjoyed the moments in the dirt" more than those in her arranging studio, she says.
"It's so much more satisfying to go to my field and cut a long, straight, ruffl y bloom and give it to a fl orist who will really work their magic with it. Th e fl orists know what they're getting. It's almost like I'm making their dream come true," she says.
Which is why she's heeding the cry for help. "I wish I had 50 acres to help them," she says.
Sign up for a floral subscription (yes, Eversole is still doing her CSA on a limited basis) at everbloomfields.com.
LOCAL BLOOMS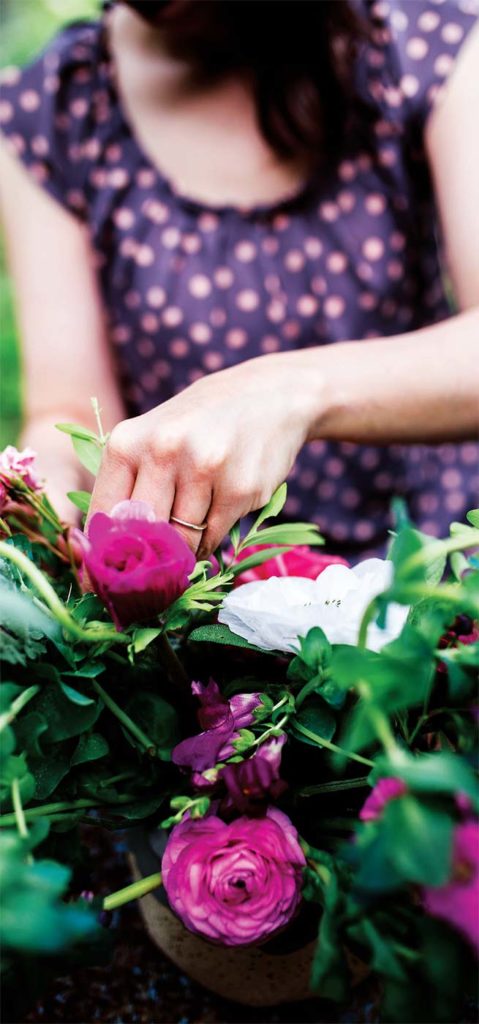 These florists/organizations support locally grown flowers and buy them when available. Support their efforts!
Darling Florence (Dallas)
Bows & Arrows (Dallas)
The Corner Market (Dallas)
R Love Floral (Dallas)
A & L Floral Design (Dallas)
Memories Bound Floral (Fort Worth)
Skye Flower Field (Hurst)
Abundant Floral Studio (Melissa)
Lizzie Bee's Flower Shoppe (Richardson)
The Floral Bar (Roanoke)
The Market at Bonton Farms and other restaurants including Harvest Seasonal Kitchen, often set locally sourced blooms on their tables.
Non-profits and organizations such as the Dallas Museum of Art and the Dallas Holocaust and Human Rights Museum try to source locally for events.
Also, check for other local flower farmers and consider signing up for their flower subscriptions.
EVE HILL-AGNUS teaches English and journalism and is a freelance writer based in Dallas. She earned degrees in English and Education from Stanford University. Her work has appeared in the Dallas Morning News, D Magazine, and the journal Food, Culture & Society. She remains a contributing Food & Wine columnist for the Los Altos Town Crier, the Bay-Area newspaper where she stumbled into journalism by writing food articles during grad school. Her French-American background and childhood spent in France fuel her enduring love for French food and its history. She is also obsessed with goats and cheese.