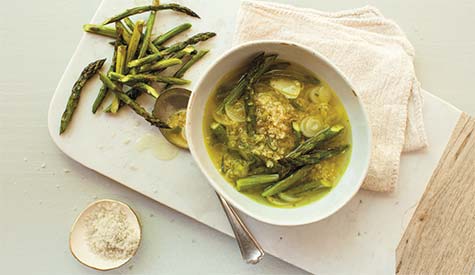 From EAT CLEAN LIVE WELL by Terry Walters
This soup is everything I want from a spring meal. Its broth is infused with the sweetness of spring onions, and high-protein quinoa adds just enough body to satisfy. I roast the asparagus first and add it last so that it retains its taste and texture, adding another dimension to this soup that always hits the spot.
Serves 4
1 bunch asparagus
2 tablespoons extra virgin olive oil
¼ teaspoon coarse sea salt
3 medium spring onions
3 garlic cloves, thinly sliced
½ cup uncooked quinoa
6 cups vegetable stock
1 tablespoon mirin
Sea salt and freshly ground pepper
Preheat oven to 400°F. Bend asparagus near bottom of stalks to break off dried ends at natural breaking point. Discard ends and cut remaining stalks on an angle into 2-inch pieces. Drizzle with 1 tablespoon olive oil, sprinkle with coarse sea salt and spread on baking sheet. Roast 20 minutes or until asparagus is tender and lightly browned. Remove from oven and set aside.
Trim spring onions and slice white bulbs and light green stems into thin rounds (discard dark green stems). Drizzle remaining 1 tablespoon olive oil in Dutch oven over medium-high heat and add sliced onions and garlic. Sauté until onions start to soft en (about 2 minutes).
Rinse quinoa, add to mixture and toast 2 minutes to lightly toast. Add stock and mirin and bring to boil. Reduce heat and simmer covered until quinoa is tender (about 20 minutes). Season to taste with salt and pepper, keeping in mind that soup will get saltier from roasted asparagus. Top each serving with a scoopful of roasted asparagus and serve.
Notes: Spring onions tend to be mislabeled. Look for slightly overgrown scallions with a rounder white bulb. Mirin, a sweet Japanese rice wine, is available in many grocery stores.
Reprinted with permission from EAT CLEAN LIVE WELL (c) 2014 by Terry Walters, Sterling Epicure, an imprint of Sterling Publishing Co., Inc. Photography by Julie Bidwell.
Terry Walters is the author of three best-selling cookbooks, CLEAN FOOD,
CLEAN START, and her latest EAT CLEAN, LIVE WELL. She is a James Beard Foundation Award finalist and recipient of the Nautilus Gold and Silver Book Awards. terrywalters.net