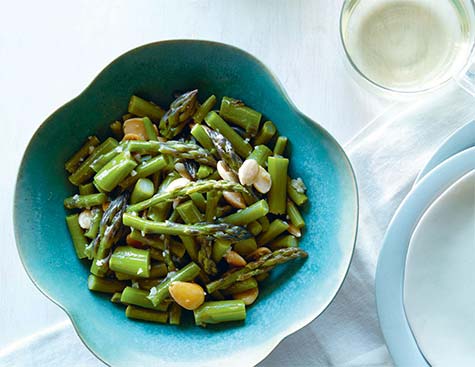 From Clean Start by Terry Walters
Miso is a great source of essential vitamin B12 and immune-strengthening zinc. Plus, it delivers big taste and significant health benefits. In the winter, it's easy to add miso to soups and stews. Come spring, I favor lighter preparations like this one that contrast miso's taste with the delicate and sweet Marcona almonds and fresh asparagus to highlight the flavors of the season.
4 servings
2 bunches asparagus
¼ cup water
3 garlic cloves, minced
2 tablespoons extra virgin olive oil
2 tablespoons lemon juice
1 tablespoon sweet brown rice miso
¼ cup Marcona almonds (or whole blanched almonds)
To prepare asparagus, cut off and discard woody ends and chop remaining stalks into bite-size pieces.
In large skillet or Dutch oven over high heat, bring water to boil. Add asparagus and cook 2 minutes or until bright green and just soft. Remove from heat, drain water and set aside.
In small skillet over medium-low heat, sauté garlic in olive oil until soft (about 3 minutes). Remove from heat and stir in lemon juice and miso, mixing until miso is dissolved. Pour dressing over asparagus, transfer to serving dish, top with almonds and serve.
Reprinted with permission from Clean Start © 2010 by Terry Walters, Sterling Epicure, an imprint of Sterling Publishing Co., Inc. Photography by Gentl & Hyers
Terry Walters is the author of three best-selling cookbooks, CLEAN FOOD,
CLEAN START, and her latest EAT CLEAN, LIVE WELL. She is a James Beard Foundation Award finalist and recipient of the Nautilus Gold and Silver Book Awards. terrywalters.net