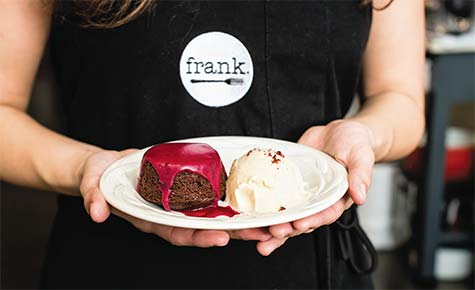 By FRANK Underground
In the olden days, before cocoa was processed with alkalizing agents to give it a rich, dark color, cooks noticed that when mixed with other acidic ingredients like buttermilk, the resulting cake took on a reddish tinge. Th is is due to cocoa's natural anthocyanins, which appear red in acidic environments, but brown in alkaline ones. Now that most modern cocoa powders are alkalized, red velvet cake must be made with red food coloring or beet juice. But if you'd like to make the old-fashioned cake, use raw, minimally processed powdered cacao, which can be found at upscale grocery and health food stores. It won't be alarmingly red but it's definitely red and very velvety.
Makes one 3-layer cake or 24 muffins
6 ounces all-purpose flour
6 ounces cake flour
2 ¼ ounces raw, minimally processed cacao powder
1 ½ teaspoons baking soda
¾ teaspoon kosher salt
1 ½ cups buttermilk, warmed 20 seconds in the microwave
2 teaspoons vanilla extract
6 ounces (12 tablespoons) unsalted butter, at room temp
15 ¾ oz light brown sugar
3 eggs
Preheat oven to to 325˚F. In a bowl, sift together the first five dry ingredients and then repeat to thoroughly combine and aerate them. (Don't leave it out this step!) Set aside.
In a large measuring cup, combine buttermilk and vanilla. Set aside. In the bowl of your stand mixer, cream together the butter and sugar until fluffy. Th en add the eggs, one at a time. Next, alternate adding ⅓ of the dry ingredients and ⅓ of the buttermilk mixture. Mix on low speed until thoroughly combined and then repeat with another ⅓ of the ingredients, and then the final third. Continue mixing for 5 minutes on low speed (to ensure a velvety texture).
Divide the batter between three 9-inch cake pans, or two 12-cup muffin pans, that have been sprayed with cooking spray and lined on the bottom with parchment. Place the pans on the center rack of oven. Bake until a toothpick inserted into the center of the cake comes out clean, 30-35 minutes for 9″ cakes, or 20-25 minutes for individual cakes in the cupcake pan. (For actual cupcakes with rounded tops, bake in a preheated 375˚F oven for 15-20 minutes.) Let the cakes cool 10 minutes in the pan before inverting onto a cooling rack.
Top with Cream Cheese Frosting:
8 ounce package cream cheese, at room temp
4 ounce (1 stick) unsalted butter, at room temp
1 pound powdered sugar
1 tablespoon vanilla extract
In your mixer using a paddle attachment, beat together the cream cheese and butter on a medium speed until fl uff y. Turn the speed to low and begin adding sugar, a bit at a time. As each addition of sugar disappears, raise the speed to medium high to fully incorporate. Turn it down before each addition and continue until all sugar is incorporated. Add vanilla and continue beating on high speed for 2 minutes.
Tip: Place cake rounds in the freezer for 30-45 minutes before frosting to avoid getting crumbs buried in your frosting.
A funny thing happened during the second season of Fox's MasterChef in 2011. Although neither of the two local chefs won, Ben Starr and Jennie Kelley forged a lasting bond that's morphed into FRANK underground, one of the most unusual, dynamic and food-obsessed experiences in Dallas.