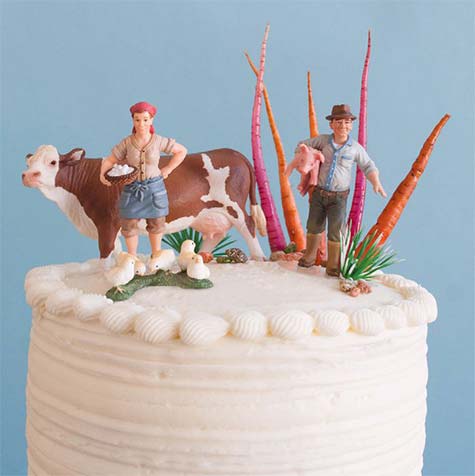 By Natalie Sélavy, Art Photographer & Food Enthusiast
natalieselavy.com
As seen on the cover, here is Natalie Sélavy's recipe for Edible DFW's 5th anniversary cake.
8 servings
2 cups all-purpose flour
1 cup dark brown sugar
1 cup sugar
1 tsp baking powder
1 tsp baking soda
1 tsp salt
2 tsp cinnamon
4 eggs
1¼ cup vegetable oil
3 cups grated carrots
½ – 1 cup pecan pieces
Preheat oven to 350°F. Prepare two 9" round cake pans.
Whisk together first 7 ingredients. In another bowl whisk together eggs and oil.
Add dry ingredients to wet ingredients, mix until incorporated. Fold in carrots and nuts. Pour in two 9" cake rounds. Bake for 35 – 45 minutes, or until a toothpick comes out clean. Let cool at least 30 minutes before taking out of pan.
GOAT CHEESE FROSTING
16 ounces goat cheese, softened
1 cup butter, softened
1 teaspoon vanilla extract
Pinch salt
4 – 5 cups powdered sugar, sifted
Using your electric mixer, cream together first 4 ingredients until smooth. Add powdered sugar slowly until 4 cups have been added. Add more sugar to thicken icing to desired consistency. With a spatula, evenly spread icing on the top of one cake. This will be your bottom layer. Place the second cake on top of bottom layer, and then evenly spread icing on the top of that layer. Complete by icing the sides.
Natalie Sélavy is an Art Photographer & Food Enthusiast and may be found at natalieselavy.com.