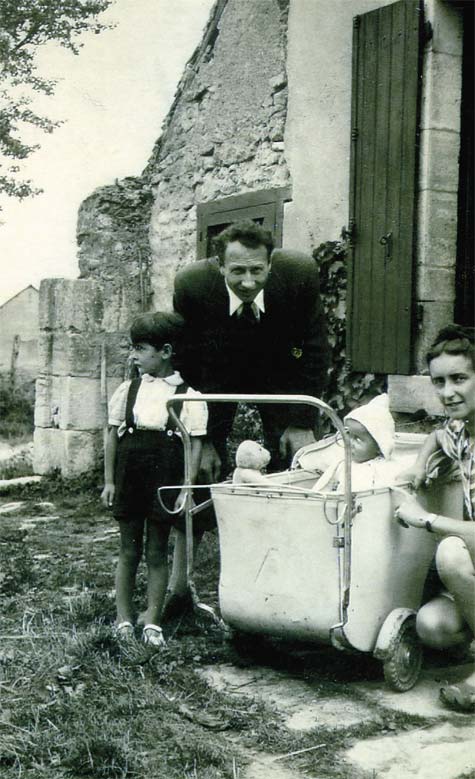 Kneeling on the right is Eve's grandmother Simone Agnus. Her
grandfather Albert is bending over her aunt Francoise's pram. The little boy is
Eve's father Jean-Michel. The setting is the village of Passy-les-Tours in 1942.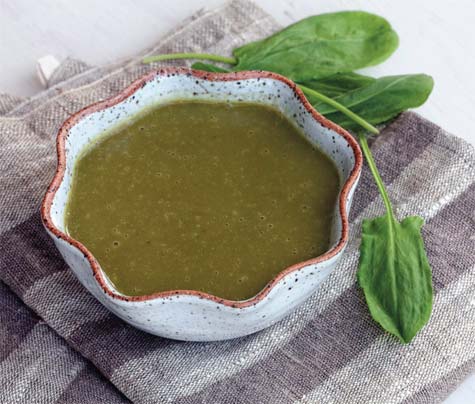 Proust had his madeleine. What sends me back to childhood is sorrel soup. Little-known in America, sorrel is a common green in France, where I spent my early childhood. My French grandmother was an excellent cook known for her ratatouille and escalopes de dinde, but this dish, one of her simplest, makes me the most nostalgic. During the hard years after WWII, my grandmother transplanted her five children—my father among them— from Paris to a village in the Loire Valley, where she thought food would be more plentiful. They lived across the road from a farm that had once supplied the village's half-ruined chateau, whose crumbling spiral staircases the children dared each other to climb. When I was little, I often accompanied my grandmother into her garden, where she picked sorrel for a soup that was as understatedly elegant as she was.
Sorrel's lemony, tart flavor is unmistakable. The leaf, brilliant green when fresh, turns a homely pea green at the slightest contact with heat. In France, it's used almost exclusively to make a silky, blended soup or a cream sauce for fish. In sorrel soup, milk or cream attenuate the tart flavor and soften the khaki green to a delicate shade of jade I love. Traditional French sorrel soup can be thickened with egg yolks and heavy cream, but I like the lightness and freshness of my grandmother's version, where there's nothing heavy to mask the sorrel's bright flavor. I add my own Americanizations, often substituting chard for some of the hard-to-find sorrel and infiltrating a dash of nutmeg. A dollop of crème fraîche, and I'm in heaven.
By Eve Hill-Agnus
Serves 2-4 Depending on if it's a starter or main course (always a starter at my grandmother's house)
1-2 tablespoons butter
1 large onion, diced (or 1 leek, white part only, chopped)
2 medium potatoes, peeled and diced
2 cups water
1 large bunch chard, stemmed and chopped
2 bunches sorrel, stemmed and chopped (about 2 dozen leaves)
1-2 cups milk
Salt and pepper to taste
Pinch of nutmeg, optional
Dollop of crème fraîche or sour cream, optional
Heat the butter in a soup pot. Add onion and potato, and sauté over medium-high heat until lightly browned, about 5-8 minutes. Add water, chard and sorrel and several pinches of salt to the pot. After the greens have wilted, simmer for about 10 minutes.
After simmering, puree soup with an immersion blender or in a regular blender or food processor. Return pot with pureed soup to stove and over medium heat, stir in one cup of milk. Add more milk or water until the soup reaches a desired consistency (it is usually served rather thin). Season to taste with more salt, pepper and a pinch of nutmeg, if you desire. Serve with a dollop of crème fraîche or sour cream, if you wish.
EVE HILL-AGNUS teaches English and journalism and is a freelance writer based in Dallas. She earned degrees in English and Education from Stanford University. Her work has appeared in the Dallas Morning News, D Magazine, and the journal Food, Culture & Society. She remains a contributing Food & Wine columnist for the Los Altos Town Crier, the Bay-Area newspaper where she stumbled into journalism by writing food articles during grad school. Her French-American background and childhood spent in France fuel her enduring love for French food and its history. She is also obsessed with goats and cheese.